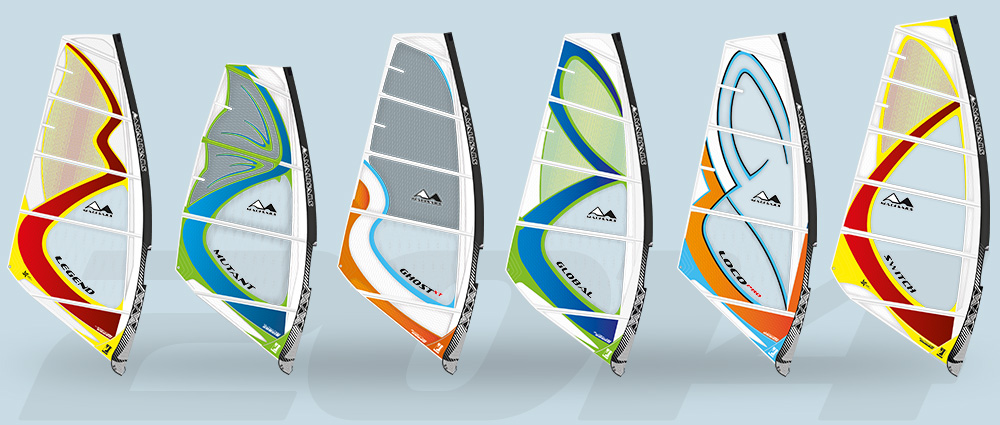 2014 Free-wave introduction
Another year of our passionate daily ritual to the wind and surf of Maui's North shore has led to continued refinement of MauiSails state of the art wave lines. Tension and shaping relationships are carefully analyzed and adjusted where necessary to enhance  perfect balance and optimum range. Extensive use of our high strength and light weight laminates and a reduction in seams yielded an overall weight reduction while maintaining great durability. New reinforcement details and sleeve graphic printing combined with stylish and functional sail body panel layout define the range.
Last season we introduced the revolutionary "Mutant" four-batten ultra-compact wave sail with its combination of incredible maneuverability, excellent drive, power and range. Mutants quickly gained a strong following with dedicated wave sailors, making it one of our most popular. This sail is a game changer in terms of on-the-wave performance.
The "Legend" remains the classic standard by which all other down the line wave sails are judged, delivering amazing wind range and a neutral feel in a variety of wave and high wind conditions. The Legend offers maximum high wind control.
Evolved from the "Legend", but refined to benefit from the ultimate light weight, high strength Technora™ construction, the "Ghost XT" feels like it is barely there. This year we are using more Technora™, which combined with our new, lighter, custom optical x-ply and strategic shaving of fat brings the "Ghost XT"'s weight down to even more incredible levels.
The "Global" satisfies the thirst of the power wave sail crowd, and for 2014 it benefits from similar construction improvements to the rest of the ranges, resulting in lighter weight and more responsive handling.
The "Switch" six batten RAF design combines blazing freeride speed, with some bump and jump trickability making it quite versatile.
We are very excited about the performance of the 2014 "Loco Pro" which has been redesigned around four battens in many sizes. Based on our testing and feedback from Taty, this is the most cutting edge freestyle sail on the water.
The 2014 MauiSails lineup is the most progressive and refined to date. We are confident that the outstanding performance and top quality construction details will bring happiness to many sailors.
2014 MauiSails Wave&Freestyle range from MauiSails.com on Vimeo.
2014 Legend
For 2014 the Legend lives on as the standard by which all other wave sails are judged. The MauiSails Legend represents the ultimate level of refinement in a classic five-batten sideshore wave sail. Its perfect balance and stability make the gnarliest, gusty conditions feel smooth as butter. A forward oriented draft position give the Legend a more neutral feel that transitions sleekly from driving hard bottom turns to gauging cutbacks. The Legend's excellent control makes it feel just as comfortable sailing the worlds windiest, overpowering locations as it does slicing up Hookipa. For 2014 we have continued to fine tune and perfect the designs size by size, ensuring optimum performance throughout the range. Construction refinements, including strategic trimming of patches, reduction of seams and increased use of our custom, light weight gradient X-ply has given the 2014 sails an even lighter, crisper feel. Added sleeve print graphics, together with new bright colour combos make the Legend a standout in both performance and appearance.
2014 Mutant
The 2014 Mutant is our most progressive wavesail that destroys convention, combining insane maneuverability and super-light handling with great power and wind range. The ultra-low aspect four- batten outline, together with our exclusive shaping techniques, gives the sail true ability to be used a size smaller and the balance to stay light and in control when seriously powered. On the wave, the performance of the Mutant is without equal, its ultra-light, playful feel brings the most critical sections and aerial maneuvers within reach. The especially compact outlines and reduced rotational inertia make for instantaneous response whether maneuvering on a wave or rotating through the air. The low center of effort feels perfectly positioned close to your body and gives the sail an incredible ability to accelerate you through the most hard charging bottom turn and right up the face for the most radical gauging cutbacks and boosting aerials. The performance of the Mutant has proven itself both through the praise of many stoked wave sailors and through competition results with MauiSails Mutant riders Camille Juban, Ingrid Larouche and Casey Rehrer sweeping the AWT wavesailing tour, winning championship titles in Pro Men, Women, and Junior divisions.
After the incredible success of the Mutant in its first season, becoming our most popular wave sail model, we have tirelessly continued to test and refine the designs for 2014 ensuring that each size has optimum balance and tension for maximum wind range. Panel layout designs and construction details have been evolved to further reduce weight and provide a crisper and lighter feel. In keeping with our theme of performance without compromise, the Mutant incorporates only the finest materials including extensive use of ultra-light and strong Technora™ scrim laminate in the upper sail body, high quality and durable X-ply™ laminates in the lower body and leech and an oversize optical X-ply™ window. The 4.6 and 5.1 are optimized for a 370 mast while the 3.8 and 4.2 work either on the 370 or on the 340 for an even lighter feel. The largest 5.6 size sets on a 400.
If spray blowing sideways off the top of waves excites you and you would love riding a rig that feels so natural and responsive that it's like an evolved extension of your body, Mutate now, and you will never be the same.
2014 Ghost XT
The Ultimate five batten side-shore wave sail meets the ultimate, high tech materials. Seeing a Ghost-XT run laps around them at the break will haunt the minds of those who have not yet experienced it. Meticulously refined profile, tension and shaping relationships are tuned to the finest materials. After five seasons of using the ultralight and superstrong Technora™ scrim laminate in our Ghost-XT, it has thoroughly proven its performance and durability. Never ones to settle, we have continued to find ways to further reduce the weight of the ridiculously light weight Ghost XT for 2014. Increased use of Technora™, combined with a new window x-ply material, makes the Ghost disappear in your hands like never before. With shaping based on Legend development, but now completely adapted to the most technological light-weight materials, the Ghost-XT brings the performance level up another notch. A moderately forward draft position and sleek profile allow an effortless flow as you slice the wave to shreds. Compared to everything else, the Ghost-XT feels significantly lighter, quieter, and softer. You can truly forget about the sail as you surf the wave. The Ghost-XT's combination of power, stability, control, and ultra-light weight make it a versatile wave performer for those who appreciate the best.
2014 Global
The Global satisfies the thirst for power with a more pronounced profile, extra tension and a more "locked" feel as compared to our dedicated side-shore wave sails. Optimized for imperfect, onshore conditions, the global will power you out over sloppy whitewater and help you coast through gusty, holey winds. Want to catch waves in no wind on a 100L plus wave board? The Global range includes massively powerful 6.2 and 6.8 sizes. For 2014, the Globals construction has been upgraded with increased use of lightweight Gradient X-ply, reduction in seams and trimmed patches for lighter weight and more responsive performance. Refined tension and shaping relationships produce a powerful and stable profile that still has the necessary finesse to easily depower and handle on the wave. The Globals versatile nature make it an excellent choice to handle a variety of conditions from bump and jump to onshore waves with plenty of power to spare.
2014 Loco Pro
Working closely with Taty Frans, MauiSails is excited to introduce the all new 2014 "Loco Pro" 4-batten dedicated freestyle sail. This is the greatest evolution to our highly successful, multiple time EFPT champion and former PWA vice champion Loco sail line since its inception, involving a complete redesign around the 4 batten layout. Having gained some shaping insight from our revolutionary Mutant sail range, but applied to a classic higher aspect ratio freestyle outline, the Loco is optimized for new school freestyle maneuvers.  The most noticeable feature of the Loco Pro is the incredibly light and crisp feel that begs you to innovate and try new tricks. A tighter leech, and the springy tension our full length Dacron™ luff  provides, produces almost instant power to accelerate you from one maneuver to the next with a mega dose of pop. The Loco Pro incorporates markcloth reinforced film in the mid and upper body of the sail for super light weight and a crisp, responsive feel. High quality U.S. made X-ply™ leech and foot areas together with an Optical X-ply "crash panel" in the lower window ensure that the sail can take a beating when learning new tricks. The Loco Pro benefits from MauiSails design legacy combined with the most progressive new features and is the ultimate no-compromise freestyle weapon.
Quote from Taty Frans:
"The Loco Pro… Finally Art made me that dream freestyle sail…no match in terms of better handling, more easy when overpower, easy to maneuver, and the lift of doing air moves is improved, light in your hands. Having the leach tighter makes for easy ducking and is extra easy for sail maneuvers. The Loco Pro gives better acceleration, compare to others."
2014 Switch
The 2014 Switch is great as a fast bump and jump performer. Whether racing your buddies, hucking huge airs or practicing some mellow freestyle, the Switch will suit you well. Excellent stability derived from a 6 batten outline, tube rods and a soft, race-sail like leech will make you happy blasting along with lots of power. For 2014 Increased film use in the mid sail body, together with light weight gradient x-ply in the leech helps to reduce weight and give the sail a livelier feel. If  your idea of fun in high winds is more about breaking the speed limit and doing big floaty jumps, rather than slashing waves, then the Switch is the right choice.