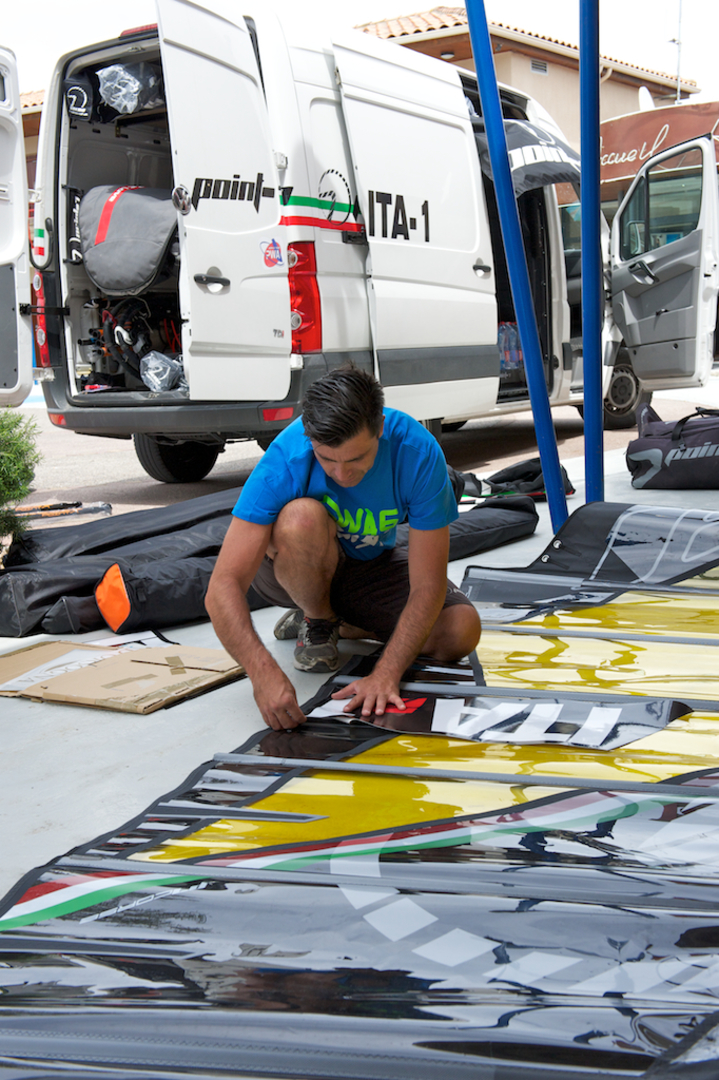 Anche quest'anno la Defi Wind è stata baciata dal vento, 4 giorni di forte Tramontana, riuscendo a concludere 6 gare. Molti i rider di livello internazionale presenti anche se era in concomitanza con la prima tappa del PWA Slalom in Costa Brava. Come vi abbiamo già informato ieri (CLICCA QUI), Andrea Cucchi grazie alla costanza dei suoi piazzamenti si aggiudica la 14° edizione della Defi Wind. Primo italiano a vincere la long distance più famosa al mondo! Ecco il suo report… questa volta tutto in inglese!
4 days of Tramontana made it possible to carry out the 14th edition of the Defi wind. 1000 windsurfers took part at this edition. The biggest Defi ever.  The wind blowing never less than 25knots, with gusts up to 45 knots. A show to be seen, an event to take part once in a lifetime.
The fight was on from the first day,  a total of 6 races, and everything to be decided on the last race of the event between 3 fast riders. At 11.30 am the last race to decide the winner was starting. The first leg was eaten up in record time. At the first buoy Andrea Cucchi was in the lead followed by Bringdal, Belbeoch who falls, Moretti, Standhart, Guadagnino, Brault and Warembourg. The stakes are high: victory for the overall ranking is being played out here in this last confrontation. They had been up against each other all week with the same fighting spirit as if they were competing for a world cup. Fast and constant throughout the race, Andrea Cucchi lets no one take this final duel away from him, comes in ahead of Bringdal, who makes a good recovery, Gerald Pelleau and Patrice Belbeoch. Denis Standhart, as effective as ever at top speed, makes a comeback amongst the leaders and overtakes Nicolas Warembourg So it is Cucchi, the solid, cheerful Italian from team Point 7 who wins the DEFI WIND 2014.
Andrea Cucchi 'I was excited to come back to the Defi Wind. Last year I had lost the race on the last day against Patrice. Patrice in this edition started strong, while I was not having good starts, and I was not fully tuned in to have the speed I needed to win. I almost gave up the idea that I could even make the podium after the first 2 races. I raced safe to try to keep a constant position and found myself in second place on the second last day. In the night I checked the ranking and I actually realized that if I had won the last race, and be 5 points ahead of Nicolas who was leading I could have won. A kind of very low chance. Not so much for myself being first, but more for Nicolas to be 5 places behind me. So it was not only me there to decide. Patrice was only 0.4points behind me, and had also a great chance to win due to his hyper speed. I still wanted badly to win one race. I knew it was only a question of pushing hard my fin for those 40km and a good start for this last race. I did not want to look at what the others were going to do. I went my way. I was top 5 right after the start, and I was higher upwind then the others. I reached the mark first by 1m from Anders, my legs were crying but I could not let go if I wanted to get a 0.7 score. In the middle of the course Patrice and Anders were coming back and almost overtaking me. I was cooked. I could not keep my board to sit fast over the water. So I decided to go higher upwind to look for the flat water. Once I got upwind to the shallow water, Anders and Patrice were in front of me almost, but lower downwind. At that point, I went for the speed run to make sure I could be again first to the last jibe. So it was, and managed to keep first all the way. Once I crossed the finish line, I started counting the number of riders dividing myself from Nicolas, and it was enough to win the event. Last year I lost it on last day, this year I got it on the last day.  Defi is one of those events that gives you a great feeling to win. It's hard for the mind and for the body and the 1000 people around make it unique. Thanks to the support to all my friends which were on the beach keeping me focused.'
TESTO Andrea Cucchi FOTO Tommy Della Frana