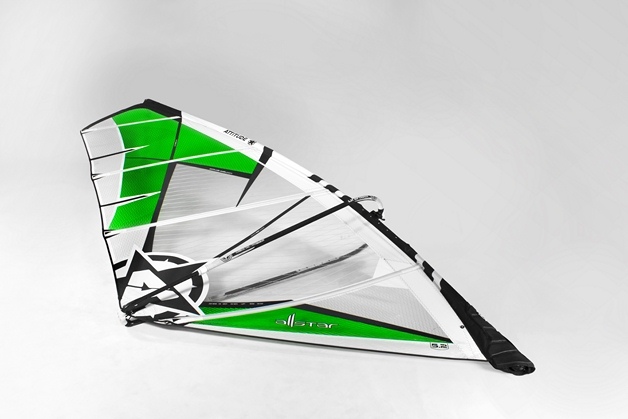 Attitude Sails e Unifiber sono due marchi di Equipe Trading, una giovane realtà olandese. Dopo l'esperienza di successo nel mondo dell'accessoristica, gli olandesi hanno deciso di mettere il loro zampino nel mondo delle vele. Tutte le vele sono costruite per essere armate congli alberi Flex Top di Unifiber e vanno dal wave al freerace.
http://attitude-sails.com/sails/
ALLSTAR
crossover Wave / Freestyle
A true crossover 4 batten all-round sail to be designed to be unbelievable light and direct in terms of handling but still very neutral in the hands when riding. This especially suits light weight or "light footed" riders who like to have a true all-round wave/freestyle sail to cover any needs on that perfect sailing day.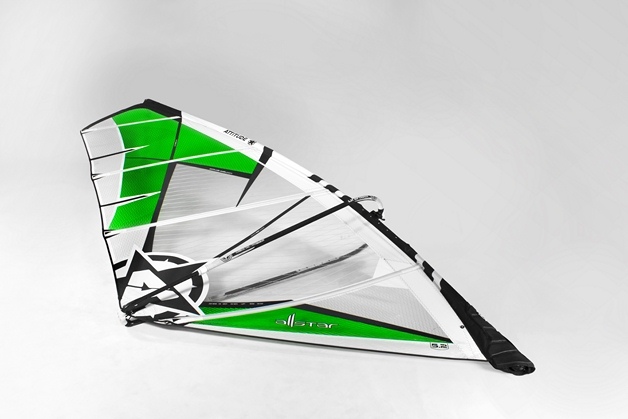 REBELL
Global Wave
A super versatile wave sail, very well balanced in terms handling, power, on/off power during wave riding a wide range of trim settings so it functions well in both onshore as well as side shore wave sailing. The Rebel comes with 2 recommended settings to function both in side- and onshore conditions and has a neutral till slightly soft feel in terms of handling. This sail will amaze from weekend warriors till pro sailors.
SOURCE
Freeride
A true freeride sail which is made to attract newcomers and intermediate sailors. Super light to sail, easy handling & fast on the plane, easy to tune and no concession on built quality and durability. A stable profile to optimize the sails wind range was achieved by adding another batten for maximum stability.
RPM
Freerace
The RPM attracts the demanding recreational sailor, no compromise on performance and comes very close to the performance of a true slalom sail without the of cams. The sail adapts to any kind of conditions either riding in nasty chop to super flat conditions. A wide variety of sail trim settings results in a massive wind range.
HORNET
Freeslalom
A sail with the advantages of a racing sail but without the drawbacks that come along with it. To sum it up: profile stability, top performance, easy and effortless handling characteristics including smooth cam rotation. Despite of having 3 cambers the sail doesn't feel heavy in the hands making it easy and accessible from under to overpowered conditions.
| | | | | | | |
| --- | --- | --- | --- | --- | --- | --- |
| GLOBAL WAVE | | mast length (cm) | boom Length (cm) | vario top | cambers | recommended mast |
| | | | | | | |
| AT010010370 | Rebel 3.7 | 340 + 22 | 146 | YES | no-cam | Unifiber Flex Top 340 RDM C40 / C60 / C80 / C100 |
| AT010010420 | Rebel 4.2 | 370 + 12 | 154 | YES | no-cam | Unifiber Flex Top 370 RDM C40 / C60 / C80 / C100 |
| AT010010470 | Rebel 4.7 | 400 + 2 | 166 | NO | no-cam | Unifiber Flex Top 400 RDM C40 / C60 / C80 / C100 |
| AT010010520 | Rebel 5.2 | 400 + 18 | 178 | NO | no-cam | Unifiber Flex Top 400 RDM C40 / C60 / C80 / C100 |
| AT010010570 | Rebel 5.7 | 430 + 8 | 186 | NO | no-cam | Unifiber Flex Top 430 RDM C40 / C60 / C80 / C100 |
| | | | | | | |
| CROSSOVER WAVE / FREESTYLE | | mast length (cm) | boom length (cm) | vario top | cambers | recommended mast |
| | | | | | | |
| AT010020370 | Allstar 3.7 | 340 + 22 | 144 | YES | no-cam | Unifiber Flex Top 340 RDM C40 / C60 / C80 / C100 |
| AT010020420 | Allstar 4.2 | 370 + 12 | 152 | YES | no-cam | Unifiber Flex Top 370 RDM C40 / C60 / C80 / C100 |
| AT010020470 | Allstar 4.7 | 400 + 4 | 162 | NO | no-cam | Unifiber Flex Top 400 RDM C40 / C60 / C80 / C100 |
| AT010020520 | Allstar 5.2 | 400 + 22 | 172 | NO | no-cam | Unifiber Flex Top 400 RDM C40 / C60 / C80 / C100 |
| AT010020570 | Allstar 5.7 | 430 + 12 | 180 | NO | no-cam | Unifiber Flex Top 430 RDM C40 / C60 / C80 / C100 |
| | | | | | | |
| FREERIDE | | mast length (cm) | boom length (cm) | vario top | cambers | recommended mast |
| | | | | | | |
| AT010030520 | Source 5.2 | 400 + 5  | 174 | NO | no-cam | Unifiber Flex Top 400 RDM or SDM C40 / C60 / C80 / C100 |
| AT010030580 | Source 5.8 | 400 + 30 | 188 | NO | no-cam | Unifiber Flex Top 400 RDM or SDM C40 / C60 / C80 / C100 |
| AT010030640 | Source 6.4 | 430 + 24 | 200 | NO | no-cam | Unifiber Flex Top 430 RDM or SDM C40 / C60 / C80 / C100 |
| AT010030720 | Source 7.2 | 460 + 12 | 212 | NO | no-cam | Unifiber Flex Top 460 RDM or SDM C40 / C60 / C80 / C100 |
| | | | | | | |
| FREERACE | | mast length (cm) | boom length (cm) | vario top | cambers | recommended mast |
| | | | | | | |
| AT010040580 | RPM 5.8 | 400 + 24 | 190 | NO | no-cam | Unifiber Flex Top 400 RDM or SDM C40 / C60 / C80 / C100 |
| AT010040630 | RPM 6.3 | 430 + 8 | 198 | NO | no-cam | Unifiber Flex Top 430 RDM or SDM C40 / C60 / C80 / C100 |
| AT010040680 | RPM 6.8 | 430 + 26 | 204 | NO | no-cam | Unifiber Flex Top 430 RDM or SDM C40 / C60 / C80 / C100 |
| AT010040720 | RPM 7.2 | 460 + 12 | 212 | NO | no-cam | Unifiber Flex Top 460 RDM or SDM C40 / C60 / C80 / C100 |
| AT010040780 | RPM 7.8 | 460 + 28 | 220 | NO | no-cam | Unifiber Flex Top 460 RDM or SDM C40 / C60 / C80 / C100 |
| AT010040840 | RPM 8.4 | 490 + 24 | 228 | NO | no-cam | Unifiber Flex Top 490 RDM or SDM C40 / C60 / C80 / C100 |
| | | | | | | |
| FREESLAM | | mast length (cm) | boom length (cm) | vario top | cambers | recommended mast |
| | | | | | | |
| AT010050580 | Hornet 5.8 | 400 + 25 | 192 | NO | 3 cambers RDM + SDM | Unifiber Flex Top 400 RDM or SDM C40 / C60 / C80 / C100 |
| AT010050630 | Hornet 6.3 | 430 + 8 | 198 | NO | 3 cambers RDM + SDM | Unifiber Flex Top 430 RDM or SDM C40 / C60 / C80 / C100 |
| AT010050680 | Hornet 6.8 | 430 + 26  | 204 | NO | 3 cambers RDM + SDM | Unifiber Flex Top 430 RDM or SDM C40 / C60 / C80 / C100 |
| AT010050720 | Hornet 7.2 | 460 + 12 | 212 | NO | 3 cambers RDM + SDM | Unifiber Flex Top 460 RDM or SDM C40 / C60 / C80 / C100 |
| AT010050780 | Hornet 7.8 | 460 + 28  | 222 | NO | 3 cambers RDM + SDM | Unifiber Flex Top 460 RDM or SDM C40 / C60 / C80 / C100 |
| AT010050840 | Hornet 8.4 | 490 + 14  | 228 | NO | 3 cambers RDM + SDM | Unifiber Flex Top 490 SDM C40 / C60 / C80 / C100 |
| AT010050900 | Hornet 9.0 | 490 + 32 | 238 | NO | 3 cambers RDM + SDM | Unifiber Flex Top 490 SDM C40 / C60 / C80 / C100 |