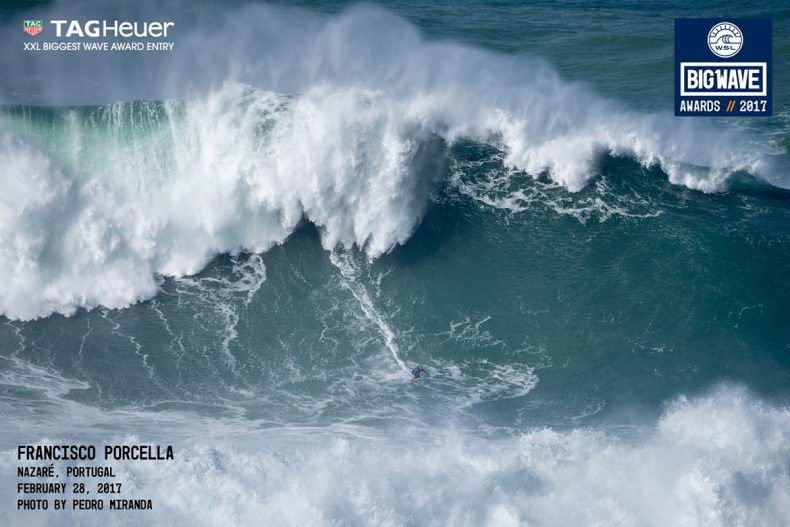 Il 2016 è stato un anno da ricordare per il Big Wave surfing.
Tanti momenti epici e giornate di puro big wave riding, hanno messo alla prova i più forti atleti del mondo negli spot più incredibili del pianeta.
La World Surf League ha reso pubblica la lista dei candidati ai premi in denaro che ogni anno vengono messi in palio per le migliori imprese degli atleti del Big Wave Tour. I premi vengono assegnati ai vincitori di sette categorie: Billabong Ride of the Year, Paddle Award, TAG Heuer XXL Biggest Wave Award, Tube of the Year, TAG Heuer Wipeout of the Year, Surfline Best Overall Performance, Women's Best Performance.
Strage di nomination per le leggende viventi Billy Kemper e Jamie Mitchell, presenti in quasi tutte le categorie.
Quest'anno tra le nomination, in ben tre categorie, troviamo un eccellenza italiana, Francisco Porcella.
Di seguito tutte le nomination, i premi e le rispettive categorie.
TAG Heuer XXL Biggest Wave Award Nominees
(Surfer prize $25,000 – Photographer prize $5,000)
Trevor Sven Carlson (Haleiwa, Hawaii, USA) at Nazaré, Portugal on December 23, 2016.
(Photo by Vitor Estrelinha.)
Kai Lenny (Paia, Hawaii, USA) at Jaws, Maui, Hawaii on November 8, 2016.
(Photos by Aaron Lynton and Fred Pompermayer. Video by Marcus Rodrigues.)
Francisco Porcella (Sardegna, Italy) at Nazaré, Portugal on February 28, 2016.
(Photos by Bruno Aleixo, Pedro Bala, André Botelho, Silvino Esperanca and Rafael Riancho. Video by Timelapse Media.)
Sebastian Steudtner (Nuremberg, Germany) at Nazaré, Portugal on October 24, 2016.
(Photos by Bruno Aleixo, Helio Antonio, Miguel Chaby, Rafael Riancho and Hugo Silva. Video by Timelapse Media.)
Hugo Vau (Terceira, Azores, Portugal) at Nazaré, Portugal on October 24, 2016.
(Photos by Mauro Correia, Pedro Cruz and João Serpa. Video by Timelapse Media.)
Billabong Ride of the Year
(Surfer prizes total $125,000 – Videographer prizes total $13,000)
Ben Andrews (Morro Bay, California, USA) at Maverick's, California on November 9, 2016.
(Video by Curt Myers.)
Lucas "Chumbo" Chianca (Rio de Janeiro, Brazil) at Nazaré, Portugal on December 22, 2016.
(Video by Nuno Dias.)
Billy Kemper (Haiku, Hawaii, USA) at Jaws, Maui, Hawaii on November 11, 2016.
(Video by Etienne Aurelius.)
Jamie Mitchell (Currumbin, Queensland, Australia) at Puerto Escondido, Mexico on June 24, 2016.
(Video by WSL Video Team.) Francisco Porcella (Sardegna, Italy) at Nazaré, Portugal on February 28, 2017.
(Video by Javier Goya.)
Paddle Award Nominees:
(Surfer prize $30,000 – Photographer prize $5,000)
Ben Andrews (Morro Bay, California, USA) at Maverick's, California on November 9, 2016.
(Photos by Michael Andrew and Fred Pompermayer. Video by Curt Myers.) Trevor Sven Carlson (Haleiwa, Hawaii, USA) at Nazaré, Portugal on December 17, 2016.
(Photos by Rafael Elias, Vitor Estrelinha and Guilherme Soares. Video by Andreas Jansen.) Lucas "Chumbo" Chianca (Rio de Janeiro, Brazil) at Nazaré, Portugal on December 22, 2016.
(Photos by Bruno Aleixo, André Botelho, Andrea Carminati, Pedro Cruz and Pedro Miranda. Video by Nuno Dias.) Chris Mashburn (San Diego, California, USA) at Maverick's, California on January 26, 2017.
(Photos by Nikki Brooks, Silvin Morgan, Fred Pompermayer and Frank Quirarte. Video by Blakeney Sanford.)
Jamie Mitchell (Currumbin, Queensland, Australia) at Nazaré, Portugal on December 20, 2016.
(Photos by Bruno Aleixo, André Botelho and Guilherme Soares. Video by WSL Video Team.)
Tube of the Year Award Nominees
(Surfer prize $10,000 – Still photography prize $5,000)
Dane Gudauskas (San Clemente, California, USA) at Cloudbreak, Fiji on May 23, 2016. (Photos by Pat Stacy and WSL Photo Team.)
Conor Maguire (Bundoran, Ireland) at Mullaghmore Head, Ireland on March 15, 2017. (Photo by Conor Flanagan.)
Bradley Norris (Perth, W.A. Australia) at The Right, Western Australia on May 16, 2016. (Photos by Jamie Scott and Chris White.)
Dan Ryan (Margaret River, W.A. Australia) at The Right, Western Australia on May 16, 2016. (Photos by Trent Slatter and Chris White.)
Shanan Worrall (Margaret River, W.A. Australia) at The Right, Western Australia on May 16, 2016 (Photos by Jamie Scott and Chris White.)
TAG Heuer Wipeout of the Year Award Nominees
(Surfer prize $5,000 – Videographer prize $2,000)
Wilem Banks (Santa Cruz, California, USA) at Maverick's, California on January 26, 2017.
(Video by Curt Myers.)
Nathan Florence (Haleiwa, Hawaii, USA) at Maverick's, California on January 26, 2017.
(Video by Blakeney Sanford.)
Danny Griffiths (Hobart, Tasmania, Australia) at Shipstern Bluff, Tasmania on June 16, 2016.
(Video by Dave Otto.)
Tom Lowe (St. Ives, Cornwall, United Kingdom) at Nazaré, Portugal on October 24, 2016.
(Video by Nuno Dias.)
Rafael Tapia (Santiago, Chile) at Nazaré, Portugal on October 24, 2016.
(Video by Nuno Dias.)
Surfline Best Overall Performance Award Nominees
(First prize $20,000, $53,500 total)
Grant Baker (Durban, South Africa)
Pedro Calado (Rio de Janeiro, Brazil)
Trevor Sven Carlson (Haleiwa, Hawaii, USA)
Lucas "Chumbo" Chianca (Rio de Janeiro, Brazil)
Billy Kemper (Haiku, Hawaii, USA)
Nic Lamb (Santa Cruz, California, USA)
Kai Lenny (Haiku, Hawaii, USA)
Greg Long (San Clemente, California, USA)
Jamie Mitchell (Currumbin, Queensland, Australia)
Francisco Porcella (Sardegna, Italy)
Women's Best Performance Award Nominees
(First prize $15,000 , $32,500 total)
Paige Alms (Haiku, Hawaii, USA)
Justine Dupont (Lacanau, France)
Keala Kennelly (Hanalei, Hawaii, USA)
Nicole Pacelli (Sao Paulo, Brazil)
Bianca Valenti (Mill Valley, California, USA)