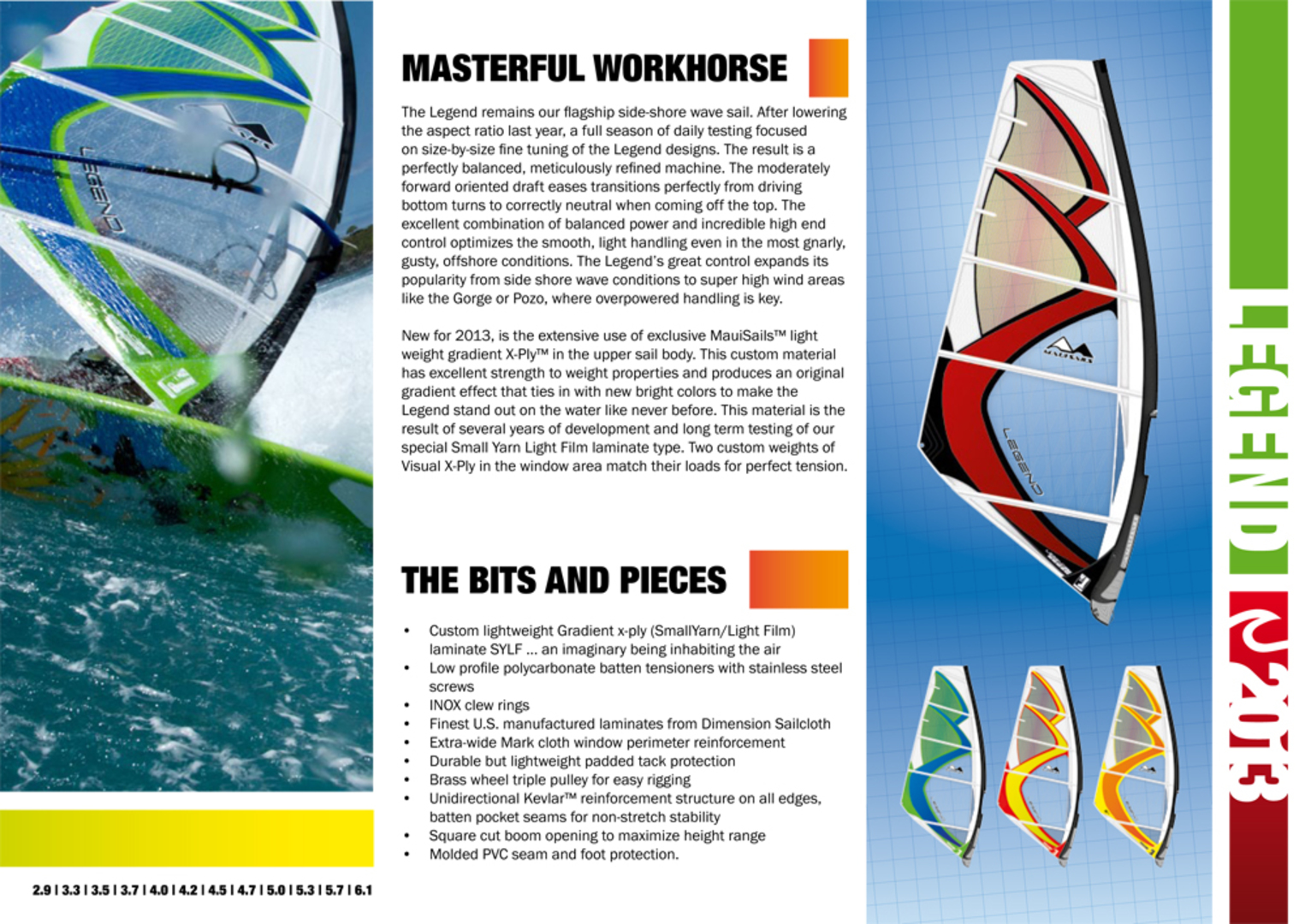 We are happy to present you 2013 MauiSails wave and freestyle range
which this time includes six sails all presented on our website at www.mauisails.com/2013

2013 MauiSails Wave and Freestyle range preview from MauiSails.com on Vimeo.
Legend – side shore wave
GhostXT – Technora side-shore wave
Mutant – 4-battens, short sleeve wave sail
Global – on shore power wave sail
Loco – freestyle sail
Switch – bump'n'jump
2013 MauiSails wave and freestyle range release
2013 marks the expansion of the Fall collection to include our highly developed and tested four-batten Mutant, a project that began quietly in spring of 2011 so we would have plenty of time to refine the new outlines and performance characteristics. With most luff lengths 30cm shorter than anything previously tried, Artur Szpunar took this one to the limit. He wanted sails that would fit with the latest boards and wave trick thinking, skateboard reactive. Tuning the Mutant to the shortest masts, and maintaining the boom lengths by creating clever aerodynamic outlines and smooth twist makes them good to windward and rocking tight in the pocket.
Since all shaping is ultimately based on rig tension relationships, we continue to depend on our load cell measurements to monitor size to size comparisons. We are able to accurately determine now if a design requires too much tension force to set well and how each size relates to another tension-wise. This has been the best thing to gain consistent feel and performance through a full range of sail sizes.
Loco got very particular fine tuning upgrades thanks to the accurate feedback we are now getting from Taty Frans, the grandmaster freestyler from Bonaire. It seems there is no end to the creative thinking in this discipline and the need for sail specific tuning is boosting their air moves as the wings get better and better.
So far it appears we will all make it through the year 2012 with plenty to look forward to in the 2013 future. What better thing to have in mind than a day on the water with a light, fast, soft feeling MauiSails rig in your hands.
MauiSails™ is a Hawaiian based development group known for making practical, efficient, and highly technical sails, masts, booms, and accessories for the global market. They have been pioneers and innovators since the early days of the sport, and use their broad based experience in sailing and surfing to drive their creative solutions.