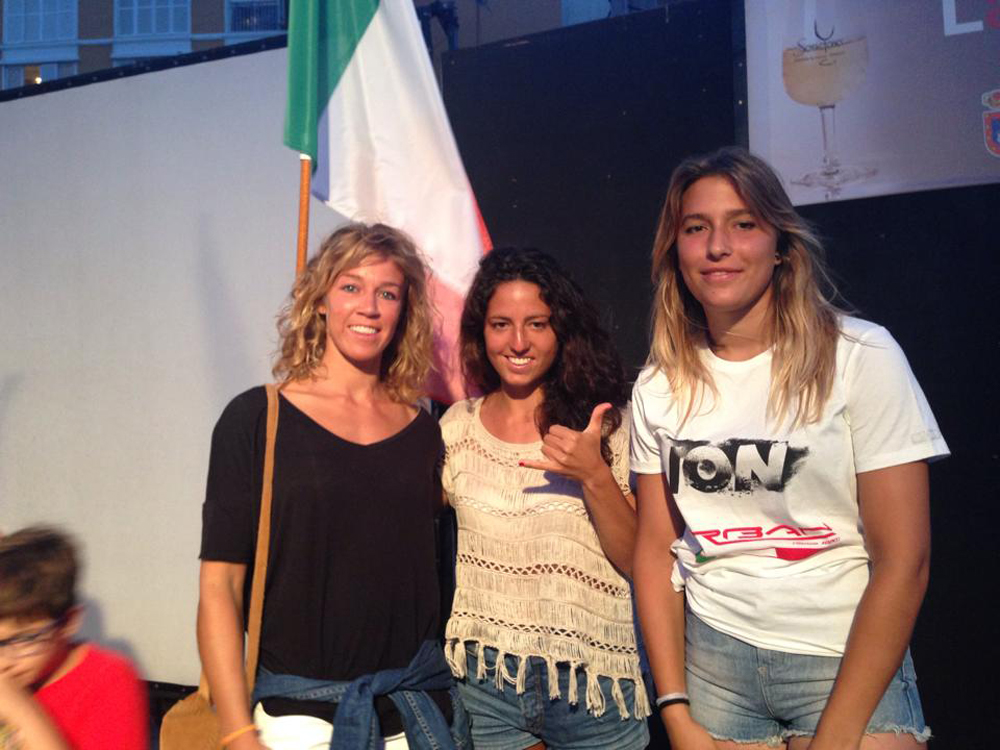 Report dalla spiaggia del Cabezo per i lettori di 4 Windsurf!
Siamo arrivate da qualche giorno a Tenerife per la seconda tappa del PWA ed oggi si è ufficialmente aperto l'evento con le iscrizioni di tutti i rider, quest'anno per me e Serena è la prima volta al Cabezo! Siamo 4 italiani iscritti, Valter Scotto, la giovane Nicole Bandini e noi due: Serena e Caterina, maggioranza femminile!:)
Durante questi giorni siamo uscite in acqua ogni giorno per conoscere un po' questo spot nuovo e familiarizzarci con le rocce e le onde, il vento finora è stato da 4.5-4.7 per noi ragazze e le onde piuttosto piccole, quindi non abbiamo ancora conosciuto lo spot in condizioni vere e proprie! Ci toccherà allenarci direttamente durante la settimana della gara, che sembra ci riservi vento forte e belle onde!
È da metà e fine giugno che ci alleniamo a Gran Canaria, dove bene o male siamo andate in acqua quasi ogni giorno…
"Mi sento più fluida nelle onde, nonostante l'infortunio al primo metatarso proprio durante una surfata 6 mesi fa, e abbastanza tranquilla coi miei salti! Grazie e Roberto Ricci Designs e Reptilemasts!"- Caterina.
"Da quando sono arrivata qui alle Canarie mi sono divertita e allenata il più possibile anche se per alcuni piccoli infortuni ho dovuto stare vari giorni fuori dall'acqua. Adesso che sono di nuovo in forma farò del mio meglio qui a Tenerife…!!" – Serena.
L'attrezzatura è già pronta in spiaggia ed ora aspettiamo le decisioni dei giudici…
Seguiteci live su pwaworldtour.com!
Il video della cerimonia di apertura della gara.
TESTO  Caterina Stenta
TENERIFE PWA WORLD CUP
Event Preview: The world's best wave sailors ready themselves for battle round two
From the 4th to the 10th August the elite of the wave sailing world will be returning to action as they prepare for their second battle of the season as the Dunkerbeck-Eyewear Siam Park – El Médano – Tenerife PWA World Cup kicks off.
El Médano is situated on the South East coast of Tenerife, just minutes away from the airport. Furthermore El Médano's beautiful golden sand beaches are blessed with glorious sunshine, regular trade winds and pumping waves year round, which make this amazing spot a windsurfers haven. The week ahead is guaranteed to be packed with unbelievable action, as the elite of the wave sailing world take full advantage of the world class conditions to wow the both the crowds and the judges.
Ones to Watch
Men's
As the winner of the opening event of the season – Victor Fernandez (Fanatic / North / MFC) – enters Tenerife as the favourite. The Spaniard was back to his brilliant best in Pozo as he claimed victory with a magic array of jumping and superb wave riding. Fernandez will be rotating through double forwards, one-handed, one-footed backloops and unleashing goiters and frontside wave 360s as he goes in search of back-to-back victories.
Ricardo Campello (Patrik / Point-7) came agonisingly close to securing his first ever event victory on the PWA Wave World Tour as he pushed Victor Fernandez all the way in the opening event of the year. Campello looked a rejuvenated figure in round one and he'll be going bigger and more extreme than ever as he looks to go one better here in Tenerife. Expect to see massive double forwards, trademark one-handed, one-footed forwards and if the conditions are right maybe a triple too?
Marcilio 'Brawzinho' Browne (Goya Windsurfing / MFC) completed the prestigious podium in Pozo and he'll be hoping to continue his solid start to the season in Tenerife. Browne reaped the rewards of his hard winter training to earn his best finish to date in Pozo and he'll be desperate to better his sixth place finish in Tenerife in 2013. Expect to see the reigning world champion gunning for the top.
Jaeger Stone (SSD / Severne) made an emphatic return to the PWA Wave World Tour as he claimed a fantastic fourth place in Pozo, having been away from the competition scene since 2011. The last time Stone was in El Médano he stormed to third place overall and he'll definitely be challenging for top honours again here – especially when you consider that El Médano is more wave riding orientated than jumping.
Many people were surprised to see Philip Köster (Starboard / Severne / Maui Ultra Fins) only take fifth place in Pozo and he'll on the warpath as he attempts to return to the top of the rankings. Köster has excelled here, having claimed three event titles in a row. Can he make it four? The two-time world champion will certainly be doing everything in his power to do so. Expect to see Köster going bigger than ever as he attempts to return to the top.
After a disappointing start to the year Alex Mussolini (Tabou / GA Sails) will be hoping to make the most of his home advantage in Tenerife. The Spaniard finished third here last year thanks to his fluid and dynamic wave riding combined with his trademark massive one-footed backloops. Will Mussolini be able to unleash his new move the 'Klei' as he goes in search of exacting revenge?
Klaas Voget (Fanatic / Simmer / MFC), Alessio Stillrich (Fanatic / North) and John Skye (RRD / RRD / MFC) will also be in contention having finished in joint fifth at the opening event of the year. Expect to see radical wave riding, double forwards and super tweaked pushloops as they continue their bid for the top.
Of course event organiser – Dany Bruch (Starboard / Challenger / AL360) – will be a major threat on his home turf as will the likes of Thomas Traversa (Tabou / GA Sails), Adam Lewis (Fanatic / North), Robby Swift (JP / NeilPryde / Mystic / Maui Ultra Fins) and Leon Jamaer (JP / NeilPryde)
Women's
Daida Moreno (Starboard / Severne / Maui Ultra Fins) started the year in imperious form as she made the perfect start to her title defence with victory in Pozo. Daida won here in 2013 and she'll be difficult to stop again based on her performance in the opening event. Expect to see huge stalled forwards, tweaked pushloops and powerful wave riding as she looks to cement her place at the top of the rankings.
Iballa Moreno (Starboard / Severne / Maui Ultra Fins) will be doing everything in her power to stop her twin from coming out on top though. The legendary twins were almost inseparable in Pozo and they will no doubt enjoy another epic battle here in El Médano. Will Iballa be able to stop her sister this time around?
Steffi Wahl (Patrik / Sailloft Hamburg) will enter Tenerife with more confidence than ever having earned her first ever top three finish in the first event of the year. The German has a smooth and fluid style on the wave and she'll be looking to unleash more radical wave riding to secure her place on the prestigious podium again.
However, Amanda Beenen (Tabou / GA Sails), will be desperate to throw a spanner into the works. The Dutch girl spends plenty of time here in El Médano so know the location as well as anyone – plus she comes into the event having broken into the top four the first time. Expect to see powerful wave riding and fantastic forward loops as Beenen tries to earn a place on the heralded podium.
Also in contention will be Justyna Sniady (Simmer / Mystic), Olya Raskina (JP / NeilPryde), Eva Oude Ophuis (Fanatic / North) – who is returning from injury – Alice Arutkin (Fanatic / North) and Sarah-Quita Offringa (Starboard / Chris Benz / Mystic / Maui Ultra Fins).
Dunkerbeck Eyewear Siam Park Tow in exhibition
As well as the main wave event, this year will also see the elite of the wave sailing word returning to Siam Park for two days of amazing tow in action. Siam Park features its very own wave machine – allowing the world's best to launch into more outrageous manoeuvres.
The forecast for the upcoming week looks great, with strong wind and waves being predicted, making this one event you cannot afford to miss. Don't miss any of the amazing action by tuning into www.pwaworldtour.com where you'll be able to follow the event as it happens via the PWA live stream and live ticker.