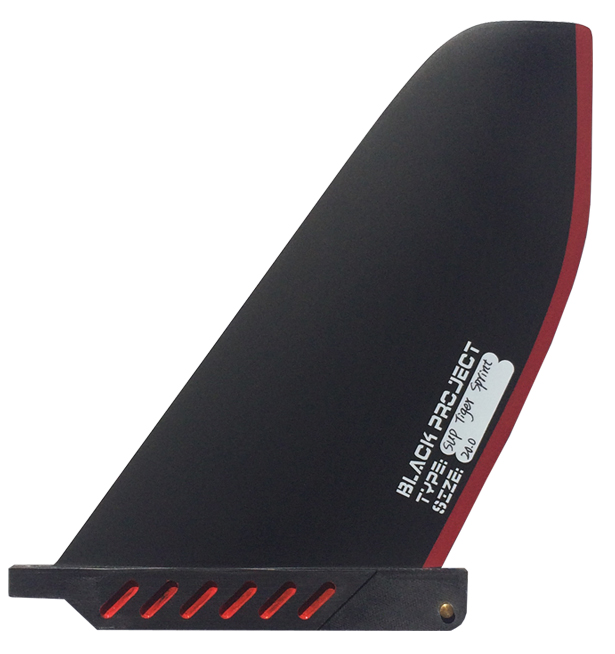 Working with 4 x UK race champion Ryan James together with fellow team mates Joanne Hamilton-Vale and legendary racer turned equipment guru Bart de Zwart the TIGER was born.
Our new SUP race fin takes its name from the Tiger shark which frequents the Hawaiian waters in which we conduct a large percentage of our testing. Known for their bursts of speed and agility the Tiger is one of the deadliest sharks alive. For a fin which is devastatingly quick and turns tightly around the buoys the name Tiger seemed apt. Riders of the Tiger will enjoy faster surges of speed and tighter and quicker technical turns. The new fin will get you round the course more efficiently while helping you to leave less overtaking opportunities for your competitors. In surfing conditions the new design will give you increased control and turning so that you can out maneuver the rest of the chasing field with speed and confidence.
The new foil offers surprisingly large amounts of grip when at speed given its 20cm length and small 216cm2 area however when you initiate your buoy turn the fin is designed to change the behavior of the board significantly enabling you to get much tighter transition. The newly designed foil has some special properties which optimize the turning ability at low speeds just when you need it but increasing the grip as the speed increases on the straights so that you can deliver more power through your paddle. Racing is about getting from A to B as quickly as possible with the caveat that in races with lots of turning that becomes A to B to C to D etc. For riders in weedy (or trash filled) locations the 35 degree (from vertical) leading edge efficiently sheds weed to keep you paddling unhindered.
Ultimate speed with high lift / low drag for technical and sprint racing.
Proprietary foiling promotes exceptional grip at higher speeds while promoting maneuverability at low speeds
35 degree leading edge rake angle (from vertical)
Advanced SUP laminar flow foil technology
CNC manufacturing to ensure that you get the fin we designed
Produced in extremely high density solid G-10 to ensure ultimate durability and longevity
Solid G-10 reduced weight Pro base in two different sizes to fit all SUP race boards on the market
Comes complete with protective foam cover, high quality brass fin plate and screw
Fin of choice for: Ryan James, Joanne Hamilton-Vale, Chris Freeman and more…
Fin Bases
Black Project Fins are your premium choice and hence we want your fin to fit perfectly so that you get ultimate performance hence we are the only brand to provide our SUP fins with two different bases so that you get the perfect fit for your board.
US STANDARD base: Fits STARBOARD, NAISH, JP-AUSTRALIA, FANATIC and all major worldwide production brands.This is the same as found on many windsurfing boards and is wider and deeper with the pin set further from the deck of the board. The base is 9.2mm thick.
US SURF PRO base: Fits boards with a narrower and shallower base as used by SIC, ANCHOR PADDLEBOARS, IMAGINE, GLIDE, BOGA etc. Narrower and shallower than the US base with the pin set closer to the deck of the board. The base is 9.0mm thick. The new PRO base for 2015 features a slotted base for reduced weight and easier insertion.