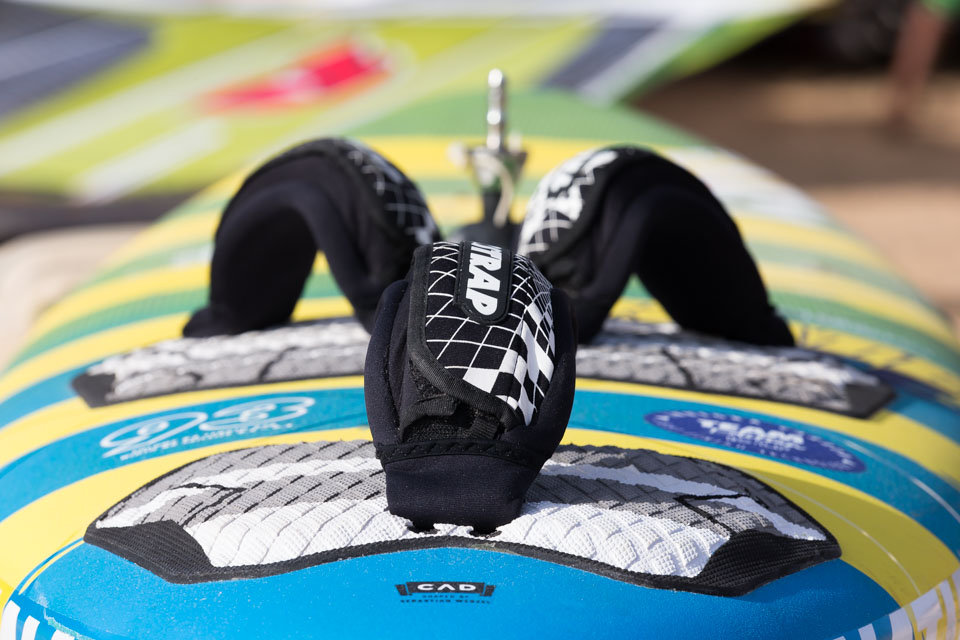 È in arrivo la versione 2 delle mitiche e comodissime Tricktionary Footstraps, ideate e sviluppate dal freestyler austriaco Michi Rossmeier, ormai stabilitosi in pianta fissa a Torbole sul Garda. Ecco quello che ci comunica a proposito di questo restyling.
Tricktionary Footstraps v2
The long awaited new delivery of Trickstraps – our Tricktionary footstraps – finally arrived.
A slightly upgraded version 2 of the popular Tricktionary footstrap delivers even more comfort and enhanced durability.
Enhancements:
Even softer!
More durable materials!
Easier to mount on the board
Multisport sets available (2 and 4 pcs) – auch perfekt für direktionale Kiteboards und Freeride oder Slalom Windsurfboards!
Why Tricktionary Footstraps?
More control:
Trickstraps make the connection between board and foot/body stronger and therefore enhance control in any given situation on the water. No matter if freestyle beginner or trying latest power moves, you want to have your board under control and at the same time have the comfort of wearing booties.
More comfort:
Our footstraps have been specially developed for the forces that are excerted on the foot in windsurfing. Tricktionary footstraps are a bit wider than standard straps and their harmonically shaped outline as well as the cushion on the inside give your foot more comfort than ever. The cushion on the inside does not take water to keep the straps light weight and is specifically shaped to distribute the force on a very wide area on the foot.
Additionally, we made sure that there are no sharp or hard parts that you can hit when stepping in or out of the footstraps, which helps particularly when changing to switch stance or in jibes.
Individually adjusting:
The adjustment and closing mechanism consists of several layers of fabric and velcro pieces which allow easy size adjustments. What's even more important is, that after several times on the water, the straps become even more comfortable, because the velcro settles and adjusts to your foot perfectly. This way, the force is distributed even more perfectly on your whole foot.
What can i use Tricktionary footstraps for?
Trickstraps are not just for freestyling, they work just as well in waves and on freeride or even slalom boards. There's no reason why you would not want to have maximum control over your equipment.
What about the weight?
Trickstraps seem very big and heavy and many think that they would suck full of water and be just even more heavy. That's not the case – the inside cushion, which is the main part of the strap, does not take water, so the excess weight is very little. In fact, three Trickstraps in wet condition weight as much as 4 normal ones.
Michael Rossmeier: "I have developed these foot straps to fulfill my personal desire, to have a super comfortable, but high performance footstrap. I can't even sail with normal footstraps anymore and use the straps in waves too of course. The direct contact to my board is the most important for me, that prevents crashes or allows controlled crashing."
Where to get Tricktionary footstraps:
Of course you can buy the straps through our website www.tricktionary.com.
Also ask in your local surf shop – Shops and schools are welcome any time to request to be a Tricktionary dealer.
Retail price: 69,90 Euro