A Maui si sta svolgendo la tappa finale del Campionato del Mondo Wave 2019. Philip Koster, Victor Fernandez, Brawzinho, Ricardo Campello e Thomas Traversa sono ancora in lotta per la conquista del titolo.
– A second place or better would guarantee Köster a 5th world crown.
– A win for either Browne or Fernandez would guarantee them the world title – if Köster finishes outside the top 2.
– Ricardo Campello can still win the world title if he wins the event and Köster finishes 4th or worse and Browne & Fernandez both finish second or worse.
– Thomas Traversa can still win the title if he wins the event and Koster finishes 5th or worse and Browne & Fernandez finish 3rd or worse.
La gara è iniziata domenica 27 ottobre in condizioni abbastanza buone e si sono svolte le prime heat del Single Elimination. Ma il Giorno è stato ieri, lunedì 28 ottobre, con onde oltre l'albero e vento side side-on già dalle prime ore del mattino. È stato portato avanti il Single Elimination fino alle finali! 20 minuti di heat dove vengono contate solo le due migliori onde.
In finale i protagonisti sono stati Martin e Juban con una heat stratosferica, Martin surfa l'onda della giornata andando a prendere il lip di un'onda gigantesca e molto bumpy (choppata) nonostante Juban sia l'autore del turn più bello della giornata. Gli altri due finalisti, i waterman Roediger e Lenny, non hanno performto al meglio nella heat conclusiva anche a causa delle condizioni molto difficili, onde enormi ma che non facevano la sezione per colpire e girare.
Tra i nostri italiani Federico Morisio passa domenica il primo turno, mentre ieri nella sua seconda heat contro Philip Koster, Swift e Guilloul non riesce a passare il turno, prendendo una sola buona onda delle due necessarie.
Result 2019 Mercedes-Benz Aloha Classic – Men's Single Elimination
1st Antoine Martin (FRA | JP / NeilPryde)
2nd Camille Juban (GPE | Quatro / S2Maui)
3rd Bernd Roediger (USA – Naish | Naish)
4th Kai Lenny (USA | Goya Windsurfing)
5th Marcilio Browne (BRA | Goya Windsurfing)
5th Leon Jamaer (GER | JP / NeilPryde)
7th Robby Swift (GBR | JP / NeilPryde / SWOX)
7th Ricardo Campello (VEN/BRA | Brunotti Boards)
9th Graham Ezzy (USA | Tabou / Ezzy Sails)
9th Philip Köster (GER | Starboard / Severne / Maui Ultra Fins)
9th Morgan Noireaux (HI | JP / NeilPryde)
9th Thomas Traversa (FRA | Tabou / GA Sails)
Tra le donne domenica era stato già concluso il single elimination con la entusiasmante vittoria di Sarah-Quita Offringa che ora è ad un passo anche dal titolo Wave!
Result 2019 Mercedes-Benz Aloha Classic – Women's Single Elimination
1st Sarah-Quita Offringa (ARU | Starboard / NeilPryde / Maui Ultra Fins)
2nd Iballa Moreno (ESP | Severne / Severne Sails / Maui Ultra Fins)
3rd Motoko Sato (JPN | Starboard / Severne Sails)
4th Lina Erpenstein (GER | Severne / Severne Sails)
5th Angela Cochran (USA)
5th Tatiana Howard (USA | Quatro / Goya Windsurfing)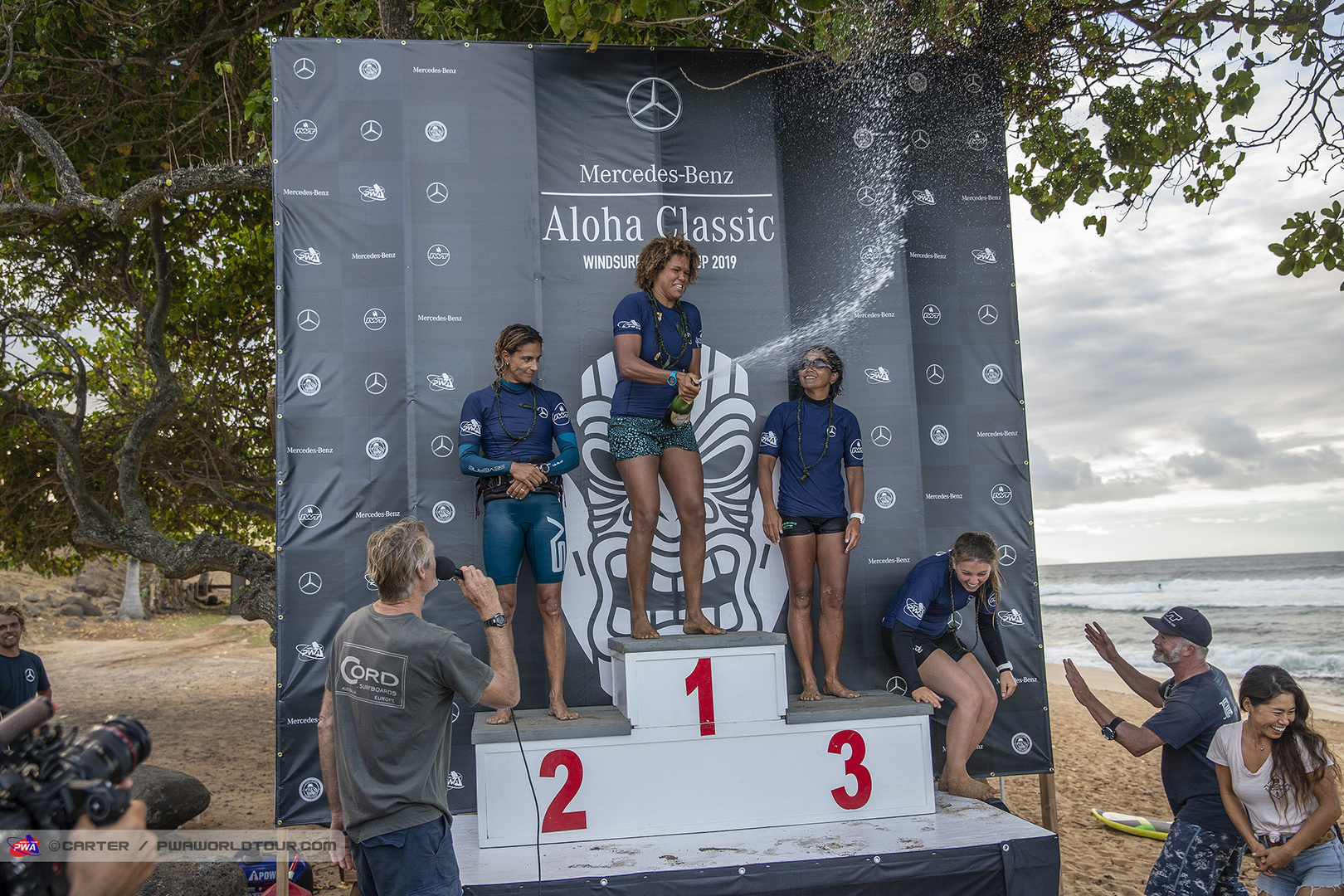 Con la collaborazione di Ferdinando Loffreda