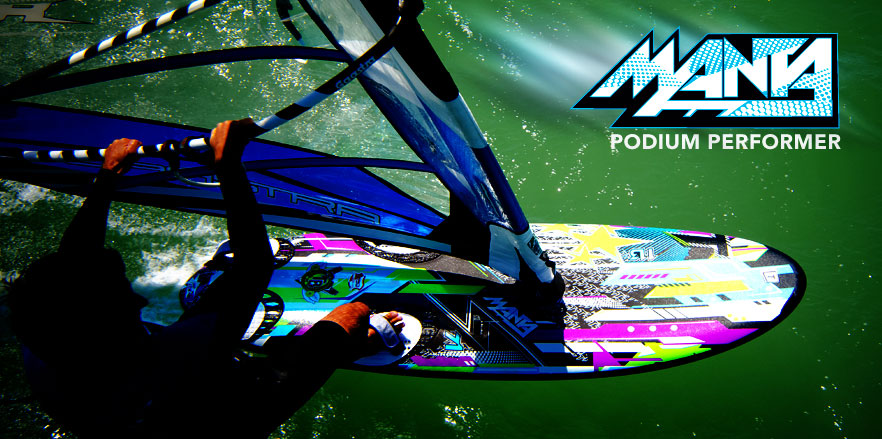 Podium performer
A completely new range of mind-blowing masterpieces have evolved from within the Manta series. Six new sizes are built without compromise, tested all year long by our passionate team!
Inspired by victory and the challenge to create an untouchable product, the 2013 Manta's are set to explode on the racing scene. Built with the most technologically advanced materials available, the strength, durability and stiffness is unmatched.
FABIEN VOLLENWEIDER
Manta 85 and 81
We reworked our manta 84 to get better acceleration. We took some volume from the nose and moved it to the footstrap area – this gives more power available under the foot to accelerate and point when you want. We also changed the V distribution adding mote V under the matsrack to straighten the rail rocker line (keeping the center line the same). This gives better planning/acceleration after a jibe when water is touching this new straight area.
We altered the cutouts with a new design to have less drag. This has drastically increased acceleration and top end speed.
We added the Manta 81 that is the same spirit as the Manta 85
Manta 71and 66
We moved some of volume from the nose to footstrap area (to generate more power under the feet) and also increased the overall volume numbers to get better acceleration and be sure that the Manta 71 can carry a 8,6 M2 sail.
A totally new V configuration has moved from a deep Accelerating V to a low constant V . By straightening the side rockerline in between the front straps and mastrack, we have achieved better acceleration and a faster top speed.
The 66 is in same spirit as the 71 but tuned for lighter riders.
Manta 61 and 59
For these sizes we also moved some of the forward volume to the footstrap area (to have more power available under the feet) and we increased the overall volume. We also changed the V from accelerating Deep V to low constant V just like the Manta 71 and 66.
The Manta 59 is now longer ( 240cm) making the exit of jibe's easier in rough conditions.
Get up and GO! With horsepower like a formula one race car, turning characteristics like a super bike and top end speed like a dragster, the Manta's are made to win.
http://www.tabou-boards.com/boards/2013/boards/manta
http://www.tabou-boards.com
http://www.facebook.com/tabouboards