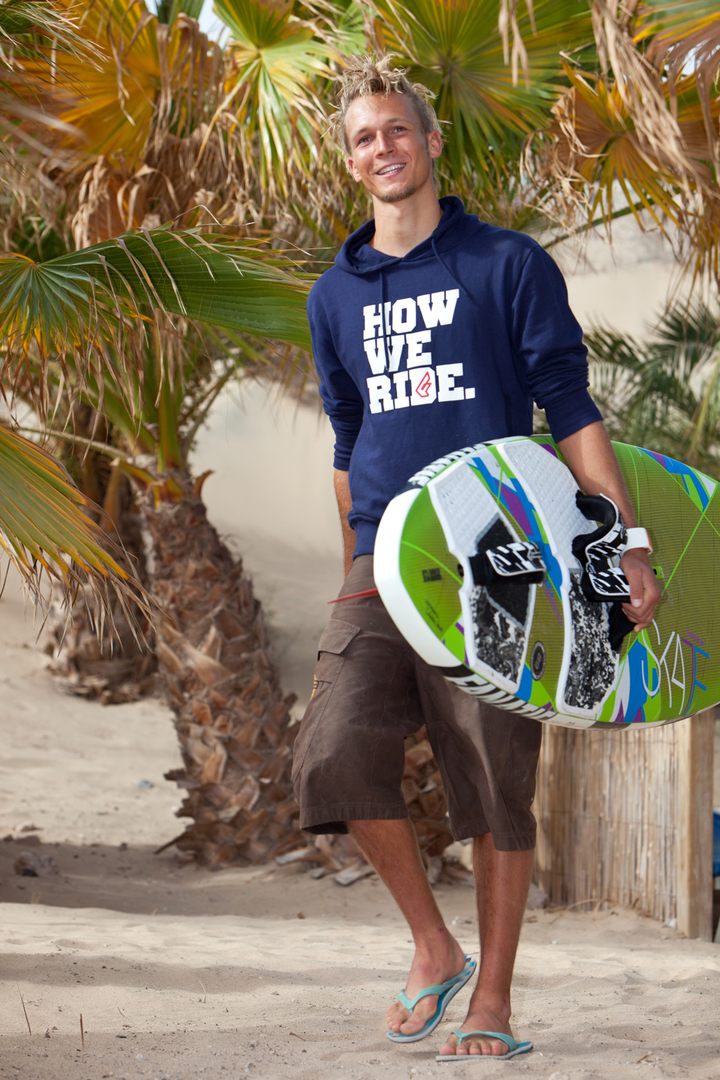 Fanatic is happy to announce the signing of the young German professional Freestyler Adrian Beholz to their International Windsurf team. At only 22 years of age, Adrian is already one of the Top Freestylers and will for sure be a great addition to our existing team with Gollito Estredo, Max Rowe, Laure Treboux, Yoli de Brendt, Yarden Meir and Andre Paskowski!
Adrian Beholz (G-888):
"I'm very excited to be in the Fanatic International Team, I am dreaming about this since I´m 10 years old, now my dream came true! Fanatic for sure provides the best environment for a team rider. It´s not just about how they support their riders, it´s also about a open minded, progressive and super professional team, which really provides the environment to develop, plus they of course have a super innovative board range."
Craig Gertenbach, Fanatic Brand Manager:
"I´m proud to welcome Adrian to our Fanatic International Freestyle team. He is for sure one of the most talented Freestylers out there at the moment and his personality also suits the rest of our team! I´m looking forward to work with him and watching him at his first event on Fanatic in Fuerteventura live next week."
BIO/INFORMATION:
Name: Adrian Beholz
Sail Number: G-888
Birthday: 04.01.1990
Country: Germany
Favourite discipline: Freestyle
Best results:
– 17th PWA Podersdorf 2012
– 2nd German Freestyle Battle 1.0 2012
– 5th EFPT Lefkada 2011
– 3rd EFPT Leucate 2010
– 1st German Freestyle Battle 1.0/3.0 2010
Favourite spot: Brazil and Bonaire
Favourite Fanatic board: Skate 99 TE
Favourite manoeuvre: No Handed Burner
How I started Windsurfing: When I was 7 years. My mum told me as soon as I can can read and write she would pay me windsurfing lessons. So I learned to write and to read quite early☺
Best windsurfing day in my life: The first day I was planing, of course.
Other sponsors besides Fanatic: Sailloft, Maui Ultra Fins, ASPC
My Goals: To make my live with windsurfing, to stay with it for my whole live and to become a happy old man with it and everything around.
My Slogan: Being is colorful and so marvelous!
Website:
http://www.facebook.com/adrianbeholz
http://www.vimeo.com/adrianbeholz
Welcome to Fanatic! What were your reasons to join our team?
Not to join the Fanatic team if you get the opportunity would just be stupid. I´m not stupid! Seriously, Fanatic provides the best environment for a team rider. It´s not just about how Fanatic supports their riders, it´s also about a open minded, progressive and super professional team which really provides the environment to help developing at a super innovative board series.
Did you try the boards already and what is your favorite board?
Yes, I tried the 2012 Skate and also used it as one model for the board developments with my previous sponsor☺. The Skate has a great concept. Now I´m really looking forward to try the 2013 one, which looks super promising to me. For sure the 99 TE will be my favorite, I already know now.
Tell us a bit about yourself and how you got into Freestyling?
My parents love to tell me the stories about "small Adi and the water". Sounds like I was born with a passion for water. When I was four years my parents had to walk with me to the lake at every single windy day, where I have been watching the windsurfers for hours. I have a passion for movements since I´m born. This combined with the absence of waves at the place I live, got me into freestyle.
So, why Fanatic boards?
Hahaha, I think I already answered part of the question before. But I remember another scene of my childhood. For student newspaper after 4th grade (we were about 10 years old) one question was: "What do you wish the most?" Most of my classmates answered: "world peace!". I answered: "A new Fanatic board". At least my one came true, now!
What do you think of your new team mates like Gollito Estredo and Victor Fernandez?
Gollito is the most successful Freestyle Windsurfer. And I bet he`ll win the title again this year. It´s outstanding how he dominates the sport for many years now. But that´s what everybody knows. I hope after a few month in the team I will know his personal site better and be able to tell more about him. I don´t know Victor, I have never met him. But I love his sailing and personality. For me Andre is a super inspiring and interesting person. He was an idol through my early youth and now with his illness he became a wise man who can teach you a lot about life and it´s values. I think to work with him will be super constructive. All in all it will just be super motivating to be surrounded by such great athletes. It´s a huge opportunity to develop myself, but also the pressure to show up my entitlement in such a team. I think this is the most motivating and challenging part.
Which events are you doing in 2012? What are your goals to reach?
I will go for all the PWA and EFPT events during 2012 starting Fuerteventura with my new Fanatic Skate. Besides that I will train at the best Freestyle spots in the world. My goal is to reach the Top 16 in the PWA and the Top 3 in the EFPT.