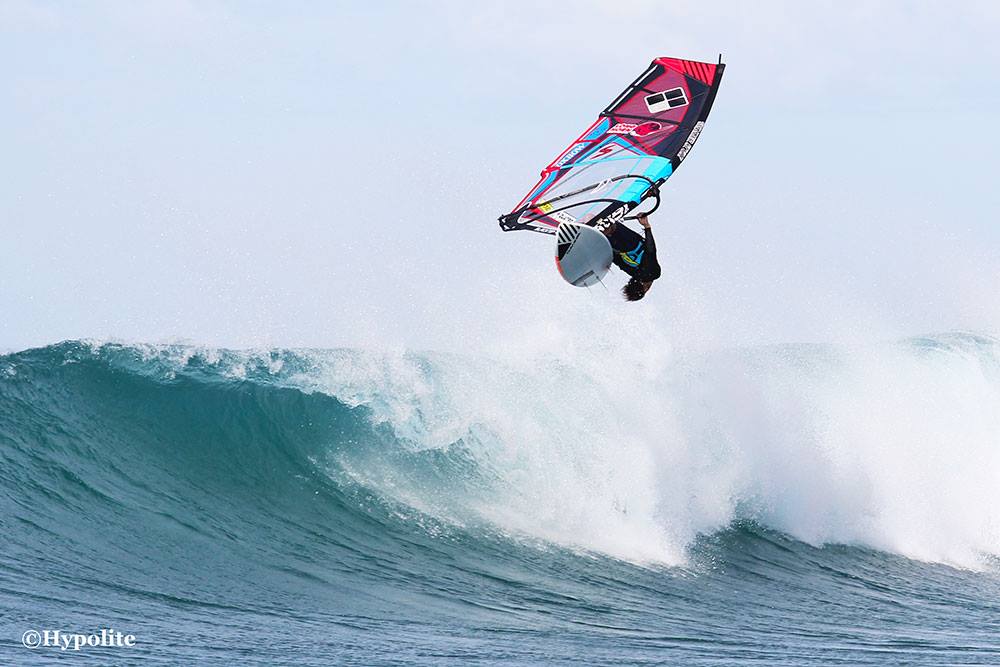 Continuano i colpi di scena del surfmercato 2016. Il fortissimo waver Camille Juban, talento indiscusso del waveriding mondiale, lascia Avanti Sails per entrare nel team di Simmer Style. Anche Justin Denel entra con il pacchetto completo tavole e vele nel team Simmer lasciando RRD. Gli altri rider confermati sono Marc Paré Rico, Ben Profitt, Josep Pons, Rudy Castorina, Markus Rydberg, Sarah Hauser, Kai "Flykatcher" Katchadourian etc… Qui sotto la press release ufficiale (in inglese).
The 2016 international team has been assembled and its looking like a true force to be reckoned with worldwide. A group of the most talented and colorful personalities in the windsurfing community, all with joined together by their passion for the sport, talent and knowledge.
Joining Simmer Style's International team we are proud to announce that we have signed Camille Juban to compete on PWA and other select events like the AWT where he has won regularly. Otherwise we just want to see Camille keeping on with his top shelf ripping worldwide ! Camille has been a top standout in the most demanding waves and wind across the globe. We are very proud to welcome him to the team using our rigs exclusively, and look ahead to crazy antics that are the norm for him. Expect major fireworks !!
Another exciting development is that the Ironman himself, Josep Pons, joins the Simmer Style board program, and will be fine tuning his designs out in his element at the very windy Pozo, as well as all the other amazing places one can sail on all shores of the Canaries. Welcome Josep, cannot wait to see you shred on Simmer Boards and taking it to the limit, and well beyond !
Ben Profitt and Rudy Castorina are both celebrating their 10th year on the team. We all greatly enjoy Ben and his commentary on the PWA live feed as well as his entertaining Training Diaries. Ben will also be competing selectively on our boards and rigs, and always produces standout performances that are so distinctly his.
Rudy has been busy sailing huge Jaws and showing us all why he is true Simmer Material with his soulful riding and good vibes on our rigs, as he goes into spectacular environments both home on Maui and elsewhere. True Simmer Material all the way !
Markus Rydberg, the Swedish Viking is ready to do battle on the front lines of the PWA and serve notice he can be one of the contenders. Easily one of the elite Swedish riders, Markus is going to shake it up this year, and with his excellent and timely podcasts we will have no problem keeping up with his journey. Markus always produces moves with flash, he's one to keep an eye on using our Boards, Rigs and Wetsuits. Justin Denel will also be re-uniting the Simmer forces on both boards and sails. Justin finishing of his last year at university in France and is training hard to take on the PWA tour.
Sarah Hauser has been very hard at work with her feature film "Girl on Wave" Sarah also is the defending AWT Champion. We are psyched to have Sarah ripping on our sails, and be on the lookout for "Girl on Wave" which has the potential to go mainstream and push Windsurfing into a new spectrum.
For our Race program, we welcome Valentin Brault who will shake it up on the PWA course with our Sails and Masts. Top speed is off the chart, catch him if you can ! The Les Mouss bros are also in the mix, consistently marking solid appearances on our rigs and taking some solid race results as well.
Zara Davis, the Queen of Speed, has been on an absolute hot streak and will give most of the top men a run for their money on the speed course.
Zara possesses the ability to crush the current records and take things into the next realm on our sails, for sure another one to watch in the near future, and don't blink an eye or you will miss the action.
Simmer Style Team Captain, Kai "Flykatcher" Katchadourian will be on Maui, California, Scandinavia and beyond as we continue to test and develop the boards, rigs and wetsuits that lead us into the future and beyond. He celebrates 30 years with Simmer Style this season.
"I'm so honored to announce this is my 30th season with the brand. What started at age 15 has taken me to places I could not even imagine and its very motivating to see where Simmer Style is today with our bright crew, epic gear and bright future. See you out on the water !"
Check out all the info at simmerstyle.com/team