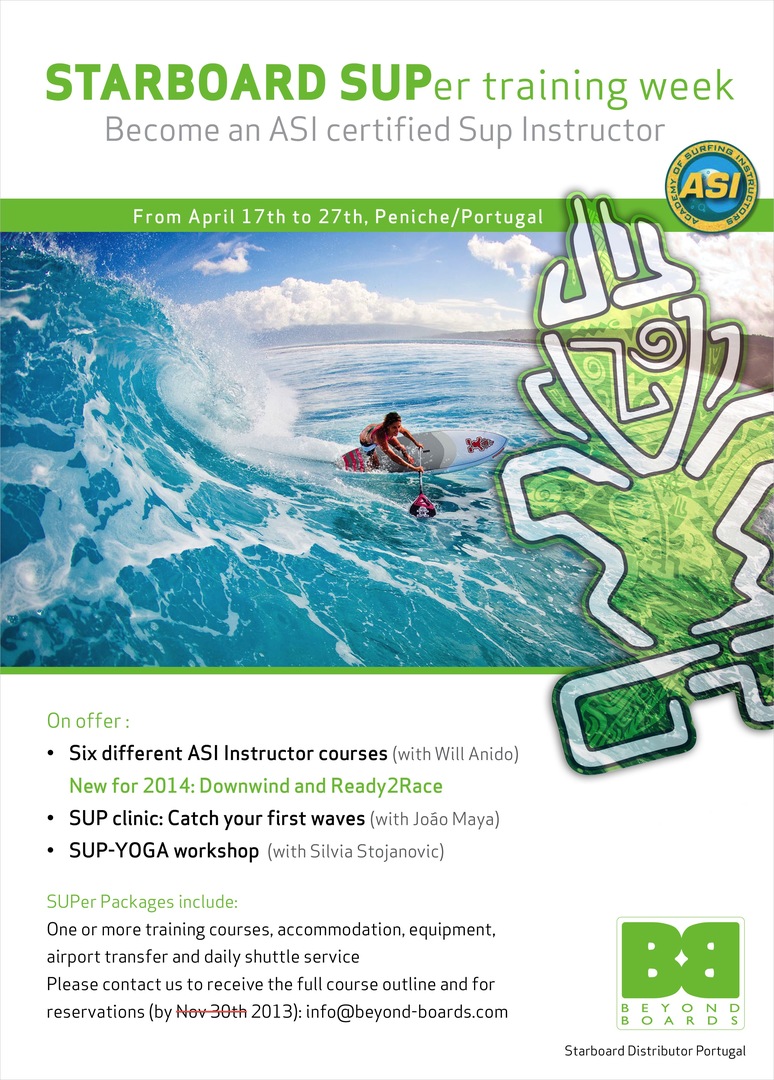 Peniche SUPer Training Programm , April 2014
Training Program,
We will kick start the 2014 season with a Training Program that, for the first time includes a full ASI SUP Instructor Training Course alongside a SUP Clinic and a dedicated SUP-YOGA workshop.
The ASI Instructor Training will give you the highest level of certification currently available for SUP Instructors which is valid across Europe.
Our SUP Clinics are also run by (ASI) certified instructors to ensure the highest level of standard throughout. This is a unique opportunity to learn from the most
professional and experienced instructors in the industry in the perfect setting.
The SUP-YOGA workshop is targeted to non professional Yoga & SUP enthusiasts who would like to share their passion with likeminded people. Participants will learn how to build a session on their own and valuable theoretical info from our experienced yoga instructor & physical trainer.
For more info on all the courses & course dates, please check out the course program and also the course details as provided by ASI.
Packages are all inclusive but all courses can also be booked as standalone training units.
Important:
Practical hours need to be completed for each level. We can provide assistance in completing your practical hours, in our SUP school after the course.
Enrolment suitability: Only persons with the required SUP skill applicable for each SUP workshop can enrol. Please read up on the skill requirements for each course to see whether you have the required SUP skill to enrol into the workshops. You must be competent at each level. If you enrol in L1 and are not experienced / competent at SUP Enclosed Flat Water, you may not progress to the next level even though you have paid.
SUP Instructor water rescue award – if doing Level 3 SUP Surf, participants need to do a "surf" rescue certificate. It means we could have half the class do the flat water rescue certificate and half doing the surf rescue certificate.
Accommodation
The accommodation we offer depends on the number of participants and individual requests but we are only choosing locations that are suited for our program. One of our favourites is the Casa do Farol Guest House http://www.casadofarol.com/.
Once we have received all applications we will inform participants about accommodation and transfer options.
Location
Our SUP Clinics take place in the charming seaside village of Peniche, which is only 80 km from the capital city of Lisbon. Peniche is one of the most well known surf destinations in Europe as it offers reliable, perfect waves most of the year. Conditions vary along the coast which has suitable spots for both beginners and advanced paddlers.
Both air and water temperatures are nice and consistent year round. In the summer (May to September) you can expect air temperatures around 25 degrees and in the winter, no lower than 15 degrees. The water tends to be warmer in the winter than in the summer. There is not too much rain in this area and the winter swells are the best.
There are also plenty of other activities to be found in and around Lisbon which is only an hour drive away for those who are keen to experience one of Europe´s most historical cities or check out the night life in downtown Lisbon.
Enrolment & Payment
– All enrolments (for SUP Packages as well as individual ASI courses) are to be done through the ASI Online Enrollement Form
https://www.academyofsurfing.com/stand-uppaddle/instructors/courses/peniche-portugal
– Once the enrolment form has been received we will contact you with the payment details
– Once payment has been received you will receive a workshop confirmation letter
– A 20% non refundable deposit is required upon enrolment. The remaining amount is due up to 4 weeks prior to the start of the course.
Upon contacting us, we will send you more details with regards to payment, cancellation and any queries you might have.
Booking deadline: December 15th 2013
For all inquiries: info@beyond-boards.com , Contact: Tina Sahl
We look forward to a fantastic, action packed week of sharing our experiences with you.
The BEYOND BOARDS Team
BEYOND BOARDS
Starboard SUP Distributor Portugal
E-mail: info@beyond-boards.com
Ph: +351 91797 0488
FB: https://www.facebook.com/beyondboards.pt
Home www.beyond-boards.com www.star-board-sup.co