2020 Freeride/Slalom/Foiling/Entry Range è ora online:
https://www.fanatic.com/product_categories/windsurfing-boards/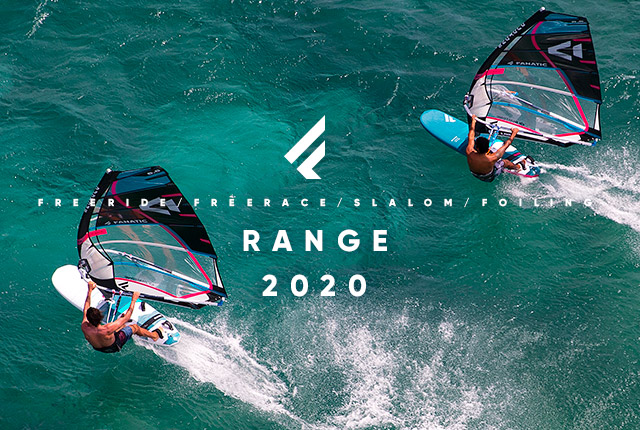 Freeride:
The new Gecko is the pure definition of freeride: 100% accessible fun, no matter what level of progression you are at. It offers everything you need to get started and help you improve quickly. For 2020 we redesigned three key sizes (122, 135, 148) for better speed, acceleration and early planning. It is offered in a selection of construction options, including our Gecko Eco and Gecko Foil edition.
Freerace:
The Blast is the performance freerider´s dream. Its design is inspired by the parallel rail concept of the Stubby TE, which results in a highly efficient board that has blistering acceleration, control and top speed. The Blast comes in two constructions – LTD and HRS. Performance has never come so easy!
The Jag LTD is our modern take on the freerace category. A slalom-blaster that offers unrivalled levels of control and performance, at a price that makes it unbeatable.
Slalom:
When you want to leave everyone in your wake, the Falcon TE is ready to take you to the podium. It's our no-compromise race machine, available in seven sizes featuring three brand new models for 2020. It's been on the PWA podium for the last 5 years, including two of the Top 4 spots in the PWA rankings last year!
The Falcon Lightwind makes sure that you always get to experience the rush of pure speed, even when the conditions don't quite match your passion. Designed to get you – and keep you – planing in the lightest of breezes, it is blisteringly quick. It is also fitted with a foil-approved finbox.
Foiling:
The Stingray is our dedicated free-foil board with the widest range of use, the range is further extended with a new 110l model. Our other dedicated board, the Falcon Foil, reflects the pin end of current racing design. Performance foiling is covered by – the Falcon Lightwind 159, Falcon TE 130 & 140 and the Jag (in the three biggest sizes) – all of whose dimensions and stance are ideal to get you flying in the lightest of breezes. Our Flow Windsurf Foils got completely redesigned for the new season to cover your Windsurf foiling experience all the way from beginner to performance level.
Entry:
There is no better – or more fun way to get hooked on windsurfing – than with one of our Viper or Ripper boards – pure fun for the whole family, schools and clubs. Our Ride and Ripper rigs are the perfect match!
Product Clip Gecko & Blast: https://vimeo.com/354496573
Product Clip Jag & Falcon: https://vimeo.com/354496573
Product Clip Stingray, Gecko Foil & Falcon Foil: https://vimeo.com/354498006
Product Clip Viper & Ripper: https://vimeo.com/354499262
Highlight Clip Freeride/Freerace: https://vimeo.com/354496017
Highlight Clip Foiling: https://vimeo.com/354496339