La nuova collezione 2020 di Fanatic SUP Inflatable & Composite è ora online: https://www.fanatic.com/sup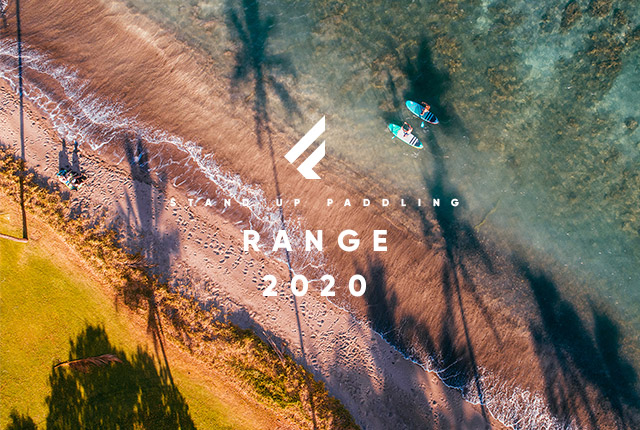 Composite Collection:
Wave:
The ProWave is our radical powerhouse design for carving fast turns in solid overhead conditions – no better board for advanced riders to charge hard on. When things are bit mellower, the AllWave is our versatile platform for Intermediates to catch wave after wave, even when it's mushy and choppy. For an even looser slashier feel, the super compact Stubby excels when the waves are less than perfect, always creating speed and flow through it's highly efficient parallel rail design. Finally, the Stylemaster is the daddy of them all, offering classic 10' longboard style riding in a board that can catch even the smallest waves. Hang ten on the nose, or step back for super smooth carving, this Bamboo beauty oozes with style.
Allround:
From beginner to winner – whether flatwater cruising or smooth waveriding in the surf – the versatile Fly can do it all with heaps of style. With various construction options – including our flagship, the stunning Fly Eco Edition – there is sure to be a Fly to suit your needs. The Diamond ladies board completes the range as a ladies specific version, enhanced with a beautiful design.
Touring:
For those who like to cover distance, our Ray and Diamond Touring ranges are ready to take you on your next adventure! Designed to deliver maximum glide with minimal effort, these boards allow you to explore further in total comfort – whether in swell or flat water. A redesigned shape for 2020 ensures the Ray and Diamond Touring is more stable and performs even better in rough chop.
Race:
Everything about our premium raceboards is about acceleration, efficiency and top-speed, but even more than that – stability and control. Taking successful design cues from our flat-water speed machine – the Strike; for 2020 both the Blitz and Falcon have gained significant improvements in performance, thanks to changes to their outline, rocker line, deck profile and volume distribution.
Fanatic SUP Highlights 2020 – Composite Range from Fanatic International on Vimeo.
Inflatable Collection:
Wave:
Taking the fun on your travels has never been so easy! The Stubby Air is inspired by our most versatile, surf style waveboard! Getting radical has never been so easy to transport!
Allround:
Fun, functional and fulfilling, the Fly Air range works for everyone! As the most durable and high quality iSUP on the market, the ever-popular Fly Air comes in four fab sizes, as well as three quality constructions; Double Layer Light, and Pure technology. The Diamond Air is our female specific inflatable board and comes in our lightweight Stringer technology and two sizes. Ambitious groms can get their groove on with the Ripper Air – the perfect companion for all their future adventures.
Touring:
Discovery and adventure has never been more exciting than with our inflatable Touring range! The Ray Air is the ultimate cruiser that's easy to paddle, fast and designed for your comfort. Choose from our lightweight and durable Stringer technology, as well as our Premium or Pure constructions, all neatly packed in an easy to transport backpack. The Diamond Air Touring with its new look is a glamorous ride with all the performance features to enhance your paddling experience! The Ripper Air Touring kids edition is lighter and more durable than ever, with a windsurfing insert to boot. It's stable, soft and everything they need in one neat kit bag!
Race:
The Falcon Air comes in a ›ready to race‹ package built for speed. The new silicon rail edges provide better release and reduce drag, whilst our high-tech Double Layer Light technology make these boards premium racing machines.
Fit:
Challenge yourself and take your workout to the water with our Fly Air Fit. It´s fully loaded volume, extra large dimensions and super comfortable deck create the perfect platform for your training. Connect up to 8 boards to the Fly Air Fit Platform or with up to 10 boards to our new smaller Fly Air Fir Platform S. The multiple high quality eyelets create a solid and secure connection when working out. Rounding off our ›workout on water‹ range is our Air Mat. With a compact length for smaller pools, it comes with plenty of straps and belts to progress your training.
River:
Go with the flow and hit the river with our Rapid Air and Rapid Air Touring! These bulletproof designs are built for the exciting conditions encountered when heading downstream. From shallow streams to boiling white water rapids, the stable and streamlined outline, huge volume. For 2020 the smaller 9'6'' model has been updated with a new outline and special scoop rocker line with higher nose and tail to effortlessly absorb waves and big rapids.
Inflatable Windsurf/SUP:
For the ultimate in versatility, choose the Viper Air or Ripper Air, our inflatable Windsurf/SUPs that are pure fun and the ideal watersports toys for the whole family, schools or clubs.
Super light and highly stable, they can be used anywhere you can find water – for windsurfing or SUPing – and even to ride small waves. All of this from boards that comes in backpacks!
Big Fun/Specials:
SUP lovers and Windsurf enthusiasts will get equal enjoyment out of our Tandem iSUP. Its ultra long outline provides good glide, great stability and flotation, as well as plenty of space for two people including two windsurfing rigs. Tested in the toughest waves of Hawaii and Australia, the Fly Air XL takes up to 7 people and can be used at your local break for super fun surf, or on flat water and for river tours.
Paddles:
Our highly tuned Fanatic Paddle Range, we can guarantee that link won't be in your hands. With precision and care we have designed paddles in new materials and new optics which are strong and light, with the perfect amount of flex to deliver maximum power while allowing you to paddle in total comfort and style.
Rig:
The Ride SUP rig is designed to power SUP boards fitted with mast tracks, and inflatable Windsurf/SUP boards like our Viper Airs and Ripper Air. The perfect light wind rig is easy to sail, straight forward to assemble and convenient to store.
Welcome to Fanatic SUP 2020!
New Fanatic Logotype:
With the launching of the 2020 collection, we are presenting a new Fanatic logo! The new logotype supports its sportive and unique image and is a mixture between a stylistic wing and a typographic F. The new F-Wing is the result of the reduction of those elements, into a clean, modern symbol. Wings are generally a sign for freedom, dynamic and independence. Exactly those features reflect the boardsports and lifestyle Fanatic represents. This logo works perfectly for all our different worlds: Windsurfing, SUP and Foil. It also strengthens our slogan and positioning "Addicted to Ride".