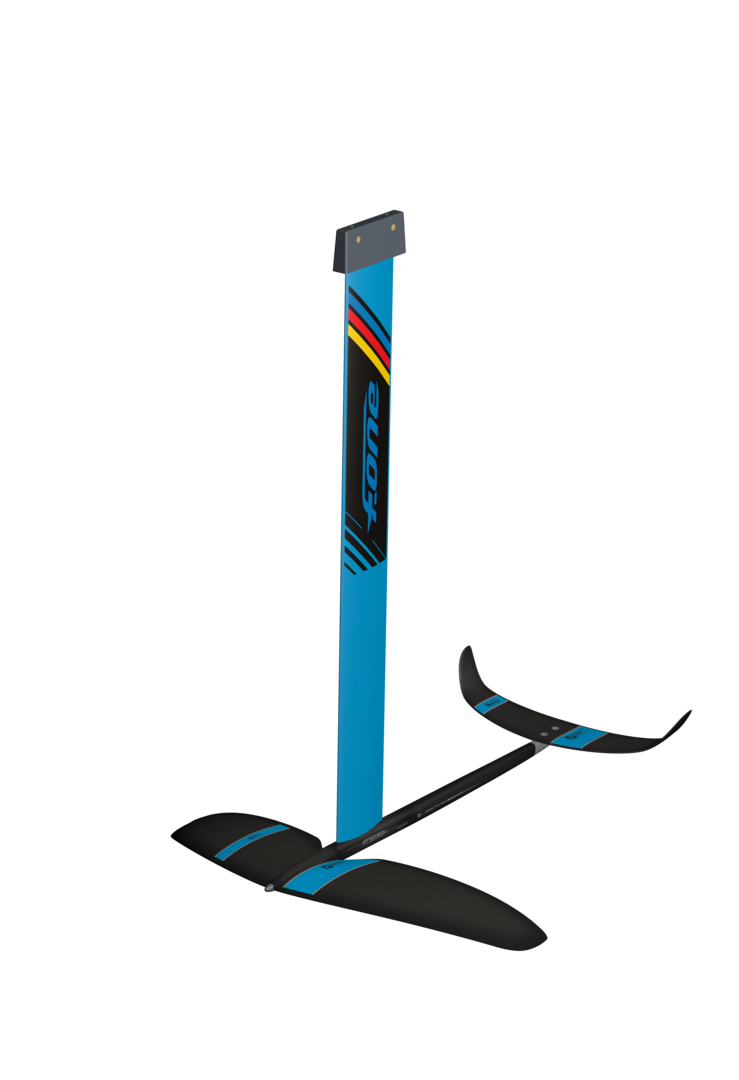 Non è un segreto che il "movimento foil" stia esplodendo anche nel nostro sport. Dopo aver già invaso il kite ed essere anche entrato nel SUP. Il brand F-ONE dopo 4 anni di sviluppo ha deciso di entrare con il proprio foil anche nel mercato del Windsurf. In questo modo il Kite, il Windsurf e il SUP per la prima volta nella storia potranno avere lo stesso feeling, parlare la stessa lingua e usare gli stessi accessori!
I punti chiave della navigazione con il foil sono quelli di poter volare sopra l'acqua, e di potersi divertire in giornate di poco vento. Per questo motivo e seguendo questi due principi, F-ONE ha sviluppato due tipologie di foil:
WINDFOIL FREERIDE HYBRID (Aluminium and Carbon)
WINDFOIL RACE HYBRID (Aluminium and Carbon)
Composition of the WINDFOIL FREERIDE HYBRID: ( to associate to the MAGIC or PAPENOO convertible)
–          90cm aluminium mast Deep KF-Box
–          1000 Freeride wing
–          Freeride stabilizer
–          fuselage 42cm
Composition of the WINDFOIL RACE HYBRID:
–          90cm aluminium mast Deep KF-Box
–          900 Race wing
–          Freeride stabilizer
–          fuselage 42cm
We have designed two types of front wings for Windfoiling and both of them are made to work with the same stabilizer.
1000 Freeride Wing:
"Immediate launch" could have been its name and with its large surface area and high lift section profile this wing enables easy access to the thrills of windsurf foiling. Intuitive and user friendly, it offers very early lift off and great control.
Its compact aspect ratio provides good maneuverability to learn all the transitions.
900 Race Wing:
Designed for downwind supfoil racing, as well as for performance windfoiling, this wing features a high performance but also accessible profile. With its wide span and surface area of 900cm², it offers a lot of lift for an immediate and efficient planing.
Its unique performances bode towards impressive top speeds and a totally new feeling of glide. Once on the plane in light winds, its speed generates even more apparent wind. The high aspect ratio brings great upwind performances, together with lateral stability and comfort in stronger conditions. Thanks to its arched shape, this wing remains easily maneuverable for all your transitions.
90cm Aluminium Deep KF-Box mast:
The F-ONE 90cm Aluminum mast is a user-friendly foil mast which offers both ease of use and performance. It is available in KF-Box or Deep KF-Box.
Using a specific aluminum extruded profile and a medium chord length of 11cm, its lightweight makes the foil easy to carry and move around both on shore and in the water.
The performance enabled by its 1.5 cm thick, low-drag section ensures this mast will take some time to outgrow.
Equipped with the patented FAST CONNECTION DEVICE constructed from Pre-preg & Forged carbon, this mast comes with great modularity and ease of use as one single screw is all that's needed to assemble the main parts together.
Compatible with all F-ONE wings and foil parts, it is also completely watertight and corrosion free.
For Windfoil, this mast is recommended with the Freeride 1000 and the Race 900 wings to enjoy all ride conditions. Easily fitted to the PAPENOO convertible board thanks to the all conical Deep KF-Box this combo is ideal for any windsurfer looking to fly for real.
We also made a freeride convertible board: the PAPENOO convertible SUP / SUPFOIL / WINDFOIL!
Just writing these words down seems incredible!!! Who could have thought of it even a few months ago? Life is full of surprises and this is why our job is so engaging.
Yes, 20 years down the road, F-ONE is offering a windsurfing board, again!!
After 4 years of work on the kitefoil, we received demands from windsurfers and we have designed specific wings to offer them the products they needed.
Then came along the question about the board and the PAPENOO Foil convertible appeared ideal for "windfoiling"!
Shape:
Its wide outline at the tail provides enough volume to be in the right position for lift off and the maximum width creates plenty of stability. The foil box is located ideally to optimize lift off and flight balance. Equipped with two front foot-straps and a mast rail, the board can also be used as a normal windsurf board for wave riding in light wind.
Construction:
Weight is important to facilitate lift off. The PAPENOO Windfoil convertible is therefore available in full carbon construction only to make it as light as possible. This version is further reinforced on deck and around the foot-straps: all the area running from the mast rail to the foil insert is strengthened by a double bamboo carbon construction.
On the water:
Our team already knew the feeling of foiling with a kite but the first windsurfing tests brought in some new sensations!
The difference between being on the water or in flight is even more significant with the windsurfing gear than with the kite. Everything becomes so soft and silent once in flight. The sensations are totally new and absolutely gripping.
The efficiency of the foil in light winds is a real advantage as it becomes possible to use a much smaller rig for a given wind strength.
The PAPENOO truly is an incredible and extremely versatile board, proving excellent in so many different disciplines: SUP, SUPfoil and Windfoil!!
It is available in 7'7' x 29'' – 110L and 7'11' x 30.5'' – 123L.
This board is convertible and well-adapted to the WINDFOIL FREERIDE HYBRID pack that we propose.
Here the 3D of the packs, you can see the foil under all view:
WINDFOIL FREERIDE HYBRID (Aluminium & Carbon) : https://emersya.com/showcase/APYX4JKAT1
WINDFOIL RACE HYBRID (Aluminium & Carbon) : https://emersya.com/showcase/4WL29XJNYR
Can I setup my foil on any SUP board ?
Any SUP board might not be fit for supfoiling since it requires good aptitudes for take-off and the right box location. The longer the board, the trickier it gets to lift off and to place the box in the right location.
Can I setup my foil on any Windsurf board?
Yes, but the box needs to be located in the right place to achieve the right balance.
Are your foils available with other box standards such as Tuttle for example?
Yes, it is available on demand.
Can you supply Deep KF Box inserts to fit into the boards?
Yes.
Are all the blades, fuselages, masts of the range SUPFOIL – KITEFOIL – WINDFOIL all compatible with each others?
Yes, thanks to our patented FCD connection system, everything is compatible.
How is it possible to use the same front wing for supfoiling and windfoiling?
From a design point of view, the brief is quite similar: the foil needs to lift out of the water a rider and his/her board with more or less performances or accessibility. The driving force either comes from paddling together with the energy of the wave or from the sail force of the windsurf rig.
On the other side, kitefoiling is different since the kite pulls upwards and carries some of the rider and board weight. But some kitefoil wings can be used in windfoil or supfoil, such as the Freeride 800 by example. And the 900 and 1000 supfoil wings can also be used for kitefoiling.
Why do the Supfoil and Windfoil masts have different lengths?
When supfoiling, it is all about keeping your balance at the top of the foil. The longer the mast, the more difficult it is to maintain the balance. The foil also doesn't run across a high chop or waves during flight.
When windfoiling, the rig provides more support and more stability. The foil can be used on the open sea and will come across higher chops and waves around 1m or more. More length is therefore required to fly over these.
Is it easier to learn how to foil behind a boat?
Yes! The shorter mast of a supfoil and the Freeride 1000 wing are the ideal combo to learn how to fly. A beginner doesn't even need to waterstart. All that is required is to stand up on the SUP, feet located in the right place with the rope in hand.
The boat can set the pace accurately to reach the ideal speed for the rider to feel the lift from the foil. He will thereby learn easily how to fly by focusing solely on the foil.
Is it possible to windfoil with a 75cm supfoil mast?
Yes, of course, but doing the opposite (supfoiling with 90cm windfoil mast) is more difficult.
Is there a way to practice sup, supfoil and windfoil with the same foil and board?
Absolutely! Thanks to our convertible Papenoo board which can be used as a normal wave SUP but can also be used for supfoiling and windfoiling if a rig is added.