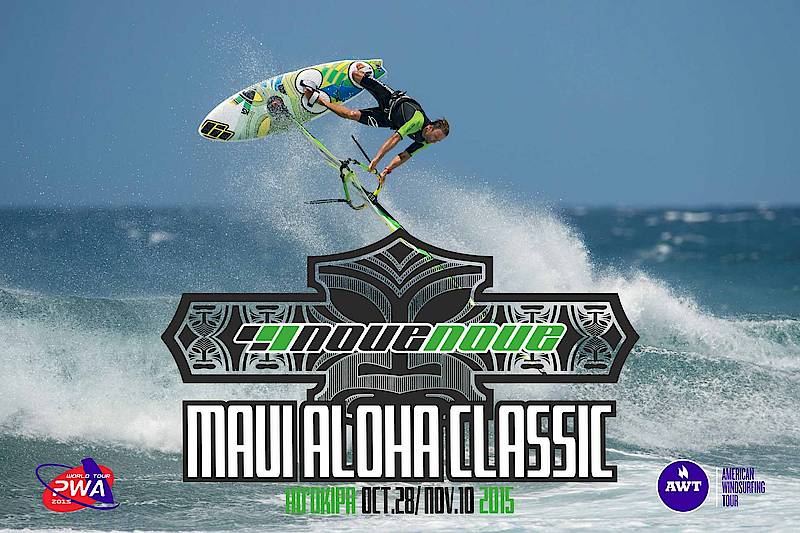 Il PWA comunica ufficialmente oggi, dopo averlo già inserito nella lista degli eventi 2015 qualche giorno fa, che il brand italiano 99NoveNove sarà lo sponsor della prossima Aloha Classic. Viene anche annunciato il ritorno alle gare (nel PWA) del tre volte campione del mondo Kauli Seadi, dopo essersi perso l'Aloha Classic l'anno scorso a causa di un infortunio.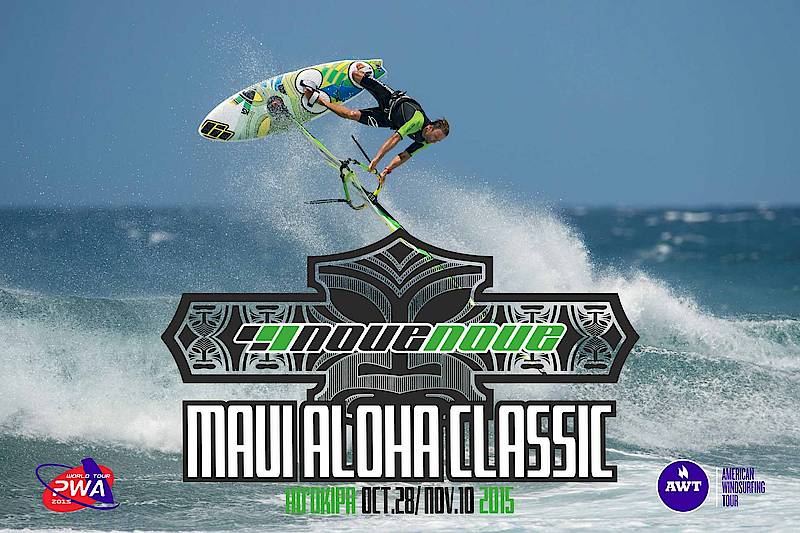 Ecco la PR del PWA
NoveNove proud sponsor of the 2015 Maui Aloha Classic
The countdown has already begun for the 2015 NoveNove Maui Aloha Classic, which is considered by many as the pinnacle event of the year. Over the years the Aloha Classic has developed the reputation of being the most prestigious prize in windsurfing, separating the men from the boys and the women from the girls — and this time around it is no different as this years event will ultimately decide the 2015 PWA Wave World Champions.
Ho'okipa (meaning 'hospitality') Beach Park, Maui, Hawaii is quintessentially the home of windsurfing. A place any windsurfer has hopes, dreams and aspirations of visiting at some point during their lifetime. What makes Maui so special is its clockwork like trade winds, which combine with some of the best waves on the planet to create the most spectacular windsurfing conditions — and all of this is then set against a stunning, luscious, tropical backdrop. It truly is a destination that every windsurfer must experience at some point in their lifetime.
NoveNove may have only been founded in 2008, but what started out as a small venture between Cesare Cantagalli (Brand Manager) and Gianni Valdambrini (shaper) has soon seen this unmistakably Italian brand develop into one of the most innovative and exciting brands in the windsurfing industry. With three decades of expertise NoveNove combine custom quality with everyday mass production, whilst sticking to their goal which is to 'uphold the same level of accuracy and quality we have grown accustomed to in every single 99 board being made.'
Now NoveNove are taking things to the next level again by sponsoring this year's Maui Aloha Classic. By putting their name to one of the most respected events in the windsurfing world, NoveNove have solidified their already established reputation as a serious manufacturer of top quality equipment.
Kauli Seadi in azione. Foto: Fish Bowl Diaries
The Title Showdown
The 2015 NoveNove Maui Aloha Classic will take place between the 28th October until the 10th November and at the moment the title race looks destined to be a two-man fight between Philip Köster (Starboard / Severne / Maui Ultra Fins) and Victor Fernandez (Fanatic / North / MFC) for this year's men's title, whilst things are shaping up for another epic all Moreno battle between reigning world champion Iballa Moreno (Starboard / Severne / Maui Ultra Fins) and Daida (Starboard / Severne / Maui Ultra Fins).
A two week holding period almost guarantees epic action with the world's best ready to combine gouging rail-to-rail turns with the latest aerial manoeuvres in order to earn this illustrious accolade in the home of windsurfing.
However, 99NoveNove's own team sailors will be hoping to throw a spanner in the works. 3-time world champion — Kauli Seadi (99NoveNove / Hot Sails Maui / MFC) — will return to the professional competition scene after missing last year's Aloha Classic through injury, and his effortless and fluid style will make him a major contender for the title, whilst Amanda Beenen (99NoveNove / Point-7) — who is in contention for a place on the women's podium — will be hoping to use her winter training to full effect and make a major impact.
Cesare Cantagalli – Brand manager – 99NoveNove:
"We are proud and greatly honoured to officially announce our sponsorship for the 2015 edition of the NoveNove Maui Aloha Classic which combines the AWT (American Windsurfing Tour) with final event of the PWA Wave Tour 2015."
"We trust it is a great contribution to our sport in view of supporting the PWA with what we consider being the most legendary event on Tour > Maui Aloha Classic." 
"We strongly believe that the PWA World Tour needs a wave contest performed in that typical Ho'okipa conditions, giving everyone a chance to perform at their full overall abilities combined with Euro events so producing a complete wave discipline winner." 
"On behalf of myself and my partners Gianluca Salvatore and Gianni Valdambrini we wish everyone a great performance and successful event."
This year's NoveNove Maui Aloha Classic runs between the 28th October until the 10th November. Are you ready for a clash of the titans as the biggest names in windsurfing prepare to go head-to-head to decide the King and Queen of the waves for 2015? The event promises to be another blockbuster and you'll be able to follow all of the amazing action as it happens via the PWA live stream and live ticker @ www.pwaworldtour.com.
To see the entire product range from NoveNove visit www.99novenove.com.