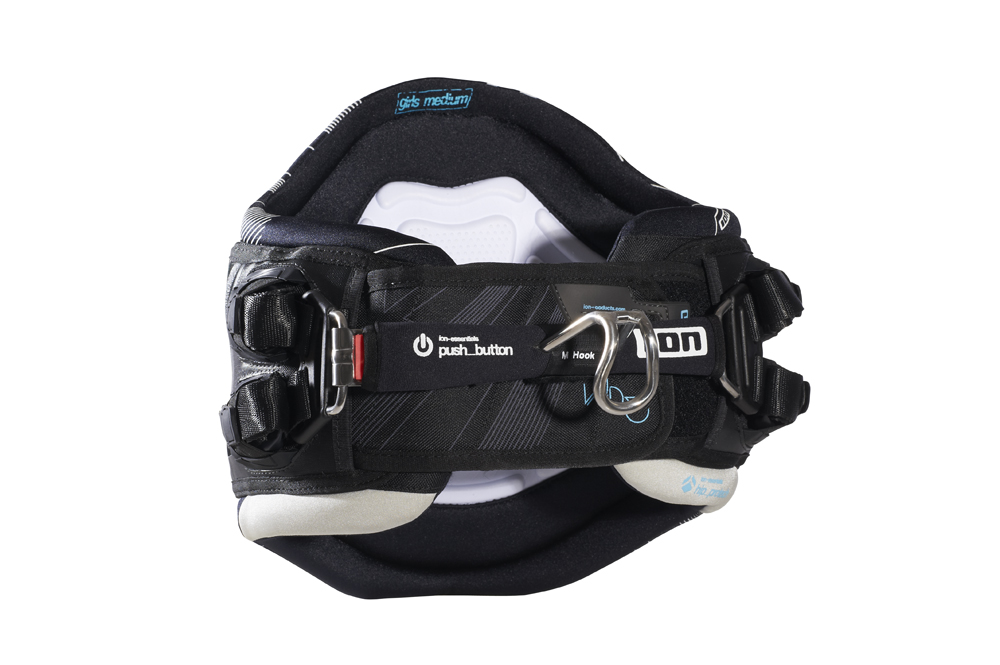 ION presenta i nuovi trapezi dedicati alle ragazze, il JADE. Disponibile nelle misure XS, S, M, L e costa 139 euro.
 www.ion-products.com
JADE
Features
. X-Spine
. Hip protection
. Cross link webbing
. Memory foam 2.0
. Soft edge
. Wrap tec
. Contour shape 2.0
. Quick fit
. Internal flex belt
. Push button spreader bar
. Belt garage
. Protection Pad
ION's top model premium windsurfing waist harness – available in two colours.
The new Contour shape 2.0 guarantees great back support with comfortable fit, while the Belt garage 2.0 allows you to store the webbing buckles in an elegant way.
Due to the X-Spine EVA protection the harness offers more support and protection to your back without reducing the flexibility of the harness itself. Furthermore the Jade features a special foam padding for women that protects especially the pelvis bones while bending sidewards and therefore gives you an extra of wearing comfort.
PEARL

Features
. Quick fit
. Internal flex belt
. Push button spreader bar
. Belt garage
. Bungee belt
. Bungee butt
ION's premium seat harness comes with 3D shape combined with flexible Bungee butt panels and cushioning in the back area, which guarantees a perfect fit to the lower body.
In addition it features the newly developed bar-webbing construction with a Quick fit Leverbuckle setup providing you with wearing comfort due the easy and fast adjustment.
Furthermore you can store the webbing endings in the ION Belt garage for more safety, comfort and style.