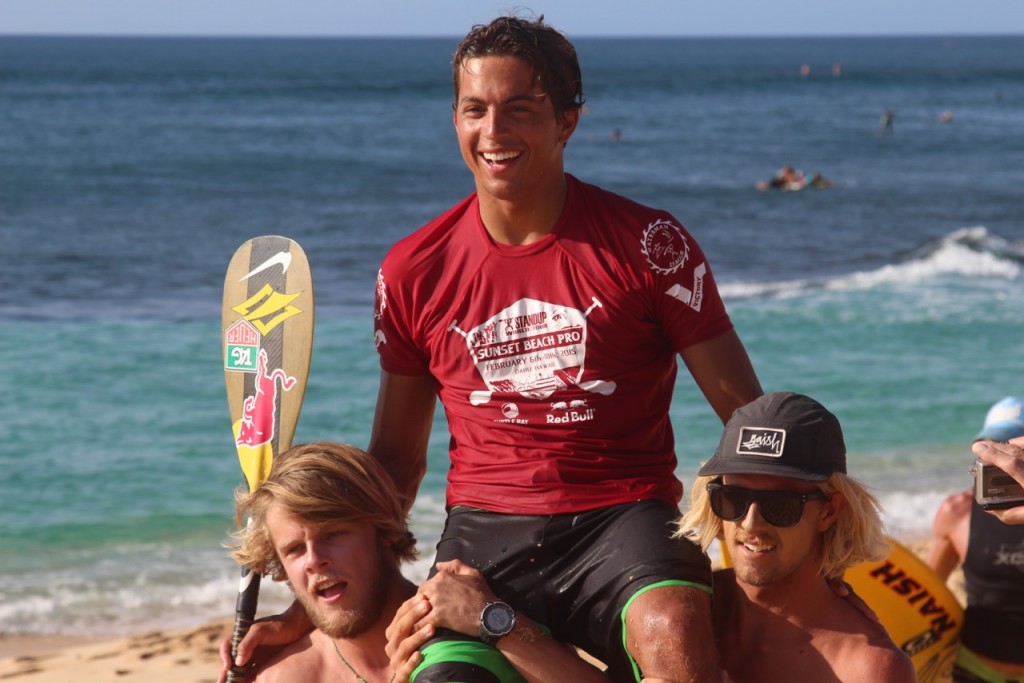 Kai Lenny si aggiudica il primo posto al Sunset Beach pro 2015. Dopo tre giorni di attesa finalmente si è disputata la gara. Purtroppo per gli atleti si sono dovuti sfidare su uno swell di poco più di un metro, dove si sono esibiti cercando di dare spettacolo con lip trick e tecnica.
Mo Freitas in super forma ha dimostrato di essere davvero un super rider, radicalità e aggressività in un mix davvero esplosivo che però si posiziona al terzo posto, al secondo Caio Vaz, il quale non ha sbagliato un colpo durante le heat, pulito e stiloso si è meritato il secondo posto. La vetta più alta spetta a Kai Lenny, il quale si è divertito sulle onde regalando stacchi dal lip come se fossero noccioline. Il report della  gara lo trovate sotto in lingua originale.
Kai Lenny leaves it until his last two waves of the final to win the #SunsetBeachPro.
In what proved to be testing conditions through the day the waves turned on for the final heats of what was a dramatic close to the 2015 Sunset Beach Pro. In 30 minutes Kai Lenny (Naish), Mo Freitas (Focus Sup), Cai Vaz (Art in Surf) & Justin Holland (Starboard) caught 41 waves between them in 30 minutes.
Kai Lenny was on impressive form throughout Day 3 dominating all his heats on the way to the Final. In an awesome display of surfing in Semi-Final 1, his 17pts (8.33 & 8.67) left his opponents needing a combination of scores to better his.
More flair and radical turns on his final two waves in the final (7.77 & 7.5) mean't he takes his 4th SunsetBeachPro event (out of 6) and starts the 2015 season with a win
Caio Vaz impresses but just fall short in the final and can't retain his #SunsetBeachPro crown
Caio Vaz (Art in Surf) was looking to repeat his heroics here last year with a repeat performance. In very different conditions the young Brazilian showed sparks of why he is so dangerous on the #SUWT. Winning his Round 1 and 3 Heats comfortably, Caio, snuck into the Semi-Finals edging out Sean Poynter (Starboard) by just 0.51 to take second place behind an on form Kody Kerbox (Naish).
In the Semi-Final the Brazilian must have reminisced back to last year's heroic performance to pull off a 14.5 heat score total to win Semi 2 and progress to the Final. In a repeat battle of last year's final and even year, it was Caio and Kai battling for the top two positions. Posting 10 scores, he just couldn't find those excellent scores  he needed to retain his Sunset Beach Pro title and had to settle for second place on the first stop of the 2015 Stand Up World Tour.
North Shore local, Mo Freitas, finishes 3rd despite fracturing his pelvis just two weeks ago
Halewia born, Mo Freitas, (Focus SUP) displayed exceptional talent at one of his home breaks and showed assembled crowds some powerful and progressive surfing to finish 3rd at the 2015 Sunset Beach Pro. Recovering from fracturing his pelvis at Waimea just 14 days ago, Mo probably shouldn't have even been surfing, but not wanting to miss not only the all important first stop on Tour, but an event right on his doorstep, the North shore the youngster took it easy through the first few rounds progressing as runner-up in Round 3. Into the Quarter-Finals Mo scored one of the single highest waves of the day (8.66) to advance to the Semi's. Scoring another excellent wave he dominated Semi final 2 to advance through to the 30 minute Final.
Up against Kai and Caio, you could see that after a long day's competition the youngster couldn't find the waves he needed to post a combination of scores in the excellent range. However, there is no doubt that Mo will be a major Title contender in 2015, especially once he is back to 100% fitness.
Justin Holland shows his hunger with a fourth place finish at the #SunsetBeachPro
Justin Holland (Starboard) reaches the #SunsetBeachPro Final as he starts his 2015 campaign in excellent form. After missing the back half of the 2014 season through injury the Australian was determined to perform on the international stage and show he that he is every bit a force to be rekoned with. Consistently scoring solid wave scores, Justin, picked out the right waves and lay down some radical full rail turns.
Two second placed finishes in the Quarters (12.33) and in the Semi's (9.3) showed the judges and his fellow athletes that he isn't here to make up the numbers on Tour and a fourth place finish at Sunset is something to be proud of as we head to the next stop in Brazil in just over a month. Watch out for Justin Holland in 2015 as he looks to make this 'his year' on Tour
Other standout performances from a spectacular day of action
Kody Kerbox (Naish) pulls off the highest wave total and single wave score of the day with an 18.5 ride (8.73 & 9.77). The young Maui born rider narrowly missed out on a place in the Final but it was his score in Round 3 that he will remember.
Beau Nixon (Naish) after a strong performance on Day 2, continued his great form as he dominated his Round 3 Heat. Australian born, Beau, who has been training hard throughout the winter demonstrated impressive flow and critical turns throughout, but was unable to progress out of what was an incredibly stacked Semi Final.
Bernd Roediger (Quatro), another young Maui born rider, excels in big surf but showed here in a challenging Sunset that he can put on a display of performance surfing at its best to earn his spot in the Semi-Finals.
Poenaiki Raioha (F-One) is the leading light from the wave and talent rich Tahitian Island chain. Dominating his Round 3 and Quarter-Final Heats with some exceptional and incredibly consistent surfing he just couldn't find the right waves to score and progress through to the Final.
Please click here for a selection of Hi-Res images from Today's action: https://watermanleague.box.com/s/53oj8lzkic2i568xpz8zp3pimei9e4g2
Press Contacts for the 2015 Sunset Beach Pro & Turtle Bay Women's Pro
For any press and media enquiries regarding the 2015 Sunset Beach Pro and Turtle Bay Women's Pro, please see the below contacts:
PR: Stuart Howells: Tel: (949) 531-9075 / Email stuart.howells@watermanleague.com
Tristan Boxford: 808 269 4515 / tristan.boxford@watermanleague.com
Make sure to check out all the highlights at: www.watermanleague.com