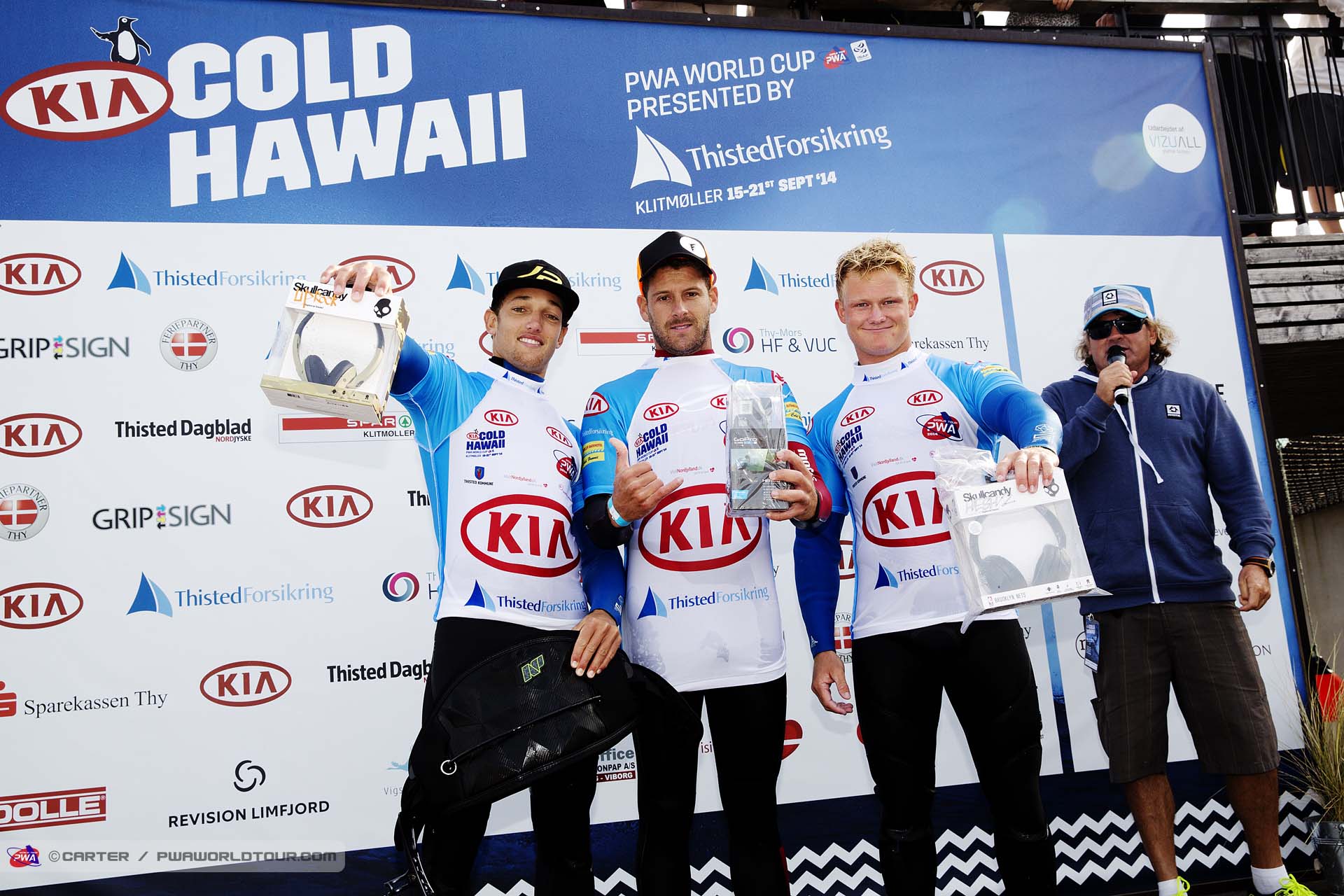 L'ultimo nostro report risaliva al Day 1 del Kia Cold Hawaii PWA World Cup, le altre giornate ve le abbiamo raccontate con qualche post sulla nostra pagina facebook (che ne frattempo ha superato quota 12.000), perché tranne una super session di Tow-in e una Wind-SUP competition, non c'è stato tanto altro da raccontare. Tutte le speranze sono riposte per domani mattina ore 7:00, ultimo giorno di gara, quando le condizioni finalmente dovrebbero essere favorevoli allo svolgersi della gara!
Intanto la super session Tow-in è stata vinta da Ricardo Campello (Patrik, Point-7, MFC).
KIA COLD HAWAII PWA WORLD CUP
Day 6: Ricardo Campello takes victory in tow-in as tension builds ahead of the final day
With almost no wind predicted for the penultimate day of the KIA Cold Hawaii PWA World Cup a side tow-in event was arranged to provide the entertainment for the crowds, which gathered to enjoy a spectacular display in the golden sunshine. Ricardo Campello (Patrik / Point-7 / MFC) collected his second GoPro of the week after managing to claim another victory.
Six sailors – Albert Pijoan (Starboard / Severne / MFC), Jules Denel (JP / NeilPryde), Sebastian Kornum, Antoine Martin (JP / NeilPryde), Ricardo Campello and Alessio Stillrich (Fanatic / North) – lined up for the tow-in final as they were given three opportunities each to wow the crowds and judges in their search for victory. In the end Campello stole the show as he was awarded 26 points out of a possible 30 after landing an immaculate burner. Meanwhile, local boy Kornum put together a good display to take second place as he rotated through an air flaka, while yesterday's tow-in winner Martin had to settle for third today.
Campello may have claimed victory but his success came at some cost after the Brazilian injured his shoulder whilst warming up for the final. Hopefully the injury is nothing too serious and won't have a detrimental affect on his performance.
All eyes now turn towards tomorrow's forecast as everyone prepares for what should be a frantic final day, as the race to gain a result for the fifth consecutive year goes down to the wire. With the wind and waves expected to arriver during the night, skippers' meeting has been called bright and early at 6:30am with the action commencing from 7am. Up first will be the trialists before the single elimination begins. Don't miss any of the incredible action by tuning into www.pwaworldtour.com. Here you'll be able to follow the action as it happens via the PWA live stream and live ticker.