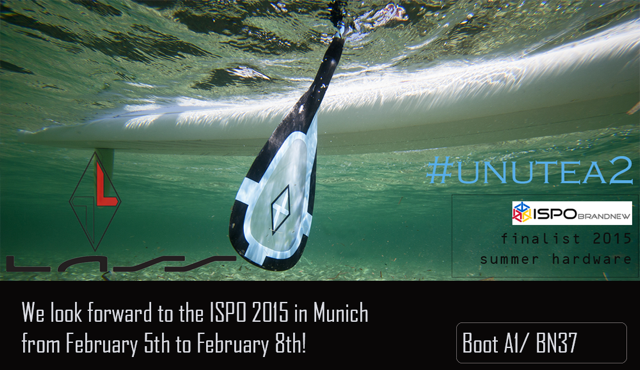 Lass Paddle, the brand 100% dedicated to the world of paddling, is pleased to announce its nomination as a
BRANDNEW finalist for the ISPO Munich 2015. Each year, the competition rewards the best technologies and innovations in the world of sports. For 2015, a jury of experts selected Lass Paddles to be a finalist in the competition.
Lass Paddles are designed and shaped by Helgo Wilhelm Lass, founder of the company, who used his extensive open-water experience spanning over 40 years to design the paddles. The paddles are made using an innovative technology (patent bended) called dynamic shape system (DSS).
"My inspiration comes from a constant dialogue with the world of nature", explains Helgo Lass. "The flexibility and the ability to adapt to the environment have always distinguished the animal world and who would be better suited to teach us about life and movement in the ocean than fish and sea mammals.
Hence, I have developed a technology and a design that allows the paddle to respond to the water harmoniously. This led to the creation of Unutea, a lightweight, versatile and high-performance paddle that is able to accommodate the movements of any paddler, making it a comfortable and at the same time powerful paddle.
" This is surely an innovation that fundamentally changes the world of stand up paddling, where the ability of the blade to increase its surface during the stroke makes the product unique and inimitable. Find more information and news at www.lasspaddle.com
We look forward to the ISPO 2015 in Munich from February 5th to February 8th: Booth A1/BN37