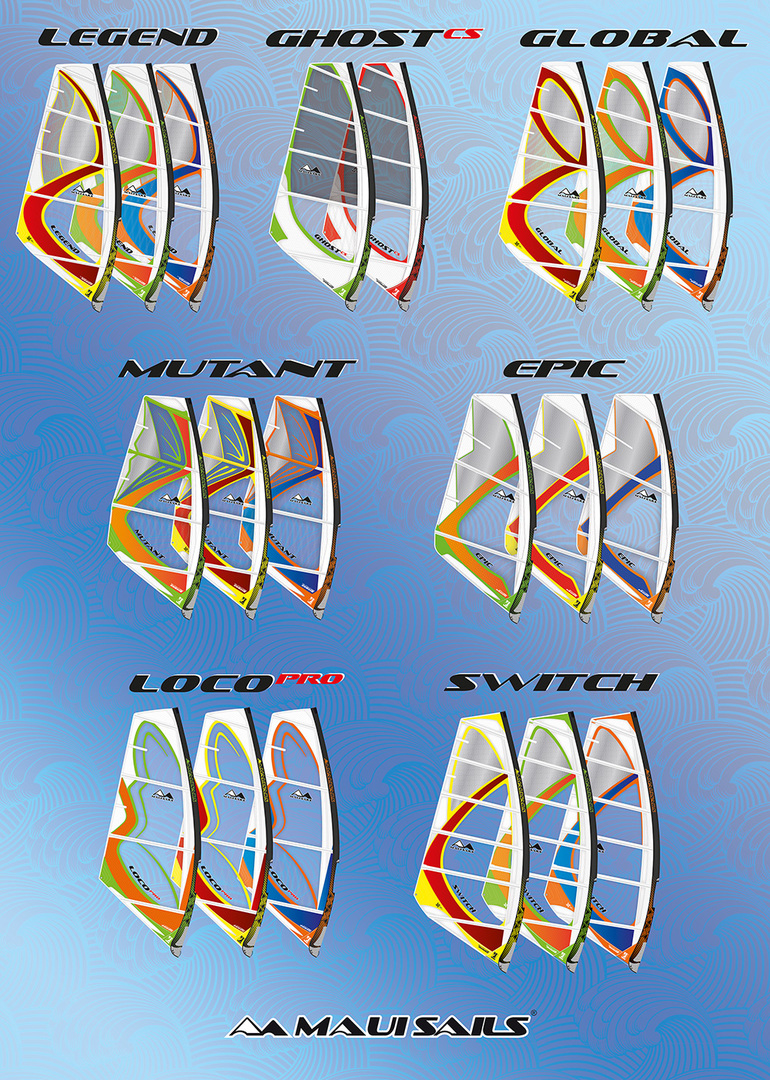 Il range completo della nuova collazione Maui Sails 2015.
– Legend (5-battens wave sail)
– GhostCS (5-battens Technora light-weight wave sail)
– Global (5-battens power wave sail)
– Mutant (4-battens wave sail)
– Epic (3-battens wave sail)
– LocoPro (4-battens freestyle sail)
– Switch (5-battens Bump'n'Jump)
2015 MauiSails Wave & Fresstyle range from MauiSails.com on Vimeo.
2015 Wave&freestyle range
MauiSails 2015 wave/freestyle line up includes some exciting developments in performance, design and new materials. Combine years of original thinking and design with a real daily passion for wind and waves and the result is the ultimate no-compromise, performance tools for making the most of your time on the water.
Our revolutionary "Mutant" 4-batten ultra compact wave sail has proven itself over the past couple seasons as the dominant tool for both top level wave competition and any dedicated wave sailors that demand the most progressive performance and agility on the wave together with excellent drive, power and wind range. For 2015 we have focused on expanding upper wind range and making the sails feel even lighter in the hands. Outline adjustments with reduced mid leech roach and additional lower batten rotation have helped expand upper wind range, improve forward drive and make the sails feel even lighter in the hands. In terms of construction we use a combination of our most sophisticated Technora and Metallic scrim laminates optimizing the properties of each through load oriented panel layouts.
The "Legend" returns as the classic, "do it all" down the line wave sails giving great range and a more neutral feel in a variety of wave and high wind conditions. For 2015 The Legend incorporates our new light weight metallic scrim laminate used in combination with the gradient X-ply for the optimum combination of durability and light weight.
For 2015 we went full throttle, no compromise on the new Ghost CS building a production sail that is built like the most sophisticated custom sail imaginable. By eliminating any unnecessary seams and maximizing use of the most technical, ultra light and strong Technora scrim available, the Ghost is simply the most refined performance wave sail available.
An exciting new development for 2015 is MauiSails brand new 3 batten "EPIC" wave sail. The EPIC provides a pure wave riding experience and radical performance. By using our characteristic full vertical luff panel construction and refined seam shaping techniques the Epic stays nicely balanced and tensioned throughout a large wind range. Material layout has been carefully planned out and oriented to balance the loads perfectly giving additional support to the 3 batten skeleton. Heavier duty X-ply is oriented to support diagonal twist loads while our light weight Metallic scrim in the leech and upper sail body gives the sail featherweight handling and instant response.
The "Global" quenches the thirst of the power wave sail crowd and for 2015 benefits from material improvements, using a combination of lightweight metallic scrim and gradient X-ply in the upper sail body.
The Switches 6 batten RAF design combines blazing freeride speed, with some bump and jump trickability making it quite versatile. For 2015 The Switch borrows some material Technology from the TR-X, using the light weight metallic scrim  in the upper sail body.