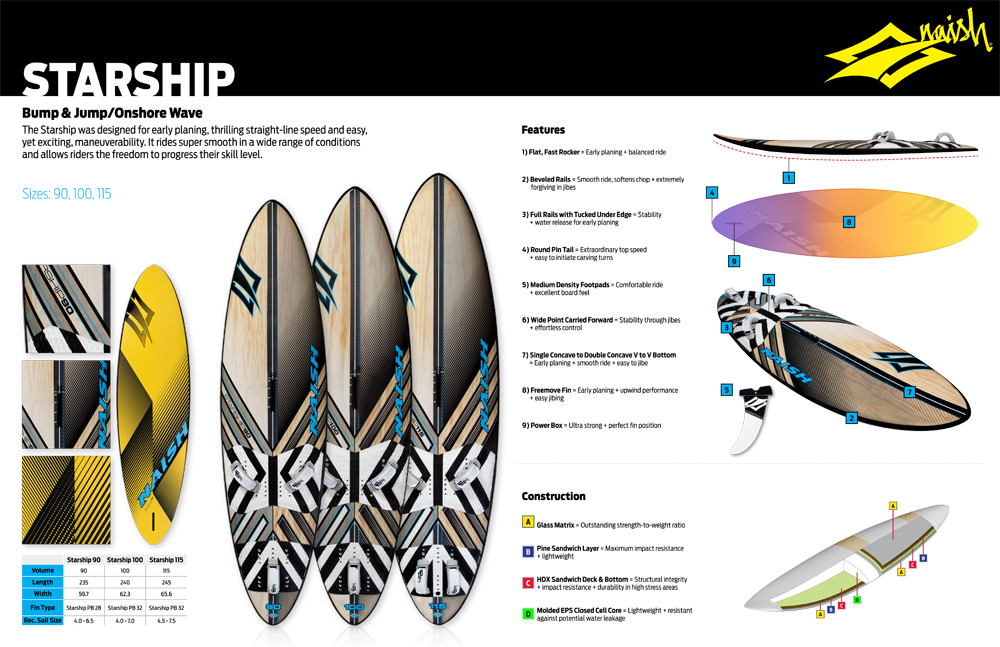 Naish ci invia qualche anticipazione 2014. Tutto il resto lo troverete sul numero di luglio di 4Windsurf (Funboard).
Naish introduces the Vibe & Starship. Experience the newest definition of advanced workmanship.
We're excited to announce the early 2014 release of two intriguing new designs that will bring you the sense of exhilaration you've been waiting for.
Experience the Vibe, a lightweight wave sail with a durable new construction that embodies true, all-around performance. Crave a board that delivers thrilling straight-line speed and easy, yet exciting maneuverability? Familiarize yourself with the Starship.
Vibe: All-around Wave/Bump & Jump
Starship: Bump & Jump/Onshore Wave

Starship
Bump & Jump/Onshore Wave
The Starship was designed for early planing, thrilling straight-line speed and easy, yet exciting, maneuverability. It rides super smooth in a wide range of conditions and allows riders the freedom to progress their skill level.
Key Features:
Flat, Fast Rocker = Early planing + balanced ride
Beveled Rails = Smooth ride, softens chop + extremely forgiving in jibes
Full Rails with Tucked Under Edge = Stability + water release for early planing
Round Pin Tail = Extraordinary top speed + easy to initiate carving turns
Medium Density Footpads = Comfortable ride + excellent board feel
Wide Point Carried Forward = Stability through jibes + effortless control
Single Concave to Double Concave V to V Bottom = Early planing + smooth ride + easy to jibe
Freemove Fin = Early planing + upwind performance + easy jibing
Power Box = Ultra strong + perfect fin position
Construction:
Glass Matrix = Outstanding strength-to-weight ratio
Pine Sandwich Layer = Maximum impact resistance + lightweight
HDX Sandwich Deck & Bottom = Structural integrity + impact resistance + durability in high stress areas
Molded EPS Closed Cell Core = Lightweight + resistant against potential water leakage
Sizes: 90, 100, 115
Starship Board Q&A
What inspired the idea behind the Starship?
The goal behind any Naish board was to create boards that are exciting to use in whatever conditions they get used in. We do not necessarily care about the best race results – we want to develop boards that we love to ride and will give any windsurfer a good time on the water.
With the Starships, our goal was to create the ultimate "all-arounders" in their volume classes. An "all-arounder" to us means that the boards deliver the best performance possible between different parameters. Those parameters are the best combination of:
paired with
paired with
So, we are essentially looking at the sum of all things. In return, we achieved boards that cover the widest range of conditions possible. From flatwater bump and jump sailing to blasting around on freeride sails, to taking them out in onshore surf conditions.
When did you first begin developing the Starship? How long did it take before you were happy with the final design?
The design process of Starship-like windsurf boards started a long time ago. It has essentially been years of compiled research in order to bring maximum versatility and improved performance in every subcategory:
How can riders progress their skill level with the Starship?
In our opinion, it is everybody's desire to get better to a certain extent. If you have a board that only goes one speed, at one point you are going to "hit a wall" and not progress anymore. If you are learning how to jibe,  at one point you will want to not only do wider jibes but also pressure the board into tighter turns.  If you are sailing on a lake, at one point you might want to take a vacation out to the sea.
All of these essential needs are covered in the Starship line. They are boards that grow with your needs and allow you to progress through their built-in versatility. They represent the sum of all things needed as a bump and jump sailor.
All boards on the market nowadays offer a lot of options when it comes to footstrap position and mast track. How can all those options be used to the riders advantage?
Stance width: with 4 insert holes, any rider has the chance to choose the right stance width for their size and riding style. The traditional stance width is measured for a 175 cm tall individual, meaning that this person would choose corresponding holes for the footstraps to start with. If you are taller, start moving your stance apart. If you are smaller,  you have the option to decrease the distance.
Using strap position further forward or backwards: the closer your back foot is over the fin, the more agile the board will react. The more you stand forward, the more settled down the riding feel will be. Standing further backwards is usually beneficial for riders with more experience as they can get the most out of the board in terms of speed. Standing further forward helps alot if you are still learning to be secure in the footstraps or if you want the board to plane easier.
Personal reference: if you have no personal reference then start with the point above. Over time, you will develop a stance width that suits your style. For example: if you are mainly sailing in waves or rougher water, a wider stance will be more beneficial to you.
Inside and outside positioning: if you are sailing long stretches in a straight line, the outside positions will be more comfortable as the top of your foot won't get overstretched. If you like to jibe and practice maneuvers, the inside position will be more comfortable. If you are just learning how to get into the straps, you will also find the inside position more comfortable in the beginning.
Mast track: moving the mast track further back will liven up the board while moving it further forward will settle it down. For example, if you are getting overpowered and the board gets harder to control, you can move the mast base a bit more forward which will settle things down. This is a great way to increase the range of the board even more in extreme situations.
A useful trick that actually has nothing to do with the board is also your boom height.  Bring the boom further down and you will gain more control in overpowered conditions as you will be applying more pressure on the mast base. Bring your boom further up and you will receive less pressure on the mast base and a looser riding feel.