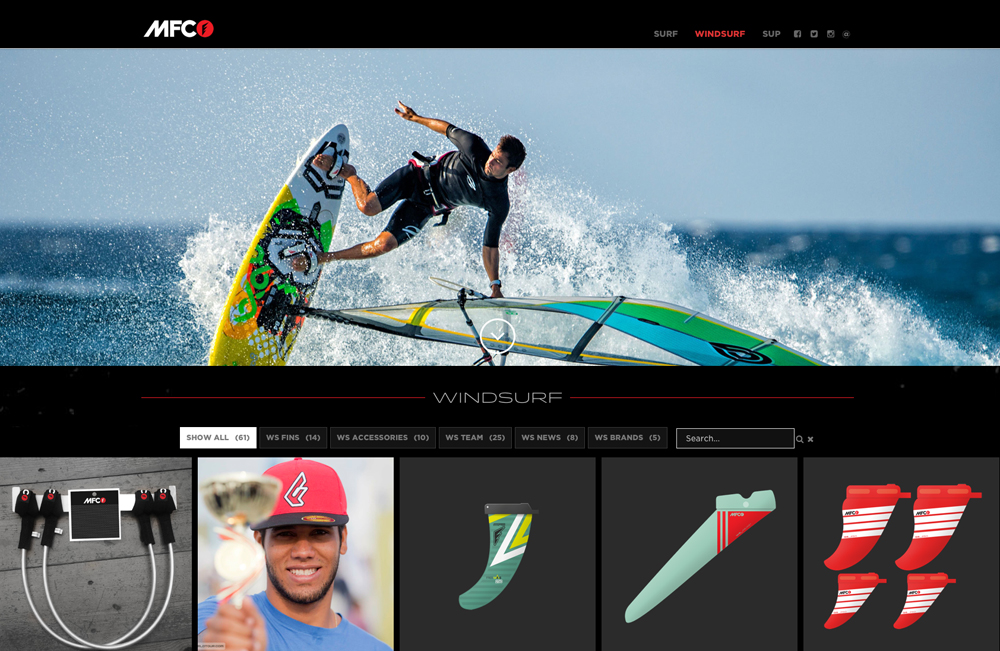 Maui Fin Company rinnova la veste grafica del sito. Dateci una occhiata!
MAUI FIN COMPANY LAUNCHES NEW WEBSITE
Introducing new website for surfing, SUP and windsurfing: www.mfchawaii.com
MAUI, HI–March 2, 2015 – The new website, www.mfchawaii.com, MFC Hawaii is proud to announce the launch of our new website (www.mfchawaii.com). We have been working hard to bring you the best platform possible for you to find all of your favorite MFC Hawaii Windsurfing, Surf & SUP gear as well as up to the minute news and the latest stories from our World Champion Team Riders. The MFC Channel is ready for your viewing pleasure.
MFC Has been busy developing the tools you need to take you to the next level. We invite you to check out our new product line, Including an all new 2016 design of our Board-bags Windsurf Fins & SUP Fins, and Introducing our line of Surf fins which include the KAI XXL, KAI Quad & KAI Thruster, tailor-made for master waterman Kai Lenny.
With this new platform everyone can join the MFC conversation. Using #mfchawaii on social media channels like Instagram and Twitter allows readers the opportunity to be featured on the news page. The real-time feed of social posts is the best way to stay in the loop during live surf, SUP, or windsurf events. Team Rider pages feature stories about the team member as well as their most recent instagrams.
The new site is easy to navigate with three main categories for each of the three featured watersports. News, Team, and Product sections allow visitors to browse surf, SUP, and windsurf content from any device.
A huge thanks goes out to the design team at BlueGraphics Hawaii.
Their use of the newest technology has allowed us to create a dynamic space for everyone to share their love of watersports. Additional thanks to Fish Bowl Diaries for providing most of the photography, Darrel Wong, Jimmie Hepp and John Carter all the MFC team riders for being the best in the world.
Welcome to the MFC HAWAII world, share, love it, fly with it.
Subscribe for our news at the bottom of our home page.