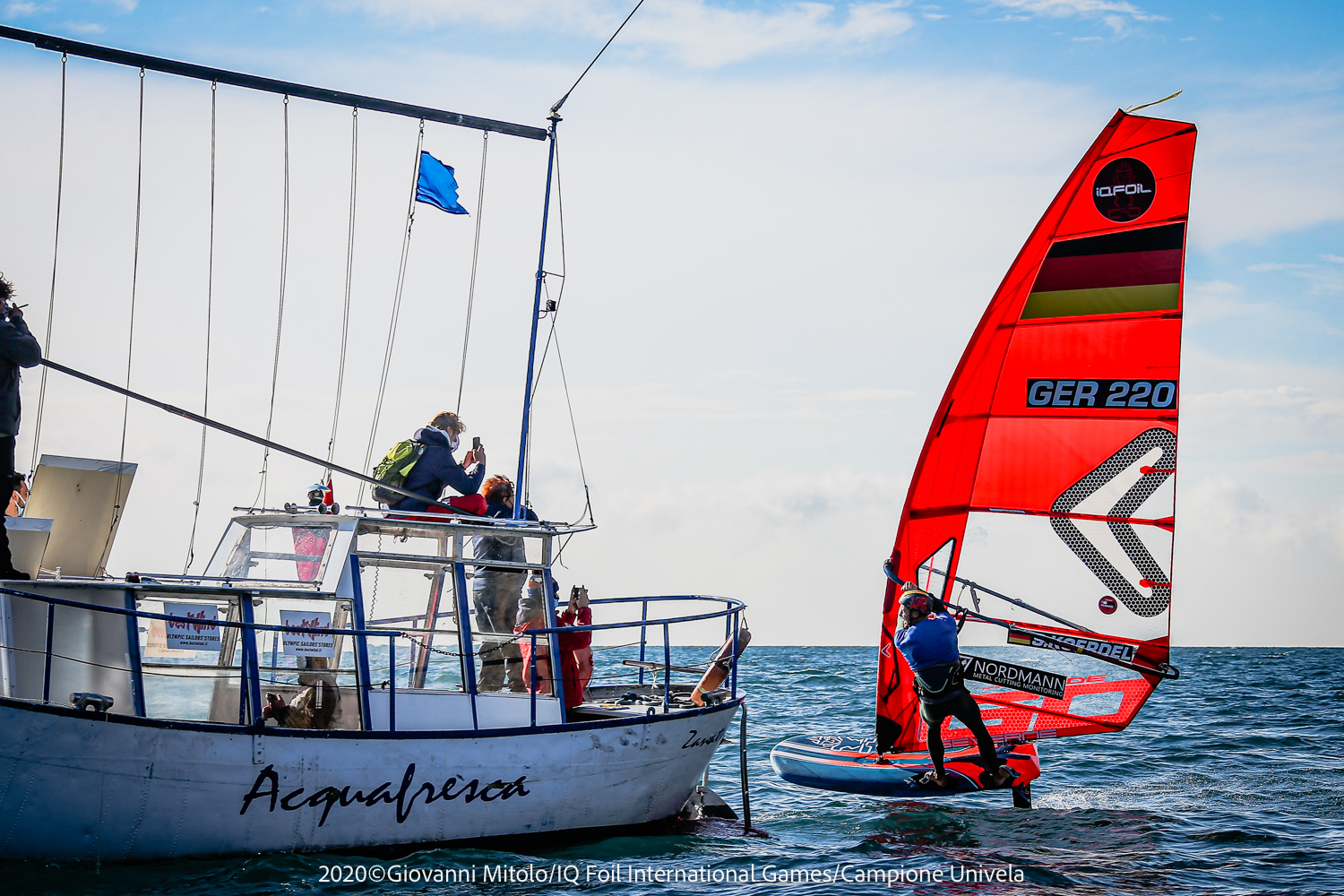 Sebastian Koerdel (GER) e Noy Drihan (ISR) vincono ai iQFoil International Games di Campione del Garda. Matteo Iachino termina in 7° posizione. Matteo: "Settimo a questa regata iq foil. Sono entrato nella medal 4 ma ieri nella qualifica per la finale ho fatto un errore e ho mancato la boa di bolina. Ora un po' di vacanza e poi ci si ritorna ad allenare per la stagione di coppa del mondo slalom 2021".
PRESS RELEASE CIRCOLO SURF TORBOLE
Si è da poco concluso a Campione del Garda l'evento più importante della stagione per la nuova classe olimpica decisa per Parigi 2024, disciplina tavole a vela: l'iQFoil. Il Circolo Surf Torbole si è presentato sulla linea di partenza con un "big team" di 8 atleti, tra cui l'unica donna italiana in gara, la giovane Sofia Renna. Tra i maschi invece, presenti tutti gli altri fratelli di Sofia, Nicolò, Jacopo e Riccardo Renna, insieme a Manolo Modena, Bruno Martini, Daniel Slijk e Jacopo Gavioli tra i 118 maschi partecipanti. L'evento, una sorta di mondiale chiamato "International Games iQFoil" considerate molte assenze per via del Covid e quindi senza l'assegnazione dei titoli iridati, è stata una preziosa occasione per il Team allenato da Dario Pasta di entrare in contatto con questa nuova realtà, che è in gran parte tutta da scoprire nella sua tecnica, come nei suoi tre diversi format, che prevedono percorsi Course (sopra i 10 nodi), Slalom (max 15 nodi) e Marathon (minimo 10 nodi), decisi di giorno in giorno dal Comitato di Regata in base alle condizioni del vento.
Il team dunque – sicuramente presente per fare esperienza e non in cerca di risultati – si è confrontato con i migliori al mondo potendo individuare così i punti di forza e gli ancora tanti punti deboli dei ragazzi, per poter così proseguire il percorso intrapreso con molte risposte alle domande che via via si sono presentate in queste ultime settimane e durante l'evento stesso. "La manifestazione di Campione è ben riuscita grazie anche alle condizioni che il lago di Garda ha presentato sul campo di regata, con vento ottimale. Il format di regata è molto interessante così come il foil stesso, che per certi versi ha larghi margini di studio e scoperta. Sicuramente alcuni meccanismi di regata vanno migliorati per non perdere troppo tempo ed evitare tempi morti in presenza di vento ideale, così come successo a Campione. Ma classe in futuro riuscirà a sistemare le cose, considerato che è solo il secondo evento iQ Foil organizzato al mondo, dopo l'europeo di Silvaplana" – ha commentato il tecnico del Circolo Surf Torbole Dario Pasta. Ma il Circolo Surf Torbole, è stato il Circolo velico più rappresentato anche nel clinic junior-youth di 3 giorni organizzato sempre a Campione dalla casa madre della classe iQFoil, la Starboard: Rocco Sotomayor, Michele Rosà, Mattia Ferraresi, Leonardo Tomasini, Celeste Treccani e la veronese Anna Polettini hanno avuto l'occasione di vivere un'esperienza sicuramente preziosa, a cui hanno partecipato una trentina di giovanissimi provenienti da Belgio, Germania, Colombia, Ungheria, Lettonia e Repubblica Ceka, potenzialmente atleti olimpici del futuro.
Da mercoledì 28 ottobre il Circolo Surf Torbole sarà ancora protagonista, questa volta come organizzatore dell'evento internazionale Techno 293, che sostituisce il Mondiale rimandato all'anno prossimo. Naturalmente non mancheranno i giovani atleti portacolori del circolo presieduto da Armando Bronzetti, presenti in 7 e con le carte in regole per poter ambire al podio. Gli organizzatori, attenti a tutti i protocolli di prevenzione sanitaria, hanno voluto offrire ai ragazzi una possibilità in più per un confronto internazionale, che in questa stagione è mancato a molti. Grazie ai contatti con la Federazione Italiana Vela e la classe Internazionale, mantenendo le date del mondiale, si è proposto così dal 28 al 31 ottobre il "Torbole 293 International Windsurfing Event" durante il quale ci sarà la presentazione della nuova proposta foil giovanile "Techno wind foil 130"; che nell'ultima giornata avrà uno spazio tutto suo.
Tutte le regate organizzate sul Garda Trentino dal 2020 sono sempre più green: da non dimenticare infatti il grande investimento fatto con l'utilizzo non solo delle boe elettriche telecomandate, ma anche dei motori elettrici sulle barche Comitato, usate per mantenere l'allineamento geolocalizzato per partenza e arrivo.
La settimana si presenta ottimale dal punto di vista meteo per un gran finale di stagione, che va a premiare i grandi sforzi fatti nei mesi di apertura per rispettare e far rispettare tutte le norme vigenti e poter vivere serenamente lo sport principe del Garda Trentino, il windsurf.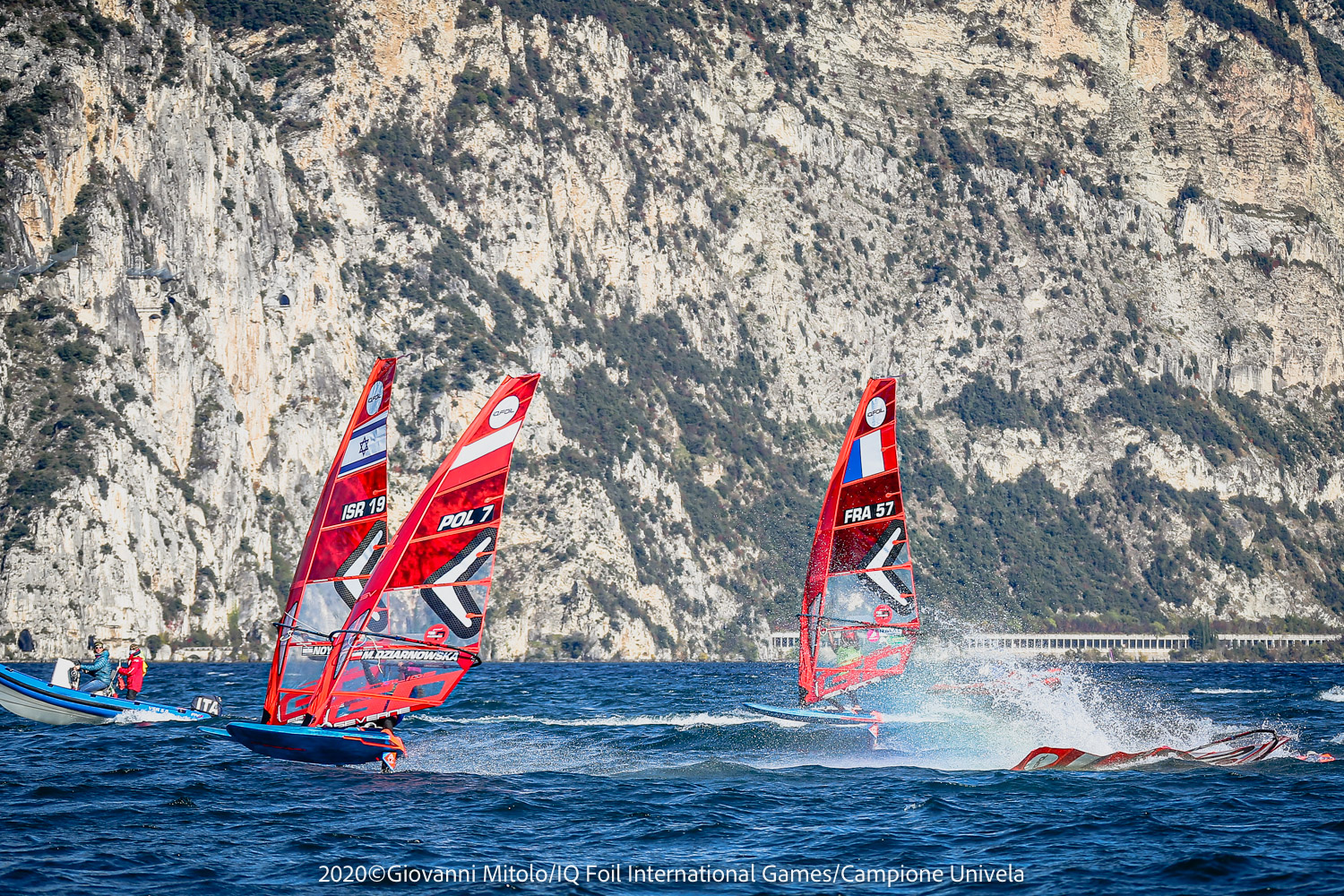 PRESS RELEASE IQFOIL
A drizzly and slow wake up on the last morning of the IQFOiL International Games in Campione, Lake Garda, organised by Univela sailing, Società Canottieri Garda Salò and the iQ FOiL Class; but the sun, just like the excitement, was just behind a thin layer of clouds, as the knock-out Medal Series were in sight.
A revolutionary system for the next-to-be Olympic sail board, with three races for the top 12 of the Opening Series: a Quarter Final among riders from 12th to 5th, four then access to Semi Final joining the 4th and 3rd overall, and the first two to cross the finishing line go on to compete in a winner-takes-all Grand Final race with the 2nd and 1st of the Opening series.
After a quick check of the equipment at the pit lane and a very short wait ashore, it was time for the Medal Series to begin. The America's Cup style Course format with about 15 knots proved to be fast, exciting and with plenty of action: a dashing reach start and then on to a short and pumping downwind, back up windward and another breathtaking reach to the finishing line. Men and Women were quickly alternating on the racecourse, with the ones waiting their time to race carefully monitoring the action and conditions.
In the Men Quarter Final Huig-Jan Tak (NED), followed by Alexandre Cousin (FRA), Samuel Sills (GBR) and Matthew Barton (GBR) made it through to Final joining Matteo Iachino (ITA) and Kiran Badloe (NED) in another very tight race. Huig-Jan Tak went on to win also the second race of the day and with Alexandre Cousin advanced to a winner-takes-it-all Grand Final where Sebastian Koerdel (GER) and Nicolas Goyard (FRA) had been waiting. A nice start by the German boarder who managed to round first at every mark extending his lead up until the finishing line winning the event over the best riders of the world of the Paris 2024 foiling class. The silver medal went to Nicolas Goyard and the bronze to Huig-Jan Tak, who more than anyone else profited of the knock-out system and was able to step on the podium from a 10th overall in the Opening Series.
"It was very exciting, I kept my nerves together, I had an ok start but had superior speed in the reach and then could hold on to my advantage until the finish line: I am happy! – says an enthusiast Sebastian Koerdel – Now on to some off time, because from Silvaplana to now I haven't rested, I'll be home to monitor the global situation, getting ready for next year and possibly win an official world title next time..
"I've finished the first race of the week in second and I've been second up until today, always fighting with Nico (Goyard): he had some edge in Course racing (so I know where I have to work on), and I was a little better in the Slalom, I won all of them. The Final Series is such a great format, the reaching start is amazing, I watched the first two from the water and they are literally flying over the start creating such a spectacular show! I also like the knock-out system thanks to which you can improve a lot your position, but with a fair safety net for the top four guys that cannot go lower than fourth."
In the Women Quarter Final Lilian de Geus (NED) was on fire, winning with a solid margin over Islay Watson (GBR), Lucie Belbeoch (FRA) and Pilar Lamadrid Trueba (ESP), all advancing to the Semi Final with Noy Drihan (ISR) and Dephine Cousin (FRA). The wind was a bit less intense, but still well over 10 knots, and it was another magnificent race by Lilian de Geus who smoothly crossed the finish line heading to the Grand Final along with Noy Drihan. There they joined Maja Dziarnowska (POL) and Helen Noesmoen (FRA) who had been leading all week. A rocket-like start by Lilian, who fell in the first reach for pushing too hard thus loosing control of the foil, leaving the other three on the podium. Noy Drihan rounded first the first mark and extended her lead up to the finish, followed by Helen Noesmoen and Maja Dziarnowska.
"I am very happy, it was stressful – says Noy Drihan – I started from the second race and managed to go to the Grand Final where I won the competition and it makes me so happy and proud! I liked the knock-out format, it is super stressful but I loved it!
"I am an RS:X boarder and I am still competing for a spot at the Tokyo Olympics, but I love the foiling board a lot, it is so much fun!! Here we might have a slight edge in the Course format because of the tactics, but the girls coming from the PWA are better in the Slalom, it is good that these two worlds are joining together and we are all improving day by day.
"From tomorrow I will go back to my training in the RS:X, leaving the iQFoil to rest for a while."
While the winners celebrated, the rest of the athletes went back on the water for a few more races, recording some changes in the youth rankings, with a beautiful southerly breeze, the 'Ora'. The iQFOiL International Games end with an impressive set of races completed in every format by everyone, and with great enthusiasm and expectations for the new foiling Olympic sail board, which found a perfect location at Univela Sailing and Lake Garda this week.
MEN TOP 12
1 – Sebastian Koerdel (GER)
2 – Nicolas Goyard (FRA)
3 – Huig-Jan Tak (NED)
4 – Alexandre Cousin (FRA)
5 – Matthew Barton (GBR)
6 – Samuel Sills (GBR)
7 – Matteo Iachino (ITA)
8 – Kiran Badloe (NED)
9 – Clement Bourgeois (FRA)
10 – Steven van Broeckhoven (BEL)
11 – Louis Giard (FRA)
12 – Thomas Goyard (FRA)
WOMEN TOP 12
1 – Noy Drihan (ISR)
2 – Helene Noesmoen (FRA)
3 – Maja Dziarnowska (POL)
4 – Lilian de Geus (NED)
5 – Lucie Belbeoch (FRA)
6 – Delphine Cousin (FRA)
7 – Islay Watson (GBR)
8 – Pilar Lamadrid Trueba (ESP)
9 – Imogen Sills (GBR)
10 – Lola Sorin (FRA)
11 – Shachar Reshef (ISR)
12 – Daniela Peleg (ISR)
MEN U21
1 – Tom Arnoux (FRA)
2 – Yun Pouliquen (FRA)
3 – Mathurin Julivet (FRA)
MEN U19
1 – Finn Hawkins (GBR)
2 – Mathis Ghio (FRA)
3 – Luc Schmitz (NED)
WOMEN U21
1 – Islay Watson (GBR)
2 – Helle Oppedal (NOR)
3 – Naama Gazit (ISR)
WOMEN U19
1 – Lola Sorin (FRA)
2 – Shachar Reshef (ISR)
3 – Daniela Peleg (ISR)
Full results here:
http://iqscore-live.s3-website.eu-west-3.amazonaws.com/results