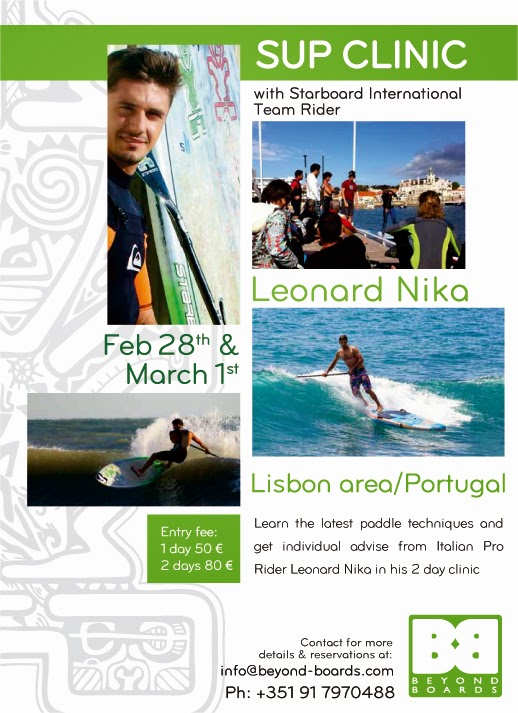 Dal 28 febbraio al 1 marzo, Leonard Nika sarà in Portogallo per un Sup Clinic. Il capitano del team italiano Starboard sarà in giro per l'Europa nel suo tour di Sup Clinic.
PROGRAM
SUP CLINIC with Leonard Nika
Portugal, Feb 18th/March 1st 2015
PRELIMINARY SCHEDULE
WAVE CLINIC,
Saturday
Feb 28th 2015
,
10 am –
17.30 pm
·         Improve wave reading and
wave selection
·         Improve your
wave-specific paddling technique and take-offs
·         Ride a first Curve
·         Turn in the wave using
the body and the paddle
·         1 hour lunch break
·         Wave optimization
·         speed and manoeuvres
·         Individual debugging of
the style of each Paddler by Leonard Nika
·         Free Surf & Debrief
RACE CLINIC, Sunday March 1stth 2015,
10 am –
17.30 pm
·         Optimize body dynamics
(and correct postural mistakes)
·         Perfecting paddling
technique
·         Improve beach starts
·         Choosing the right
equipment for racing
·         Preparing training
routines
·         How to improve physical
performance
·         Getting ready on the
start line
·         Fist possible start for
the Long Distance Race
·         Debrief & price
giving
Note: The location for each event will be announced a few days prior to the
weekend. We might change the date of the wave/race clinic according to the
weather conditions. 
To benefit from this course, participants should have solid basic paddle
skills in both flat water and waves. A winter wetsuit is recommended (if you
have a 2nd one, bring both to change for the second session. Photos and Video´s
of everyone will be taken for your personal use and if possible, to assist
Leonard during the debrief. The course language is English.
·        Participation is only possible
by pre-booking. Your booking is only confirmed via pre-payment
·        Should we have to cancel or
postpone the event for any reason; the full amount will be refunded.
·        Cancellations up to Feb 20th
shall receive a 50% refund
·        Cancellations after that date
and no-show are not refunded.
·        Rental Boards are available
upon request
Bookings are taken on a first come, first go basis with ltd amount of
participants per course. To make your reservation, please send us an e-mail to
info@beyond-boards.com , Subject: Leonard Nika Clinic. If you have any questions, please send us an e-mail with your queries.
Don´t miss this great opportunity to learn from the Pro!
Tina Sahl.
Director /Beyond Boards Lda
Starboard SUP Distributor for
PortugalPh: +351 91 797 0488