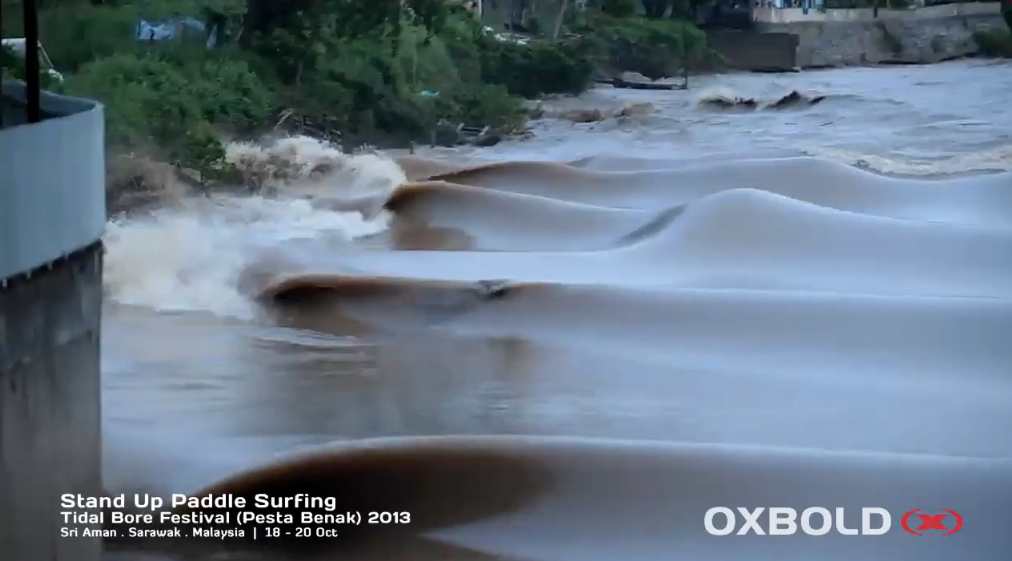 Apriamo il week end con un video davvero originale…un fenomeno che accade in Malesia…da vedere
OXBOLD was invited by the local Stand Up Paddle Surfers for the Tidal Bore Festival in Sarawak Malaysia dated 18-20 Oct 2013. We truly enjoy the fun, hospitality and adventure with the local friendly SUP surfers.
Would you dare to be on a sup or #surfing board and battle a tidal bore in Sarawak's Batang Lupar River, famed for its crocodile-infested waters? Dare-devils should look no further then Sri Aman. This natural phenomenon where river tide can go as high as 1.5 metres has become a hit among tourists recently who hunger for extreme sports.
Pesta Benak is one of Sarawak's iconic event and celebrated on a grand scale. Centered in Sri Aman, there will longboat paddling competition, tidal bore surfing, water sports, food and trade fair and; nightly entertainment. Two new activities for this year are a body-building contest and hot air balloon rides.
Sri Aman is located about 194km from #Kuching and the road journey takes 2 1/2 to 3 hours. Catch the bus service at Kuching Sentral."Waves in Brazil, France, England and China have all been surfed in the last 10-15 years but the one on Sri Aman's Batang Lupar river had only been ridden in a native canoe, so in October 2009 Colas signed up along with a bunch of other bore-riders to put it on the surfing map." by King of the tides
The Sungai Skrang, a tributary of the Upper Lupar, is a very scenic river and equally popular among tourists. The longhouses of the native Ibans along the Skrang River are always open to visitors and if one is lucky, one might chance upon an Iban ceremony or celebration in progress.
You can find this event pictures in OXBOLD Fanpage album at facebook.com/media/set/?set=a.611920185518005.1073741844.107888435921185&type=3
Or Abadi photography at abadiphotography.com
OXBOLD would like to thanks to all professional photographers and videographers who contributed his
works for this video to promote Tidal Bore Festival for Sri Aman, Sarawak. We can't make this video awesome without your great footage and photos.
Special thanks to:
Abadi Photography – photo & video footage
Oscar Ho Photography – photo & video footage
Abd Rahman Abdullah – video footage
Khayirel – video footage
Sarawak Theme Song – video footage
Background music courtesy by
Bintangor Band – Sape Orang Ulu
Mango – Kites (Original Mix)
SUP Surfing – Tidal Bore Festival Malaysia 2013 from OXBOLD on Vimeo.