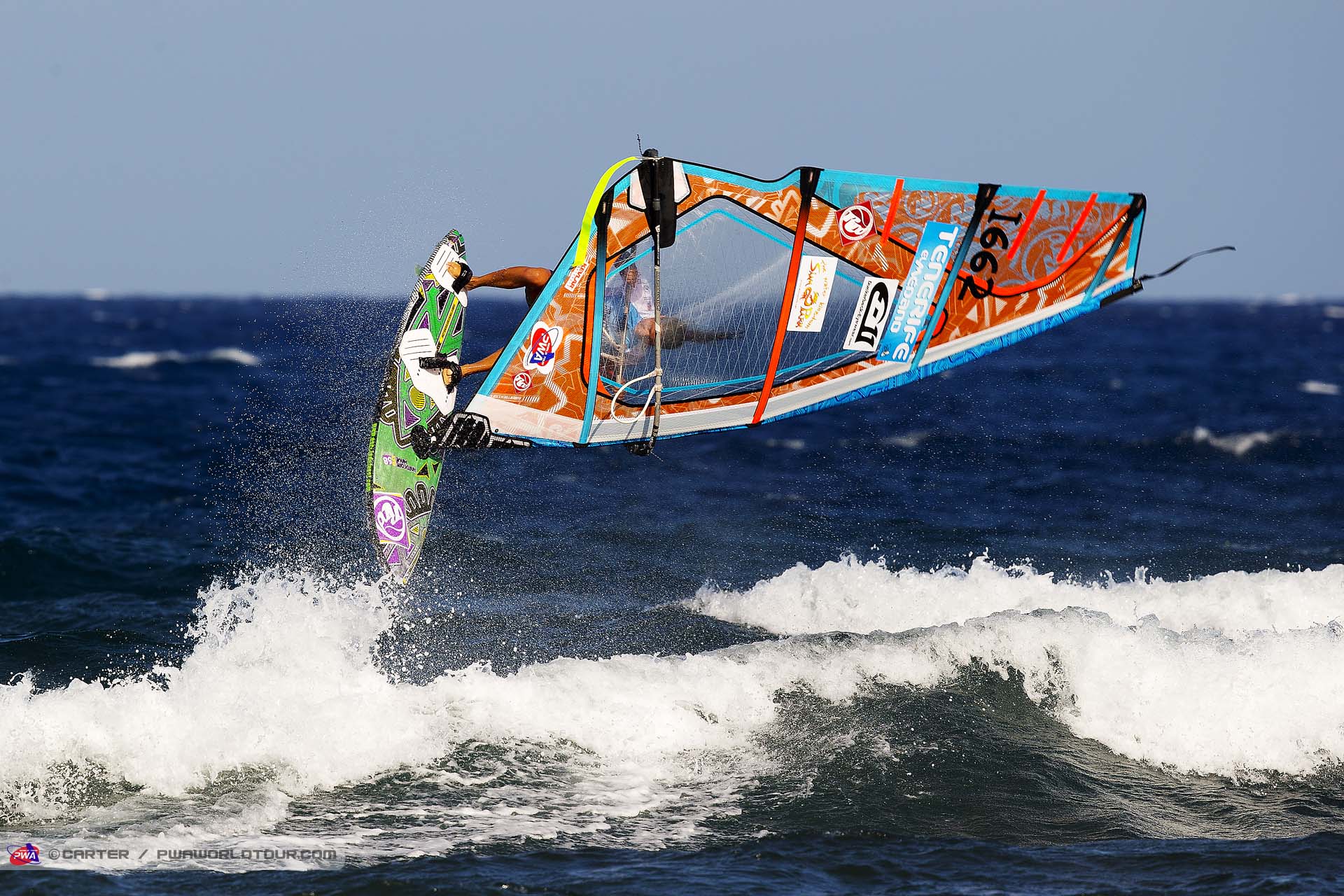 Prima giornata per il PWA di Tenerife. Sono scesi in campo gli Junior ed è iniziato il tabellone delle ragazze.
Per gli Junior, gara sponsorizzata anche da Godzilla Surf Shop, ecco la classifica.
Classifica – Junior's
1st Marc Pare (Patrik / Simmer / Maui Ultra Fins)
2nd Noah Vocker Roche (Fanatic / North / Maui Ultra Fins)
3rd Romain Cordier
4th Gustav Haggstrom
Caterina Stenta (RRD, Reptile Masts) ci aggiorna:
Primo giorno di gara qui al Cabezo, Tenerife. La mia prima heat di oggi è stata una heat contesa, poco vento e poche onde, e per solo 0.7 punti di distacco tra me e Olya Raskina, è passata la mia rivale. Sono molto contenta di essere così vicina ad una rider esperta e nel tour già da molti anni, alla mia prima esperienza nel tour mondiale. Stare nel PWA mi sta dando esperienza e stimolo ad andare avanti, ad allenarmi tanto e rimanere nel Tour! Domani continueremo con le ultime heat delle ragazze e viste le previsioni promettenti sarà il turno dei trials maschili e single degli uomini probabilmente.
La mia amica e compagna di viaggio Serena Zoia E-17 ha passato invece la sua prima heat contro la giovane Nicole Bandini e poi è stata bloccata da Amanda Beenen H-87.
Seguiteci domani online e alla doble elimination nei prossimi giorni!
El Medano, la parata di apertura dela gara
TENERIFE PWA WORLD CUP
Day 1: The women kick start proceedings in El Médano
The inaugural day of the Dunkerbeck-Eyewear Siam Park – El Médano – Tenerife PWA World Cup saw the sailors registering between 10am and 12pm. Over the duration of the morning the wind slowly built and by the late afternoon the women began their single elimination, after the juniors had earlier taken centre stage. By the end of the opening day, all but one heat of the first two rounds has been completed.
Women's – Single Elimination
The opening heat of the day saw Carmen Afonso Martin take on Lucy Robson (Fanatic / North) on the a-side, whilst Sarah Bibby (Simmer) battled it out against Montse Collado (RRD). In the end Afonso Martin proved too much for Robson, whilst Bibby produced an excellent display of sailing to dispatch of Collado.
Heleen Muijsers (F2 / Challenger / AL360) lined up against Maeli Cherel (Severne) in the second heat of the day and it was Cherel who managed to progress. Cherel combined a forward loop with a couple of solid waves to end the hopes of the Dutch girl for now. Meanwhile, Olya Raskina (JP / NeilPryde) safely negotiated her way into the second round after defeating Caterina Stenta (RRD.
In the last heat of the opening round Sarah-Quita Offringa (Starboard / Mystic / Chris Benz / Maui Ultra Fins) earned the highest scores of the day so far. The lady from Aruba launched into a big shaka before backing it up with a couple of good waves, as she showed that she will be a threat in the waves as well as freestyle and slalom. On the opposite side of the draw Serena Zoia (GA Sails) successfully advanced past fifteen year old Nicole Bandini (Fanatic / North), who was making her debut on the PWA World Tour.
Steffi Wahl (Patrik / Sailloft Hamburg) looked in fine form in her opening heat of the contest against Sarah Bibby. The German demonstrated her fluid wave riding once more to accumulate the highest score thus far – 17.625 points – after also landing a clean forward loop. Meanwhile, Afonso Martin received a bye into the next round.
Iballa Moreno (Starboard / Severne / Maui Ultra Fins) safely advanced into round three as she efficiently dispatched of Maeli Cherel. On her way to victory Iballa showed off her powerful and aggressive wave riding whilst rotating through a perfectly executed forward loop, before launching into a big backloop, but unfortunately she couldn't quite hold the landing. on the a-side Sara Sommer (Severne) looked in confident mood as she defeated Caroline Weber (Patrik / Sailloft Hamburg).
Heat eleven proved to be the final heat of the day and in the end Olya Raskina (JP / NeilPryde) and Amanda Beenen (Tabou / GA Sails) were able to navigate their way into the next round.
Junior's
Marc Pare (Patrik / Simmer / Maui Ultra Fins) claimed the opening victory of the week in the youths division as he made a strong defence to his title from Pozo. The man from Catalan landed a perfect, ankle dry backloop to move into the lead and he soon backed up his score with some stylish waveriding. Noah Vocker Roche (Fanatic / North / Maui Ultra Fins) finished a close second, whilst Romain Cordier and Gustav Haggstrom claimed third and fourth place respectively.
The forecast for tomorrow promises slightly stronger wind and waves, so the skippers' meeting tomorrow morning has been called for 10am with the action commencing from 10:30am. Don't miss any of the amazing action by tuning into www.pwaworldtour.com where you'll be able to follow the event as it happens via the PWA live stream and live ticker.