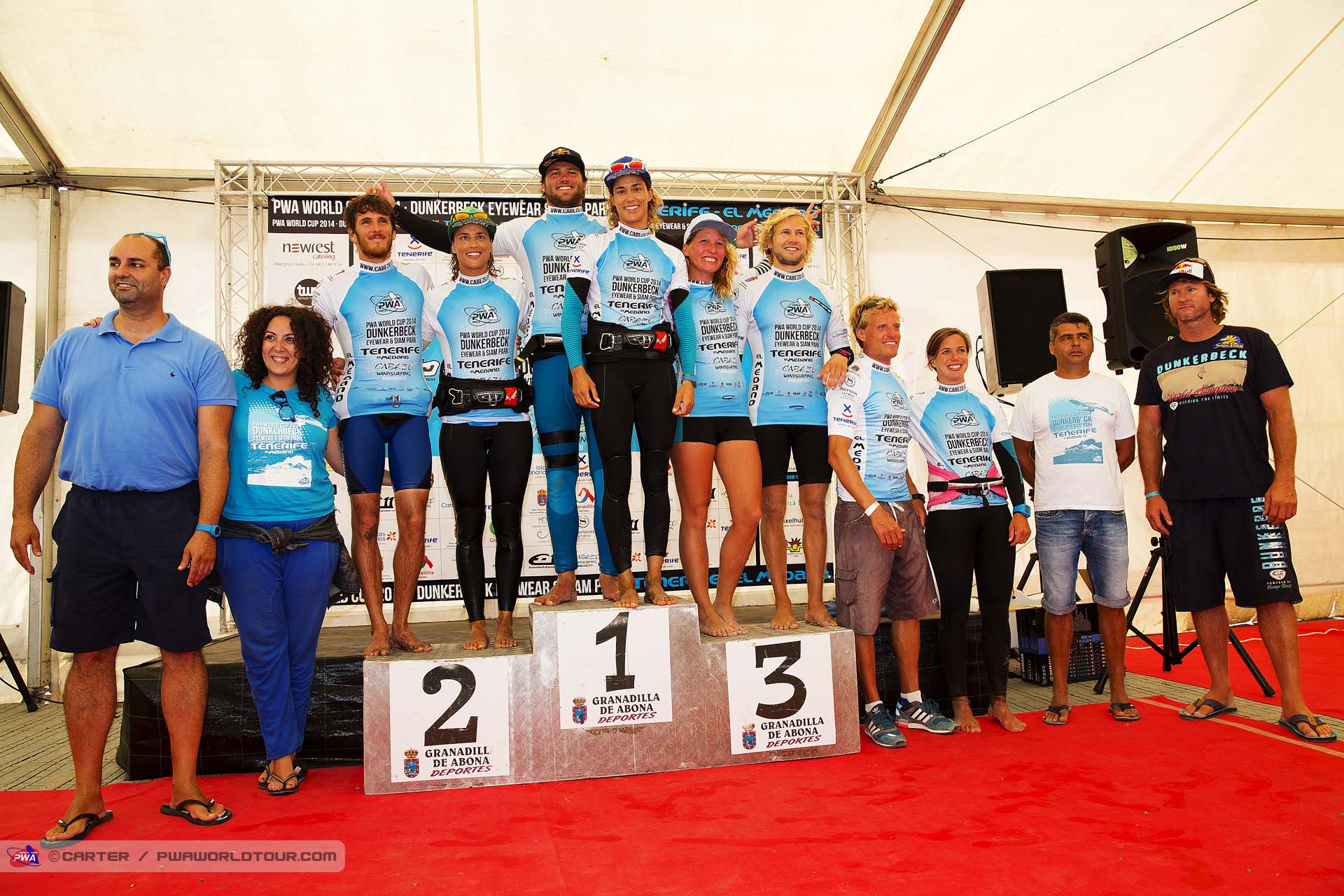 Philip Koster torna a vincere! Terza giornata a Tenerife ed è stato portato a termine il single elimination degli uomini, vinto da Philip Koster seguito da Thomas Traversa. Si è concluso anche il single femminile e iniziato il double.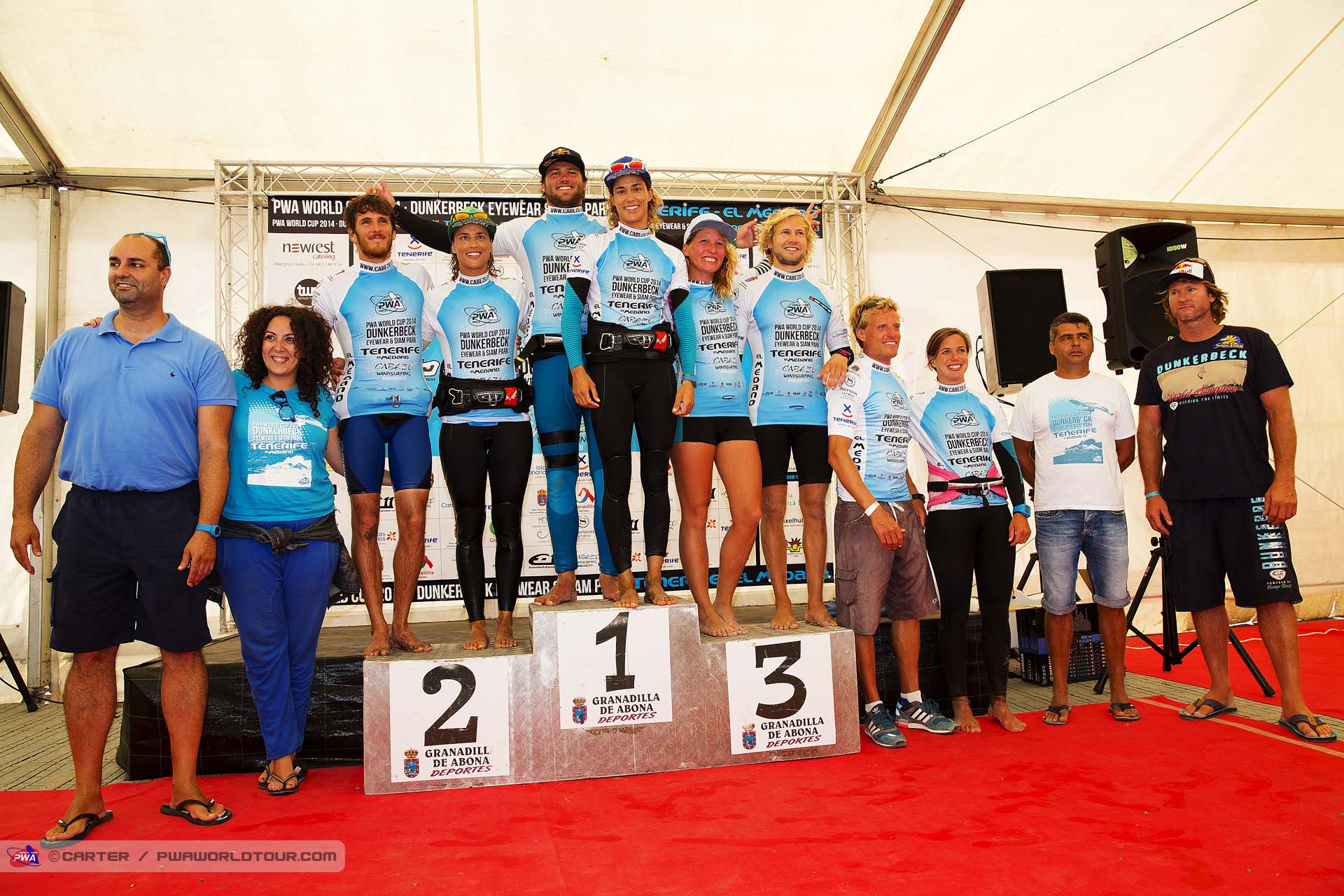 Results Men's Single Elimination – Wave
1st Philip Köster (Starboard / Severne / Maui Ultra Fins)
2nd Thomas Traversa (Tabou / GA Sails)
3rd Jaeger Stone (SSD / Severne)
4th Klaas Voget (Fanatic / Simmer / MFC)
5th Victor Fernandez (Fanatic / North / MFC)
5th Marcilio 'Brawzinho' Browne (Goya Windsurfing / MFC)
5th Dany Bruch (Starboard / Challenger / AL360)
5th Leon Jamaer (JP / NeilPryde)
Results Women's Single Elimination – Wave
1st Iballa Moreno (Starboard / Severne / Maui Ultra Fins)
2nd Daida Moreno (Starboard / Severne / Maui Ultra Fins)
3rd Amanda Beenen (Tabou / GA Sails)
4th Steffi Wahl (Patrik / Sailloft Hamburg)
Per i prossimi giorni le previsioni sono buone e vedremo come andrà a finire il double elimination. Da questa classifica provvisoria possiamo già capire alcune cose:
– Thomas Traversa ha dato filo da torcere a Philip Koster durante la finale dove solo negli ultimi minuti si è portato in vantaggio.
– Jaeger Stone dopo il suo rientro alle gare dimostra subito dopo Pozo di essere un rider completo e sempre da podio.
– Klaas Voget con una ottima tattica di gara ottiene un importantissimo 4° posto.
– Fernadez e Brawzinho saranno i protagonisti del double…
– La nostra collaboratrice Amanda Beenen ottiene un fantastico terzo posto e non smette di sorridere…
Caterina Stenta (RRD, Reptile Masts), eliminata nella double elimination: "Verso sera proprio quando é iniziata la mia heat è calato di brutto il vento. Durante il giorno era fortino… da.4.0 per me".
Philip Koster
Dunkerbeck-Eyewear Siam Park Tenerife PWA World Cup
Day 3: Philip Köster and Iballa Moreno return to the top after an enthralling day
El Médano truly came to life on day three of the Dunkerbeck-Eyewear Siam Park – El Médano – Tenerife PWA World Cup as stronger winds and bigger waves rolled into the shores of El Cabezo, producing an action packed and amazing day of action spanning almost ten hours. Eventually, Philip Köster (Starboard / Severne / Maui Ultra Fins) put aside the disappointment of finishing fifth in Pozo to return to the top of the prestigious podium, whilst Iballa Moreno (Starboard / Severne / Maui Ultra Fins) produced a fantastic display to defeat Daida Moreno (Starboard / Severne / Maui Ultra Fins) in another epic Moreno's final.
Thomas Traversa
Men's – Single Elimination
Thomas Traversa (Tabou / GA Sails) took down the current PWA World Tour leader – Victor Fernandez (Fanatic / North / MFC) – in the semifinals after a phenomenal performance. The Spaniard had earlier looked in formidable form as he accumulated the highest score of the day – 24 points – in heat 9b versus Martin ten Hoeve (Goya Windsurfing / MFC), but TT was in a world of his own as he landed double forwards and delivered some devastating wave riding to advance. The Frenchman then defeated Klaas Voget (Fanatic / Simmer / MFC) to book his place in the winners' final.
Winners' Final
Philip Köster took on Thomas Traversa in the opening winners' final of the week and the duo gave an amazing display as they enjoyed a hard fought battle. TT took the lead early on as he launched into a radical tabletop forward before quickly adding a brilliant wave to his scoresheet – consisting of a vertical fluid turn straight into a smooth taka. With one solid wave in the bag, Traversa earned his best score of the heat on his very next wave – being awarded 7.5 points by the judges – to pile the pressure on Köster. The twenty year old had already landed a stunning one-footed, one-handed backloop by this point, but with no solid wave score he still had everything to do. Köster then headed upwind before hunting out a ramp, which he found, and duly launched into a trademark ankle dry double forward. However, with just four minutes to go Traversa still held a significant lead over Köster, who was still lacking two serious wave scores. The two-time world champion responded in the perfect fashion as he boosted into a sick frontside tweaked aerial, before rotating straight into a slick taka to halve the deficit. Then in true champion fashion Köster dug deep and produced another solid wave with his final chance of the heat to earn victory by just one point.
Jaeger Stone (SSD / Severne) continued his emphatic return to the competition scene as he claimed a place on the prestigious podium here in Tenerife, just as he did in 2011, by defeating Klaas Voget in the losers' final. The Australian wowed the judges time and time again today with his explosive and fluid style on the wave to consistently earn some of the highest wave scores of the day. In heat 15b, Stone, came within a fraction of point of defeating Köster but fell just short as he missed out on a place in the winners' final by 0.4 of a point.
The other major talking point today centred around heat 13b involving Klaas Voget and the reigning world champion Marcilio 'Brawzinho' Browne (Goya Windsurfing / MFC). At the start of the third round the decision was made to change the judging format from 1 jump and 2 waves to 2 jumps and 2 waves, but unfortunately the Brazilian wasn't aware of this fact. Browne had been in a commanding position after landing a double forward and racking up a couple of decent waves, but with a minute or two to go he still only held double forwards on his scorecard. However, at that point Brawzinho was still leading, but Voget turned the tie on its head with the final move of the heat – a big tweaked pushloop – to advance by 0.25 of a point – leaving Browne clearly incensed on the beach.
Women's – Single Elimination
Winners' Final
Another all Moreno's winners' final ensued in Tenerife as they demolished the rest of the competition on their journey to heat sixteen. The legendary twins were both in imperious form, which made for a scintillating conclusion to the single elimination. Daida Moreno set the tone right from the word go as she rotated through an ankle dry backloop, before landing an insane tabletop forward. The twins were almost inseparable on the jumping side of things as Iballa soon landed a massive backloop and a brilliant tabletop forward of her own. In fact at the end of the heat there was only 0.25 of a point between them in terms of jumping. However, Iballa won the battle in the waves, with her best wave earning 8.375 points from the judges. On her way to victory Iballa launched into an exquisite frontside air and backed it up with a couple of vertical snaps to claim first blood in the single elimination.
Steffi Wahl (Patrik / Sailloft Hamburg) and Amanda Beenen (Tabou / GA Sails) battled it out for third and fourth place, just as they did in Pozo, but this time there was a different outcome as Beenen broke into the top three for the first time in her career. The two girls fought hard for the final place on the heralded podium, but Beenen was able to edge the duel to claim victory by under a point.
The forecast for tomorrow promises to provide another action packed and drama filled day with virtually the same wind and waves being predicted for tomorrow. The skippers' meeting has been called for 9am tomorrow morning with the action commencing from 9:30am. Don't miss any of what is set to be an epic day by tuning into www.pwaworldtour.com where you'll be able to follow the action as it happens via the PWA live stream and live ticker.