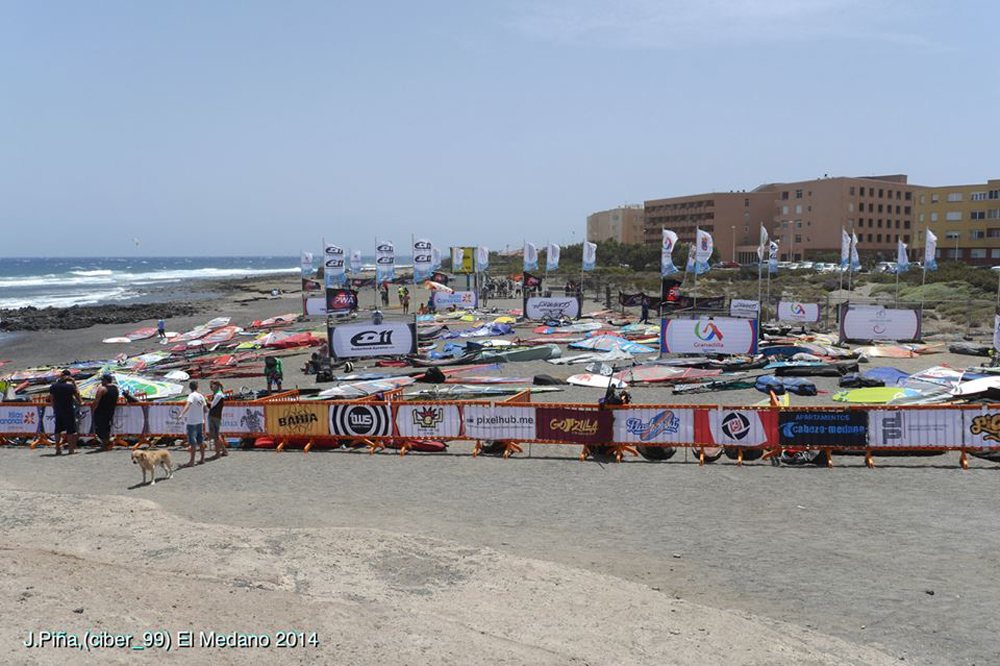 Il giorno di Victor Fernandez! Heat n° 31 Fernandez vs Dani Bruch. Tutti sul Live Streaming offerto dal PWA a goderci questa bellissima heat. Nonostante Bruch sia stato autore di una buona heat, il vincitore di Pozo, Victor, supera se stesso e mette a segno una performance impeccabile. Non solo ottiene il punteggio più alto per una sola surfata, 10.0 punti, ma ottiene anche il punteggio più alto per ora del contest: 28 punti (1 salto e due surfate). Nella sua surfata da 10 punti Victor è riuscito a prendere una buona onda sui 3 metri, con velocità eseguire un super Aerial, seguito da un Top Turn incisivo per poi fare una Taka sul lip massiccio mentre stava chiudendo. Da applauso!
Da segnalare anche la performance di Leon Jamaer, giovane rider tedesco entrato da quest'anno nel team NP/JP che si arrende soltanto a Dani Bruch dopo aver battuto il suo compagno di team Robby Swift in un'altra bellissima heat sul filo del rasoio.
Ricardo Campello perde con anche un po' di sfortuna contro un fortissimo Moritz Mauch alla heat 23 compromettendo gravemente la sua posizione in classifica generale dopo il secondo posto di Pozo.
Per domani le previsioni sono ottime e si terminerà sia il double femminile che le mancanti quattro heat maschili (eventualmente 5 in caso di re-sailing della finale). Rimanete sintonizzati sul Live Streaming del PWA!
Victor Fernandez

Caterina Stenta (RRD, Reptile Masts) ci aggiorna dal campo gara della quarta giornata del PWA World Cup di Tenerife.
Oggi, quarto giorno del campionato qui al Cabezo, grande azione fino a tardi… la giornata è iniziata con le heat della double delle ragazze, alternata a quella dei ragazzi. In una delle ultime heat, VIctor, dopo essere stato eliminato da Traversa nella single, ha dato spettacolo con delle serfate da urlo e ottenendo 10 punti in una surfata! Che gli hanno valso la vittoria contro Dani Bruch. Domani quindi vedremo Victor scontrarsi contro Klaas Voget per cercare di risalire ancora verso il podio.
Per me oggi delle belle sessioni di free sailing, le condizioni sono migliorate rispetto a ieri, le onde sono aumentate oggi pomeriggio, e El Cabezo ha mostrato per ora penso il giorno migliore per surfare, onde belle da due metri e vento da 4.2-4.7.
Con delle belle surfate di freesailing e un po' di yoga 🙂 mi sono di nuovo motivata a continuare in piena, a migliorare la tattica di gara, e soprattutto continuare a passare ore e ore in acqua. Trovo anche molto importante guardare le heat delle contendenti e dei ragazzi e seguire i punteggi dal vivo.
Domani mattina continua l'azione e le belle condizioni, sarà quindi una giornata di allenamento free sailing, fuori dal campo gara e d'ispirazione guardano i finalisti contendersi il podio!
Dunkerbeck-Eyewear Siam Park Tenerife PWA World Cup
Day 4: An incredible day of close calls and world class sailing
The fourth day of the Dunkerbeck-Eyewear Siam Park – El Médano – Tenerife PWA World Cup saw the best action of the week so far, as the conditions continued to get better and better throughout day, which saw the level of sailing go through the roof. By the end of another epic day of competition both the men's and women's double eliminations have been whittled down to just the top five sailors, which should see an exciting conclusion tomorrow. However, a hugely positive day was dampened by the news that Caroline Weber (Patrik / Sailloft Hamburg) has suffered a suspected broken back. Everyone from the PWA would like to take the opportunity to wish Caroline a speedy and full recovery.
Men's – Double Elimination
Standout Sailor of the Day
Today saw many amazing performances, but Victor Fernandez (Fanatic / North / MFC) stole the show with an awe-inspiring display of sailing. The Spaniard originally set the highest scoring heat of the day – 26.12 points – against Alex Mussolini (Tabou / GA Sails), but in heat 31 Fernandez produced a near perfect heat versus Dany Bruch (Starboard / Challenger / AL360) as he wowed both the crowds and the judges to score 28 out of possible 30 points. Fernandez opened the heat with an incredible, bolt upright double forward before setting to work on the waves – where he earned perfect tens across the board after landing a fantastic frontside aerial into an insane taka right in the critical section of the wave. If Fernandez can sustain his level of sailing tomorrow then he will certainly be a very difficult man to beat.
Giant Killer
Moritz Mauch (Starboard / Severne / MFC) claimed the biggest scalp of his career thus far as he made his mark on the world stage again. The eighteen year old demonstrated his incredible wave riding time-and-time again today to defeat Ricardo Campello (Patrik / Point-7 / MFC) in heat 23b – thanks to his vertical, perfectly timed gauges and a taka on his final wave. Mauch then went on to defeat John Skye (RRD / RRD / MFC) in heat 26b with more sublime riding – as he was awarded 9 points for a single wave – but unfortunately suffered an injury to his ankle after landing a tabletop forward. The German still produced a good display against fellow countryman Dany Bruch in the next round but it wasn't enough, as Bruch exacted revenge for defeat in Denmark last year.
Close Calls
Today also saw several incredibly close calls as virtually every sailor brought their A game to the water. Firstly, only 0.11 of a point separated Omar Sanchez (Patrik / Loft Sails / Dunkerbeck Eyewear) and Jules Denel (JP / NeilPryde) in heat 25a, but Sanchez clinched the tie thanks to his better jumping on this occasion. Adam Lewis (Fanatic / North) looked as though he had managed to defeat Alex Mussolini, but the Brit saw victory snatched from him at the last as Mussolini rotated through a radical goiter on his final wave of the heat. Next up Leon Jamaer (JP / NeilPryde) – who was extremely unlucky with equipment today having suffered a broken mast and then to rub salt into the wound had to watch in dismay as his board and sail separated in two different heats – defeated teammate Robby Swift (JP / NeilPryde / Mystic / Maui Ultra Fins) by less than half a point in heat 28a.
Alex Mussolini delivered a scintillating display in heat 29a to take down the reigning world champion – Marcilio 'Brawzinho' Browne (Goya Windsurfing / MFC). The Spaniard landed an outstanding one-handed, one-footed backloop – including a head throw for good measure – before stomping a sick frontside wave 360 and a smooth taka to advance. At that point, Mussolini, looked like a sure fire bet, but Fernandez soon put an end to his hopes.
Women's – Double Elimination
Sarah-Quita Offringa (Starboard / Chris Benz / Mystic / Maui Ultra Fins) was the standout woman on the water today as she started her remarkable comeback in the double elimination, which saw her win five consecutive heats in a row – firstly by defeating Lucy Robson (Fanatic / North) followed by Waka Nishida (Goya Windsurfing), Carmen Afonso Martin, Sara Sommer (Severne) and lastly Alice Arutkin (Fanatic / North) in the battle for fifth and sixth place respectively. Today marks the first time that Offringa has broken into the top five, in only her second competition, and tomorrow she will face German Steffi Wahl (Patrik / Sailloft) as she looks to advance into the top four and beyond. The lady from Aruba impressed with her clean forwards and stunning shakas, as well as displaying fluid wave riding too.
Alice Arutkin also produced a fantastic performance today as she progressed through four heats in a row to claim sixth place overall in Tenerife. The French beauty started her succession of victories against good friend Sophia Gilje (Fanatic / North) before also going on to defeat Sarah Bibby (Simmer), Justyna Sniady (Simmer / Mystic) and Caroline Weber (Patrik / Sailloft Hamburg) – who as previously mentioned unfortunately sustained a serious back injury in her prior heat. Once again everyone at the PWA wishes the German a speedy and full recovery.
The forecast for tomorrow shows similar wind and waves for the morning, before tailing off in the afternoon, so we are hoping to see a nail biting conclusion to the double eliminations. Can anyone topple Philip Köster (Starboard / Severne / Maui Ultra Fins) and Iballa Moreno (Starboard / Severne / Maui Ultra Fins) at the top? Find out by tuning into
www.pwaworldtour.com
 where you'll be able to follow the action as it happens via the PWA live stream and live ticker.