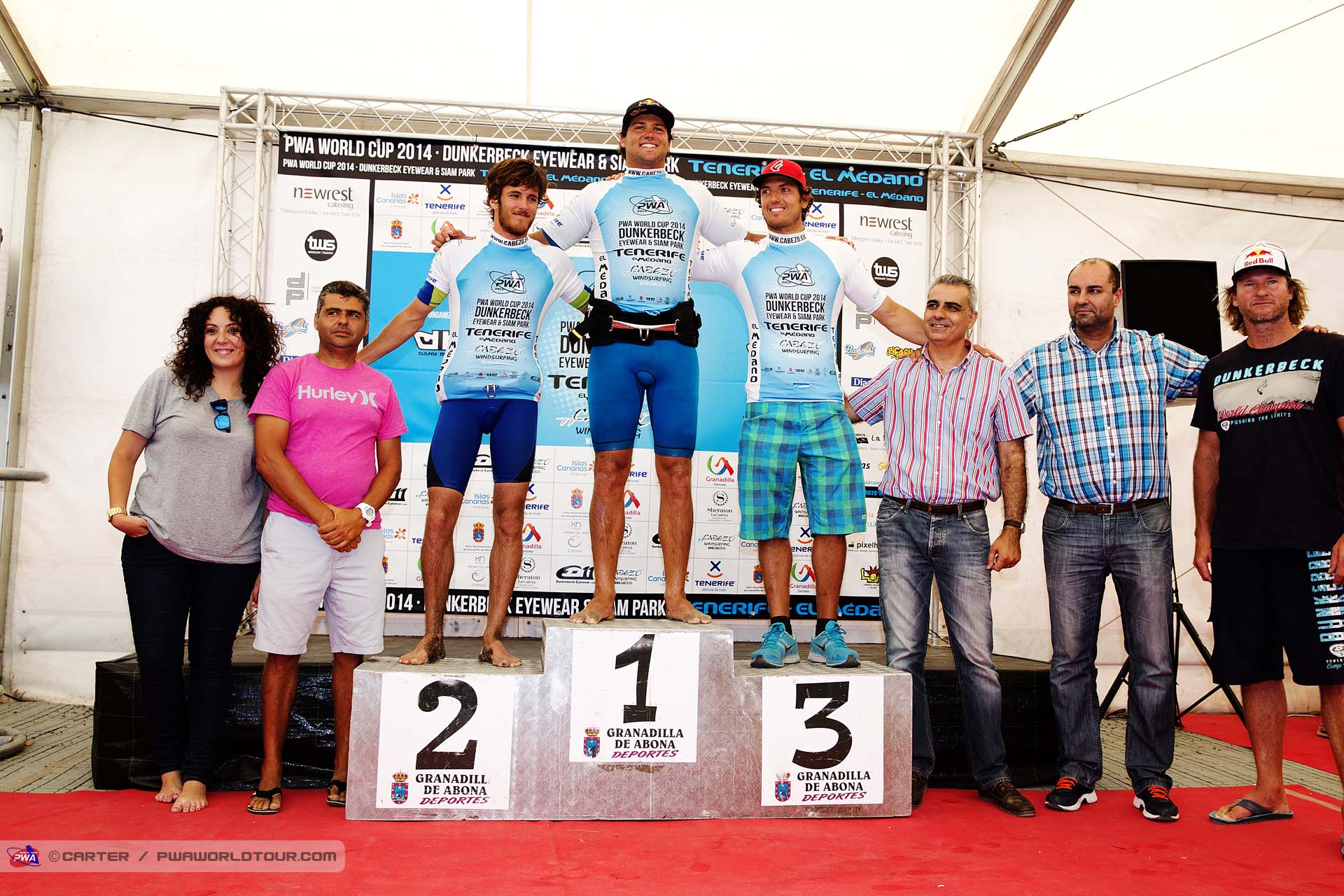 Philip Koster (Starboard, Severne) vince a Tenerife dopo una sfida all'ultimo sangue con Thomas Traversa (Tabou, GA Sails), Ricardo Campello (Patrik, Point-7) dopo il passo falso nel main event, si aggiudica la super session. Per le femmine Daida Moreno (Starboard, Severne) vince il tabellone double seguita da Iballa Moreno (Starboard, Severne) e Sarah-Quita Offringa (Starboard, Severne). La nostra collaboratrice Amanda Beenen (Tabou, GA Sails) assaggia il podio nel single ma finisce in quarta posizione nel double.
Philip Koster
Caterina Stenta (RRD, Reptile Masts) ci aggiorna dal campo gara sulla quinta giornata del PWA World Cup di Tenerife; in particolare sulla heat tra Fernandez/Traversa per il terzo posto dove lo spagnolo ha avuto la meglio sul francese in una sfida serrata ma a causa di una interferenza su una delle ultime onde è passato poi Traversa!
Victor e Thomas erano sulla stessa onda e pare che Traversa non l'abbia potuta surfare perchè Victor gli è passato davanti. Traversa ha discusso molto appena uscito dall'acqua, mentre Victor ha lasciato ai giudici fare il loro lavoro, che alla fine hanno deciso di togliere il punteggio dell'onda a Victor e far passare Traversa nella seguente heat contro Philip. In spiaggia Victor non si è lamentato per niente, ha un comportamente veramente sportivo e umile, ha detto che lui non l'ha tagliata l'onda, ma che quello che avessero deciso i giudici era la cosa gisuta, mentre Traversa discuteva e litigava con lui e i giudici… Pare che i giudici abbiano rivisto il video della heat e deciso così! Quindi dopo abbiamo assistito ad uno bello spettacolo dalla spiaggia di Philip Koster e Traversa, dove nella prima heat ha vinto Traversa. Poi nella finale Philip con un doppio perfetto e belle surfate con 360 e taka è riuscito a conquistare la vittoria contro Traversa, che devo dire ha uno stile nel surfare unico, agressivo e verticale nell'onda come pochi.
Nelle ragazze invece grande tifo e applausi per Sarah Quita che con i suoi Air Shaka e belle surfate è arrivata sul podio dopo le Moreno. La gara è ufficialmente finita ed ora le previsioni sembrano buonissime… io rimarrò ancora qualche giorno per surfare nelle onde del Cabezo e poi direzione Pozo Izquierdo 🙂
Per quanto riguarda la Super Session, vinta da Ricardo Campello, purtroppo lo staff del PWA non ha avvisato che partecipavano anche le ragazze, la maggior parte delle ragazze non sapeva che c'era la gara… Domenica c'è uno show al Siam Park, in una piscina con onda artificiale!Stay tuned…
Overall Men's Results Dunkerbeck Eyewear Siam Park – El Medano – Tenerife PWA World Cup: 
1st Philip Köster
2nd Thomas Traversa
3rd Victor Fernandez
4th Jaeger Stone
5th Klaas Voget
6th Dany Bruch
7th Alex Mussolini
7th Leon Jamaer
9th Robby Swift
9th Moritz Mauch
9th Marcilio Browne
9th Omar Sanchez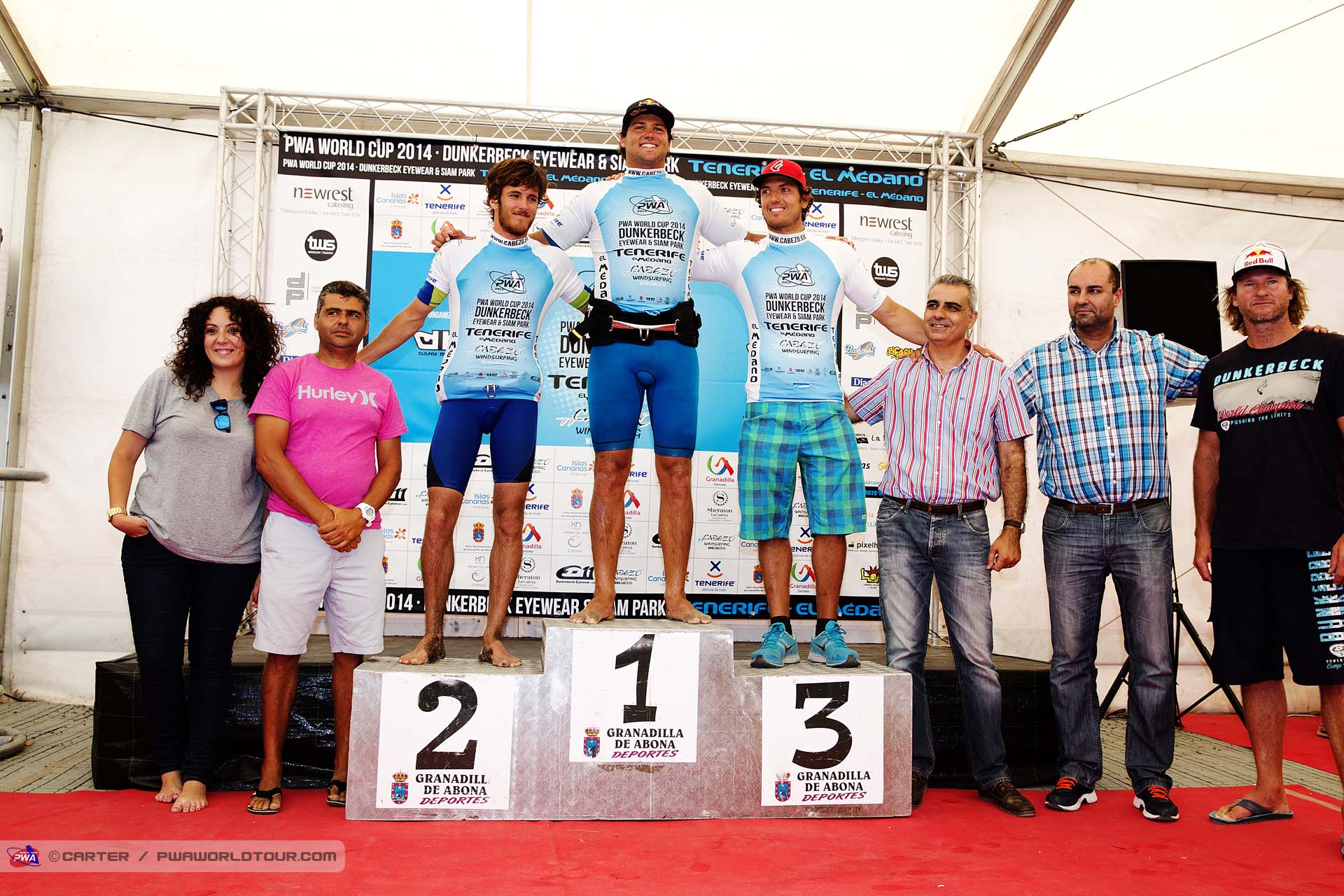 Overall Women's Results Dunkerbeck Eyewear Siam Park – El Medano – Tenerife PWA World Cup:
1st Daida Moreno
2nd Iballa Moreno
3rd Sarah-Quita Offringa
4th Amanda Beenen
5th Steffi Wahl
6th Alice Arutkin
7th Caroline Weber
7th Sara Sommer
Results Dunkerbeck Eyewear Expression Session – Tenerife PWA World Cup 
1st Ricardo Campello (Patrik / Point-7 / MFC)
2nd Alessio Stillrich (Fanatic / North)
3rd Antoine Martin
Dunkerbeck-Eyewear Siam Park Tenerife PWA World Cup
Day 5: Philip Köster defends his crown, whilst Daida Moreno fights back to claim victory
The fifth day of the Dunkerbeck-Eyewear Siam Park Tenerife PWA World Cup saw an abundance of drama with plenty of twists and turns in both the men's and women's divisions. Philip Köster (Starboard / Severne / Maui Ultra Fins) claimed his first victory of the year after halting a rampaging Thomas Traversa (Tabou / GA Sails) in the super final as he took his sailing to another gear. Meanwhile, Daida Moreno (Starboard / Severne / Maui Ultra Fins), produced a magnificent performance to defeat her twin sister – Iballa Moreno (Starboard / Severne / Maui Ultra Fins) – not once, but twice to wrestle the event victory from the grasp of Iballa to make it two event victories out of two for 2014.
Men's – Double Elimination
Victor Fernandez (Fanatic / North / MFC) won his opening two heats today against Klaas Voget (Fanatic / Simmer / MFC) and Jaeger Stone (SSD / Severne) with his double forwards proving the difference in both heats. It then looked like the Spaniard would be lining up in the winners final against Philip Köster after initially accumulating more points than Thomas Traversa in heat 34 – however an interference on one of Traversa's waves saw Fernandez penalised with his highest wave score being deducted, which resulted in the Frenchman progressing.
Thomas Traversa excelled in the winners' final to force a super final against Philip Köster. In heat 35, TT was at his brilliant best as he landed a radical double forward and a huge stalled tabletop forward, before unleashing on the waves with dynamic, vertical turns in the pocket of the wave
Super Final
Having been defeated in the previous heat the pressure was on Köster to find another gear in order to hold onto his single elimination crown, and that's exactly what the twenty year old managed to do right from the word go as he rotated through a trademark, ankle-dry double forward. With his jump in the bag Köster now had the rest of the heat to work on his waves and he delivered his best wave of the entire contest – consisting of a powerful gouging turn, straight a radical goiter before finishing off with a fluid reverse to earn 8.125 points. Traversa sailed another excellent heat as he linked more superb waves together, but unlike the previous heat he wasn't able to find a double forward again as Köster held onto to take his first event victory since this time last year in Tenerife.
Philip Köster back on top of the prestigious podium:
 "I didn't land my double planing, but it was a good one and a solid start to the heat, I also got my best wave of the contest in the super final so I was super happy. It feels great to win again and I'm super stoked."
Women's – Double Elimination
Just as in the men's, the women's double elimination required a super final to decide the champion of the 2014 Dunkerbeck-Eyewear Siam Park Tenerife PWA World Cup, after Daida Moreno comprehensively beat Iballa Moreno in the winners' final, with Iballa looking a little out of sorts. Take nothing away from Daida though as she landed an absolutely amazing tabletop forward and delivered vertical, powerful snaps to force the decider
Super Final
In the super final Daida Moreno continued to shine as she landed a perfect one-handed backloop to move into a commanding position, whilst transferring the pressure onto Iballa. However, for once Iballa stuttered as she failed to improve upon her opening tabletop forward. Iballa had her chances, but couldn't quite hold onto a big backloop which would have brought her back into contention. At this point though the chance had gone as Daida nailed the final nail into the coffin with a big, vertical, frontside hack to complete a stunning comeback as she claimed back-to-back event victories in 2014.
Daida Moreno makes it two out of two:
"Today has been amazing for me. I had a lot of fun sailing and I felt great out there. The wind was good, the waves were good and I just went with the flow, trying to have fun and forget about the nerves. I was pretty calm – I used the tactic of trying to make sure I got a jump in the bag at the beginning. After I got my jump done I just focused on my wave riding. Before the final I changed up, which I'm really happy about because it let me go more vertical in my turns. I love this spot and I think I proved myself as a wave rider as well. I'm super happy to win here again."
Meanwhile, Sarah-Quita Offringa (Starboard / Mystic / Chris Benz / Maui Ultra Fins) continued her storming comeback in the double elimination as she won a further two heats, meaning the lady from Aruba won a total of seven consecutive heats by defeating Steffi Wahl (Patrik / Sailloft Hamburg) and Amanda Beenen (Tabou / GA Sails). Offringa shone in the air and visibly improved with each heat on the wave and has now alerted her rivals as a significant threat for the future.