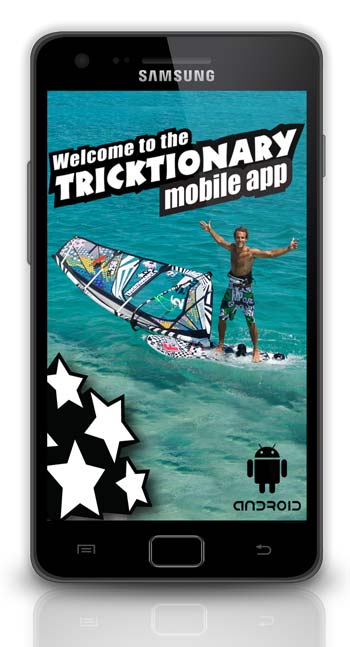 Funboard qualche mese fa vi aveva già proposto un articolo approfondito di presentazione su questo nuovo giocattolo by Mr. Tricktionary (Michi Rossmeier)… da ora potete scaricare questa fantastica applicazione!!!
You have an Android device? You love windsurfing? Carrying the Tricktionary book everywhere is hard work?!
No problem!!!
Finally, after many months of developing and testing, the Windsurfing Tricktionary mobile Android App is available!!
Just log in to the Google Play store, search for Tricktionary, download and install the Trickapp!! (or just follow the links below!)
Features:
Beginner package is FREE (as it is in the iPhone app) – everything till Waterstart for FREE!!
3 addon packages avaialble (non-jumping, jumping, wave), including all the moves you can imagine!! (paid packages)
Browse to your move, see it's pre-exercises and access them directly if you want!
Use step by step images and zoom in if you like to, to see every detail of your dream move.
Turn your phone to landscape mode (horizontal) to see the full sequence as you are used to from the Tricktionary! (Turned off in current version for some bug solving)
See video clips for every move!
Learn your dream move NOW!!
Get the Tricktionary Android App on your phone!!
For more screenshots or higher resolution, please email!!
The Trickapp is of course also available for Apple devices!
Again, the Beginner package is free – everything till waterstart!
Soon also in different languages!!
Thanks for your patience!
Aaah yes – we got Facebook, of course (who's not…)
If you really do, we're happy if you "LIKE" our Tricktionary stuff 😉
More details on
Good winds!
Rossi