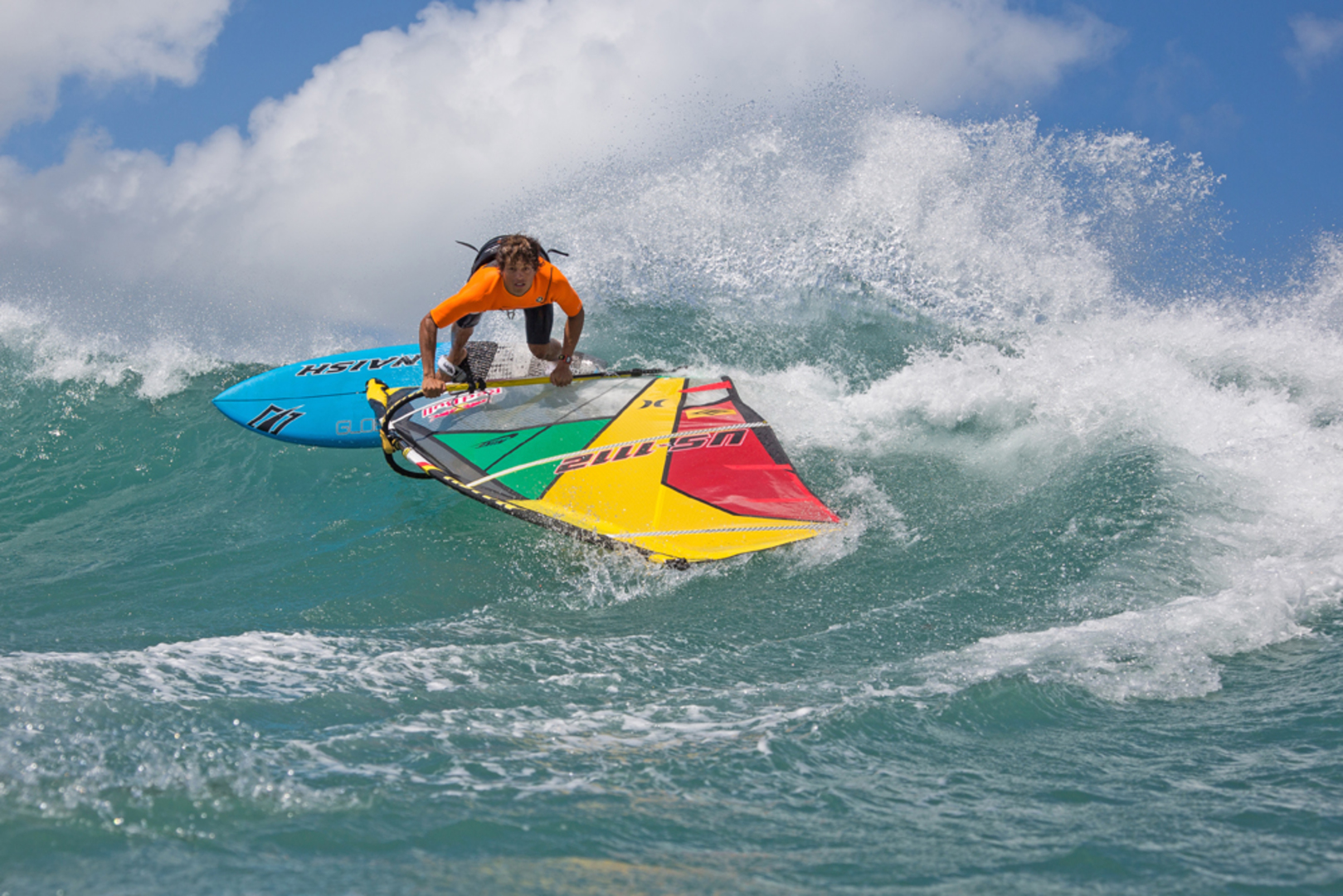 Naish presenta la sua nuova tavola Wave "on-shore" che va ad ampliare la collezione composta negli anni scorsi da un solo modello dedicato specificatamente alla disciplina (oltre alla bump&jump Starship): la Global, nelle interessanti misure S, M e L, tutte Thruster!
Robby Naish in persona qualche mese fa durante la nostra intervista pubblicata sul numero 159 aveva dichiarato a proposito della sua linea Wave in modo abbastanza forte: " … Questo discorso vale specialmente per le tavole wave, quindi ho deciso di farmene una come piace a me e fregarmene del mercato e delle mode. Ho quindi deciso di allungare la prua e di farla molto appuntita in modo da sfruttare il rail su tutta la lunghezza e poter proiettare dal bottom turn invece che girare sulla poppa come uno skateboard. Se Brawnzinho dovesse utilizzare quella tavola andrebbe in un altro modo (sorride, ndr.). Abbiamo comunque anche la versione più mainstream, con prua arrotondata e più corta e dell'anno prossimo probabilmente non produrremo più la versione appuntita. L'ho fatta principalmente per me. Se alla gente piace, se la comprano. Altrimenti… compratevi una Fanatic, Quatro, Starboard, JP. Ci sono talmente tanti marchi che si fotocopiano tra di loro per seguire le mode. Io faccio una tavola che per me vada bene. Se dovessimo venderne una sola, ne abbiamo venduta una sola. Fine!".
NEW Global
Onshore Wave
The Global is a multifaceted wave board that naturally delivers speed, maneuverability and responsive performance in both flatwater and onshore wave conditions.
It features added tail volume for increased planing power in backside turns and when crossing over whitewater. Sailors will also take comfort in the superior grip in bottom and top turns while backside riding due to its harder mid-section rails. It can also double as a high wind flatwater board thanks to its superior planing potential in a variety of conditions.
Although designed to be fast and easy to ride to make the most of onshore conditions, the Global is also a blast in small sideshore waves!
Key Features:
Fast Rocker = Extremely early planing + rail-to-rail carving with ease
Sharp Mid-section Rails = Superior grip  & speed in bottom & top turns for backside riding
Added Tail Volume = Added planing power in turns & when crossing white water
Ergonomic Foot Straps = Comfortable fit + easy adjustment
High Density Footpads = Excellent board feel
Thruster Fin Set-up = Outstanding trim range + precision board control
US Boxes = Adjustable fin positioning
Construction:
Carbon Inegra PVC Deck = Lightweight + stiff + impact strength
HDX Sandwich Bottom & Pine Layer = Structural integrity & flex + impact resistance
CNC Cut EPS Core = Absolute precision shaping
Sizes: S (78), M (88), L (98)
2015 Global Designers Notes
What inspired the NEW 2015 Global?
The original design brief started out as a designated onshore wave board, but the prototypes performed so incredibly well that we decided to use that to our advantage and create a Global wave board…a fantastic board for all kinds of wave and wind conditions. We really focused on making the 2015 Global an extremely early planing board that still has amazing wave riding ability.
What type of windsurfers will enjoy this board?
Anyone looking for a wave board that allows them to have fun in any kind of wave conditions, ranging from ideal to challenging. The 2015 Global feels at home when planing power is crucial, especially in onshore locations like Sylt or the North Sea in general. We even recommend the board as a bump and jump board for places like The Gorge or Lake Garda with its stronger morning winds. The Global really has an amazing ability to adapt to all conditions and riders.
What is it about the Global that makes it responsive in onshore conditions?
The combination of a fast & progressive rocker and harder mid-section rails with tucked under edges, help the Global have amazing upwind capabilities, great acceleration, rail-to-rail carving with ease, and responsive performance.
Besides onshore conditions, what else can this board handle? How versatile is it?
The 2015 Global is a great board for a wide range of wave and water conditions, from onshore waves, to side shore, to bump and jump flat water conditions. This board really has no limits!
If you're a rider looking for a fast, fun, and versatile board that will work great in just about any condition Mother Nature throws at you, this is the board for you! From Kailua to Sylt, Lake Garda to The Gorge, this board will help bring out the best in sailors of all levels and handle it when they push the limits.
"After riding the 2015 Global S, I feel like heading back to Sylt to compete in onshore conditions again!" – Kai Lenny
"I can not imagine a better combination between early planing, incredible speed and turning ability. This range will be my first choice not only for sailing at the Wesh Center in Leucate, but also during the intensely famous storms that hit the French Atlantic Coast."  – Julien Taboulet