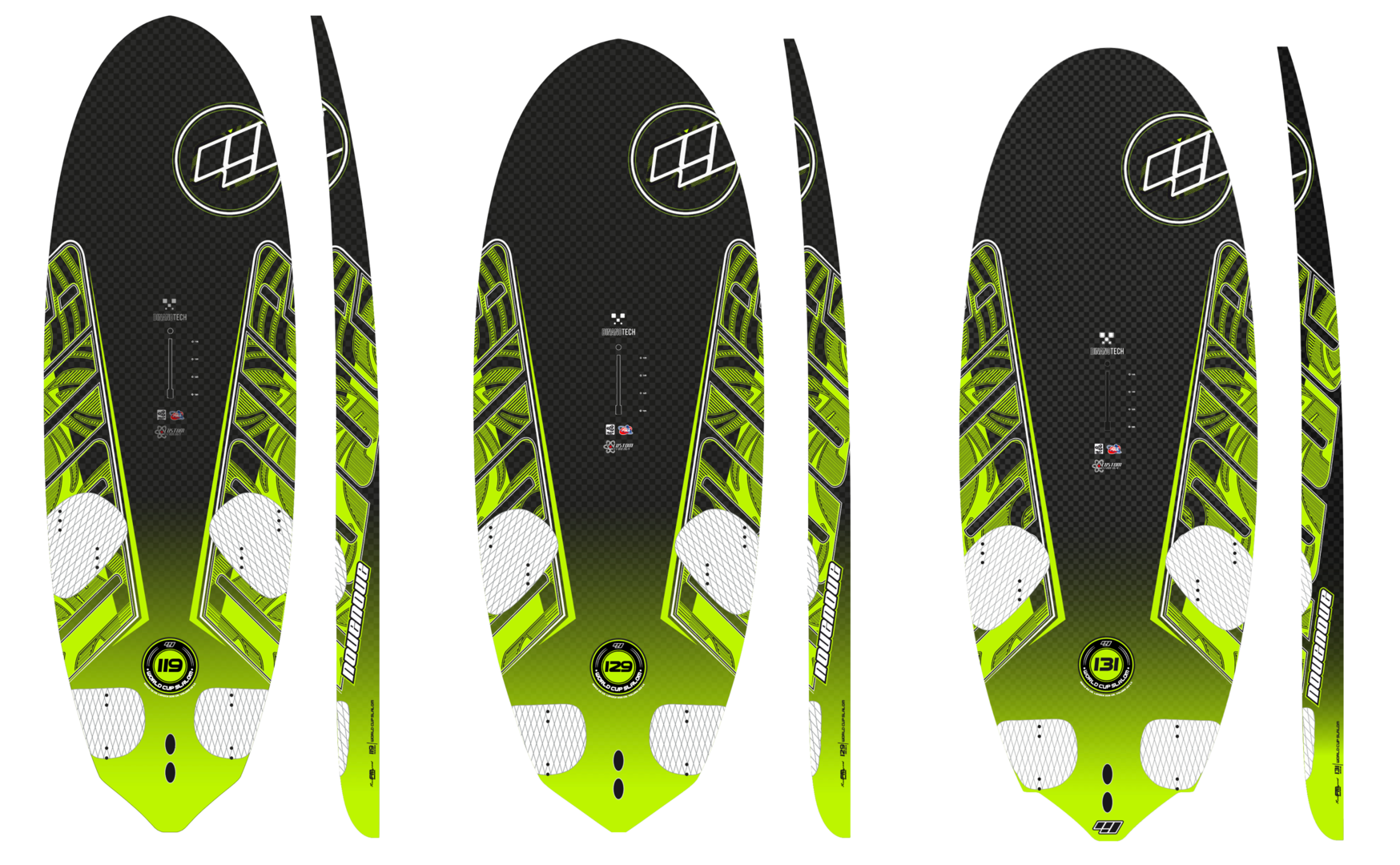 99NoveNove lancia oggi ufficialmente la sua nuova linea Slalom 2017 shapata da Finian Maynard con la collaborazione di Pascal Toselli.
CLICCA QUI per maggiori info.
WORLD CUP SLALOM
Program: World Cup Competition Slalom
Introduction
Our 2017 World Cup SL range has been developed in the six different volumes of 89, 99, 109, 119, 129 and 139 to meet the needs of today's modern racer. Planing, acceleration, usable power and control in the jibes are the critical points on which we focused and defined the behaviour of these boards. Designed and shaped by Finian Maynard and thoroughly tested alongside international team partner Pascal Toselli the testing program encompassed and simulated the widest variety of racing conditions available to be sure of the performance. These all new weapons feature an efficient and technical design concept that tested exceptionally well at the end of the long development cycle.
Technical upgrades
–  Completely re-designed scoop-rocker line on all boards giving an ultra smooth ride in all conditions.
–  All new outlines: Angled towards conservative for high-wind control and gybing (89, 99). Wider nose/narrower tail for planing, power and 'glisse' for lighter winds (109, 119, 129, 139).
– 100% new bottom shape configurations on all models resulting in control and easy gybing in high-winds and excellent planing and power characteristics including very stable lift and acceleration in light winds.
–  All new rail shapes for the back and front foot on the whole range that increase control in strong wind whilst increasing efficiency in light wind.
–  'Vector Cuts': Double step cutout system in all boards (except 89) that significantly decreases the overall drag whilst at full speed, increases the angle of the nose upwards in light wind to cleanly ride over the chop and also generates impressive acceleration qualities after planing up to top speed.
The end result
– Significantly increased top-speed, acceleration and stability compared to the previous SL generation, whilst also featuring excellent usable power, planing abilities, control and lift.
Summary
After such a comprehensive testing and development program, simply speaking, the 2017 SL slalom range from 99 will be considered one of the market references available in the world today in terms of overall sailing performance.
Technology
– FMX ultra modern CAD-CAM custom designing and highly accurate prototype fabrication technology.
– 15kg/m3 EPS with full premium PVC sandwich with 3mm carbon cloth layup bottom/deck.
– 99NoveNove exclusive 'Nanotech' 150g spread tow Dynanotex deck lamination fiber for superior stiffness and durability under load.
– Full carbon top and bottom of the deck sandwich in 40% of the tail standing area creating superior stiffness and integral compressive strength under load.
– 100% carbon mast track for additional weight savings.
– 'Nanotech Technology': Dynanotex is an expensive flat-braid carbon weave that brings superior stiffness and on-the-water performance compared to the industry standard biaxial carbon. This exclusive carbon keeps it's structure in terms of long-term durability (biaxial carbon gets softer over time) and yields that desired direct and crisp feel craved from racers worldwide.