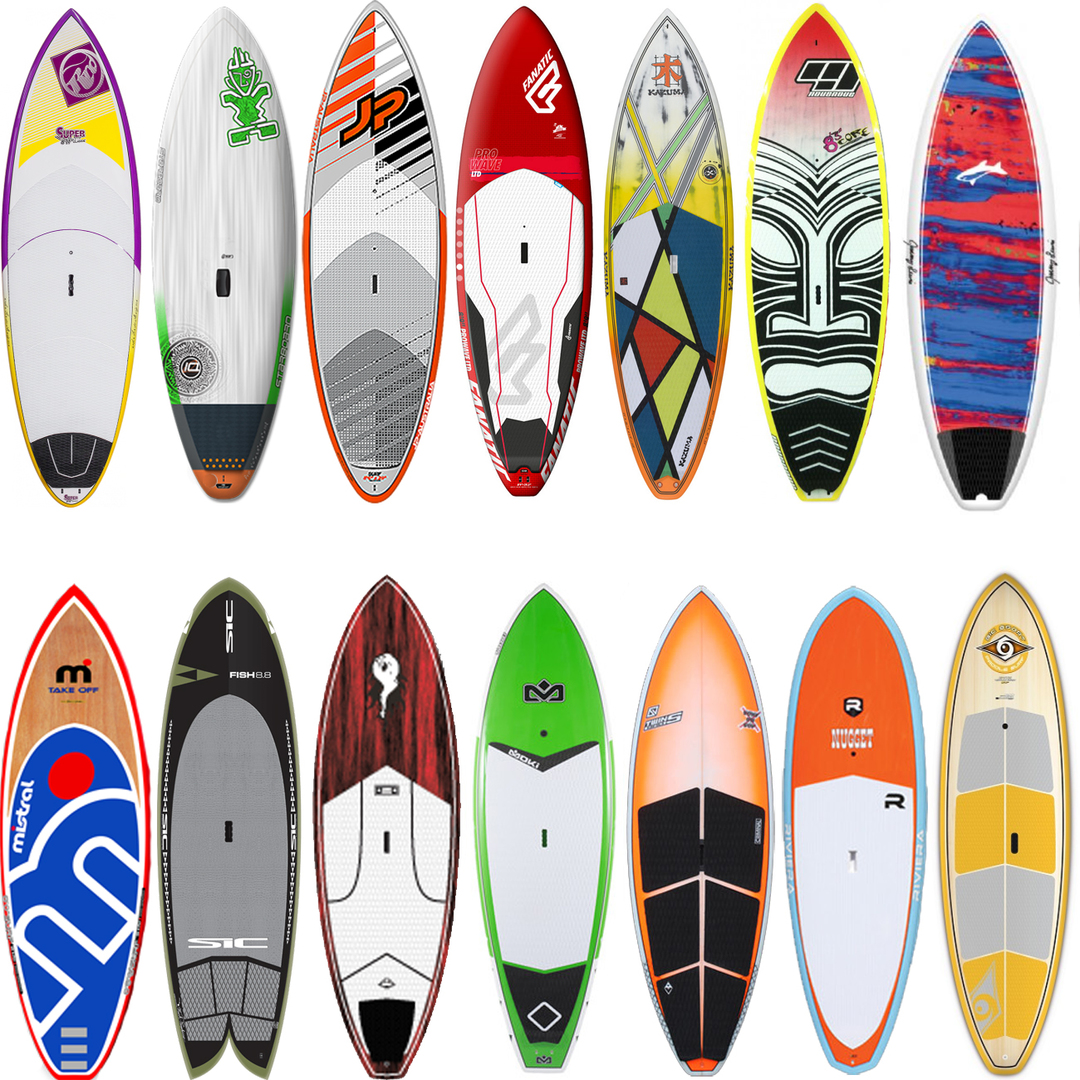 La gamma che vi andiamo a presentare sono le tavole con misura 8 piedi distribuite in Italia. In questo articolo vi presenteremo tavola per tavola, le loro misure effettive, la loro attitudine, la loro configurazione di pinne e la distribuzione di appartenenza.
RRD
UNGHEZZA 8'
LARGHEZZA 28″1/4
SPESSORE 4"1⁄4
VOLUME 105  L
The new iWAVE SUP boards have been inspired by the latest test of our surfboard designs, and developed specifically to be ridden while standing up with a paddle in your hands. These are the narrowest, most radical wave SUP boards of our collection, conceived only for expert and PRO riders who are looking for hi performance and top-level maneuverability in any section of the wave. A narrow outline with a narrow nose maximizes a 'loose' feeling both on bottom turns and off-the-tops. Full-width squash tails are linked to a relatively rounded outline around the front fin area, allowing these shapes to create speed and a secure bite when pushing the limits, which is also aided by the thin rail profile. These boards are shaped to push the boundaries of your performance and will allow you to ride sections of the wave that you considered 'off limits' until today.
http://www.robertoriccidesigns.com
STARBOARD
UNGHEZZA 8'
LARGHEZZA 29″
SPESSORE 3.9″
VOLUME 111  L
"Predicted to become one of the PRO range favorites."
Comes into the Pro range for the heavier rider wanting to come down in length from the 8'5" to 8'0", but found the 8'0" too strenuous due to its width of 28". Based closely to the new 8'5"x29's rocker/outline and mono-concave to V off the tail, it produces instant acceleration down the line, holding effortlessly off the bottom to project you up at the lip vertically or down the line. Rail turns are tight and driven with the ability to release when the tail is unweighted at the end of a turn.
"Mono-concave to V just at tail"
 http://starboard-sup-italia.blogspot.com/
JP AUSTRALIA
UNGHEZZA 8'
LARGHEZZA 27″
SPESSORE 4″
VOLUME 101  L
THE LIGHTEST BOARDS ON THE MARKET THAT COME WITH A DECK PAD
For 2015 we have some new features to our well known SURF and SURF WIDE BODY range. Apart from the fresh graphic redesign that keeps the recognizable image of the JP-Australia boards we have a few completely new shapes and a new technology. The very popular SURF 8'6"x29" is a completely new board with a more radical outline, narrow nose and progressive rocker shape that was proven to be a winner with the smaller sizes like the 8'0" and the 8'2".
http://jp-australia.com/2013/contacts/where-to-buy/25/
FANATIC
UNGHEZZA 8'4″
LARGHEZZA 28.5″
SPESSORE 4″
VOLUME 104  L
Prime performance with your ProWave. 2015 sees the ProWave range take SUP wave riding to the next level, with shapes that complement a rider's search for radical manoeuvres, speed and control. This year we introduce five brand new shapes ranging from 7'6" to 9'2" while the well regarded 9'6" and 9'10" make up the rest of the range to create the most extreme high performance wave riding collection. The smallest SUP in the Fanatic range, the 7'6", is impeccably balanced and easy to paddle with quick acceleration. Once unleashed onto a wave it speaks for itself giving you an exceptionally responsive ride. The wider nose and squash tail design of the range offers more stability in the smaller models, whilst retaining highly responsive turning capabilities in the larger ones. A thinner rail profile provides more grip and drive through the turn.
 http://www.fanatic.com/find-us/?brand=sup&role=dealer
KAZUMA
UNGHEZZA 8′
LARGHEZZA 28″
SPESSORE 3″ 13/16
VOLUME 93  L
The Milkman SUP sets the standard for high performance sup boards and no other board on the market can match the technical detail of this ultra refined design.
From Kazuma's trademark "Triple Barrel" concave to the pure short board rails, rocker and foil blends, the Milkman SUP is the go to board for advanced to professional riders.
Like all the Kazuma SUP models, the designs and performance characteristics follow the popular Kazuma short board models.
The Milkman name can only mean one thing, absolute top level, professional performance and the Milkman SUP lives up to
99NOVENOVE
UNGHEZZA 8'3″
LARGHEZZA 30″
SPESSORE
VOLUME 109  L
Excellent small to medium wave riding boards.
Developed and designed for riders looking for top wave per- formance in turning and acceleration combined with stability and ease wave catching. The Core models are super-fun and easy to ride small to medium waves.
Single-concave nose, and slight V in the center section accelerated towards the tail for looser rail-to-rail performance and acceleration in low to moderate wave speeds. The wide outline curve and rocker, make them ideal for beach breaks and for getting the max performance out of less powerful waves. All Core boards can be ridden as a thruster or a quad, and are constructed using our own sandwich technology, which provides accurate stiffness and ultra lightweight with great durability.
JIMMY LEWIS
UNGHEZZA 8'3″
LARGHEZZA 28.5″
SPESSORE
VOLUME 105  L
Jimmy Lewis questa volta non ha davvero posto limiti alla propria radicalita' shapando tre diversi modelli con lunghezze ridotte e larghezze davvero impegnative. Il concetto sviluppato dal vulcanico shaper Maui resident è semplice more smaller more radical and fast. Quindi outline con squash tail dove è possibile variare l'assetto sia thruster che quad a seconda degli stili e delle condizioni larghezza massima posta 10cm oltre la meta' della tavola e classico nose in pieno stile short surf Il rail rIprende fedelmente lo stile radical che contraddistingue la tradizione Jimmy Lewis con bordo sottile e molto affilato a poppa che diviene progressivamente sempre meno spigoloso.
http://www.jlid-italydistribution.com
MISTRAL
UNGHEZZA 8′
LARGHEZZA 28.5″
SPESSORE 4
VOLUME 105  L
This new board is our narrowest and most radical Wave SUP board in our collection, designed for expert and pro riders looking for high performance, top-level maneuverability in the waves. "After 6 years of design and testing I have collaborated with Mistral to create this remarkably responsive production 8'0". All the prototype research I've done competing on the Stand Up World Tour combined with Mistral's board building technology has me excited about what may be the most progressive production board on the market. Created for a variety of waves and accelerated performance the 8'0" World Tour Model will take your wave riding beyond expectations." – Robin Johnston
 http://www.mistral-sup.com/index.php/find-a-importer.html
SIC MAUI
UNGHEZZA 8.8′
LARGHEZZA 29.75″
SPESSORE
VOLUME 110  L
The new FISH 8'8" is the big brother of the 7'11" FISH. Geared towards the larger surfer that demands performance.
http://www.sicmaui.com/dealers
GONG
UNGHEZZA 8.4″
LARGHEZZA 29″ 15/16
SPESSORE 4″ 11/16
VOLUME 125  L
Curve : du surf type shortboard mais avec le confort d'un peu de longueur et de largeur en plus. Les Curves sont des planches de compétition mais restent très douces et avec une technologie au top.
Les Curve Pro 7'4, 7'6, 7'11, et 8'4 sont une déclinaison du même shape dans différents volumes, longueurs et largeurs pour s'adapter aux envies et besoins de tous. Vous pouvez prendre la taille la plus ajustée à votre poids pour fracasser ou au contraire la surdimensionner un peu pour avoir du confort.
Dans tous les cas, les Curves Pro sont des planches 100% destinées aux courbes radicales : rollers, top turns, slashs, cut back puissants, airs et vagues qui poussent.
MOKI
UNGHEZZA 8.6″
LARGHEZZA 30″
SPESSORE 4″
VOLUME 108  L
Il piccolo 8'6" ha appassionato tutto il nostro team che onda dopo onda ha identificato in questo shape le misure ideali per una tavola wave perfetta per ogni condizioni e senza limiti.
Leggero concavo e V pronunciata a poppa le permettono di aggredire qualsiasi onda e di seguire decisa il drive del surfer. Scelta unica per riders medio leggeri fino a 90kg.
Sviluppata in speciale collaborazione con Mirco Babini.
Sacca Long travel inclusa (spessore regolabile – può contenere anche due tavole)
TWINS BROS
UNGHEZZA 8′
LARGHEZZA 28 1/2″
SPESSORE 4″ 3/8
VOLUME 112  L
Modello sviluppato con il campione Italiano SUP Wave Alessandro Onofri per avere una tavola molto reattiva per eseguire manovre radicali, aerials scordandosi quasi di avere sotto i piedi un sup… Questo modello è destinato a rider di buon livello ed è da scegliere con un volume di circa 20 litri sopra il proprio peso.
La tavola standard è realizzata senza grafica, senza bamboo e senza rinforzi in carbonio. Possibilità di personalizzazione della grafica, del tipo di resinatura e dello shape in base alle richieste specifiche del rider.
RIVIERA
LUNGHEZZA 8′
LARGHEZZA 28″
SPESSORE 4″
VOLUME 101  L
The NUGGET is the new NUGG!
The 8′ Riviera NUGGET is an agile board for kids and a great high performance SUP surfboard for adults. This SUP is 28″ wide, and  easy to ride for kids.  Just the right amount of rocker with slightly pulled in nose, diamond tail for added drive and vee bottom out the tail make this board surf great.  We have had advanced SUP Surfers up to 220 Surf this board! The NUGGET comes with a Futures Fins Five fin set-up (4 + 1)  to adjust to paddling and surfing conditions. Riviera traction is pre-installed.
http://www.adrenalinasportgenova.it/
BIC
LUNGHEZZA 8'6″
LARGHEZZA 28″
SPESSORE 3 31/32
VOLUME 103  L
La serie Wave Pro è stata progettata sin dall'inizio per le massime prestazioni nel surf senza tuttavia sacrificare l'accessibilità di un facile utilizzo. Nuovi profili e spigoli nella parte posteriore, profilo del rocker rinnovato, coda a V e 5 configurazioni di pinne per offrire la massima velocità e manovrabilità. Sceglietela nella dimensione più adatta a voi e avrete un'unica tavola per molteplici utilizzi. Progettata e testata in Francia, a Hossegor, capitale europea del surf, con il rider professionista di BIC SUP "Davos" e con il supporto del team internazionale di rider di SUP. Creazione dello shaper Patrice Remoiville. Fornita in dotazione con impugnatura per il trasporto, 5 disposizioni di pinne, set di pinne di alta qualità, struttura in bambù e pad antiscivolo e leggero diamond groove per un controllo e un comfort ottimali.
NAISH
LUNGHEZZA 8'3″
LARGHEZZA 27″1/5
SPESSORE 4"
VOLUME 98  L
Hokua LE boards are expert level, Limited Edition wave designs used all over the world for highly advanced riding and professional competition.  Developed and produced for SUP World Champion, Kai Lenny, this range of ultra-high performance wave boards are constantly evolving and changing as the sport and level of riding progresses, setting the industry standard.
http://www.action2sport.com/it/index.php
ARI'I NUI
LUNGHEZZA 8′
LARGHEZZA 28″1/4
SPESSORE 4"
VOLUME 102  L
The shortboard SUP of the range. A shape designed for modern and performent surfing in powerful waves.
NSP
LUNGHEZZA 8'2″
LARGHEZZA 29″1/2
SPESSORE 4"
VOLUME 110  L
The NSP DC Surf SUP range has been developed by Dale Chapman for over 8 years. A novel piece of Trivia here is that Dale rode the first wave in the first heat of the first ever SUP surfing contest ever in Australia. With his professional surfing background Dale has been a contender at every Australian SUP titles since, has featured in videos and made boards for the best SUP surfers in the country.
The NSP DC Surf Range is a reflection of his current boards and is designed for the SUP surfer looking for shortboard inspired performance. The outlines, rockers and bottom curves are all tuned to maximise performance with the assistance of a paddle.
All boards feature an extended concave towards the nose feeding into a double concave through the tail. This design provides the ultimate amount of stability, lift, flow and glide to get you into waves early and with ridiculous speed and limitless options on the wave.
http://www.robertoriccidesigns.com
TABOU
LUNGHEZZA 8′
LARGHEZZA 29.5″
SPESSORE 4"
VOLUME 110  L
The SUPASURF range features an optimized design for smooth carving, bottom turning or hitting the lip. While shaping Fabien Vollenweider had the wave riders in mind, who seek for the simplicity and control to make the most out of every wave.
COMING SOON FOR NEXT FOCUS ON.