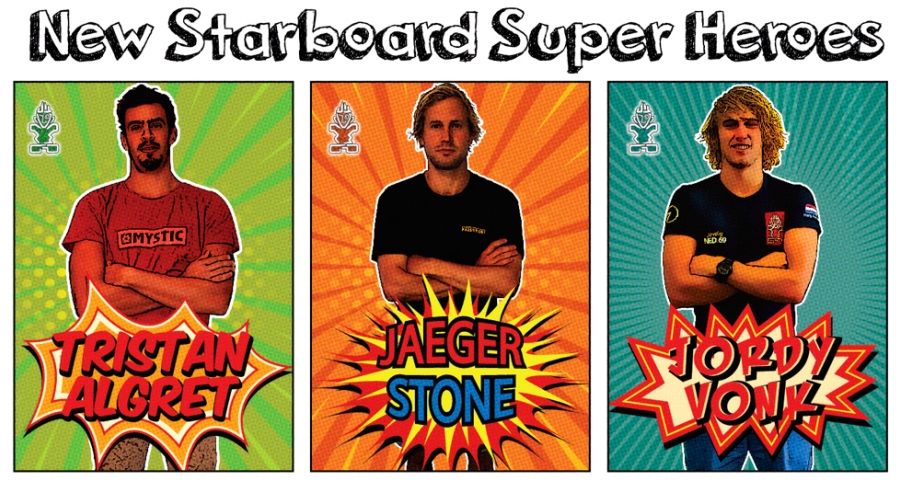 Starboard annuncia ben 3 nuovi giovani talenti che entrano a far parte del Dream Team: Tristan Algret, Jaeger Stone e Jordy Vonk. La nostra intervista a Jaeger Ston la potete trovare QUI.
Qui sotto invece la press release ufficiale di Starboard di presentazione dei rider.
Jaeger Stone
Australian Jaeger Stone is the first and one of the strongest addition to the 2015 Starboard Wave Team. His PWA World Tour come-back in 2014 proved to the world that he is hungry for the podium and he has the talent to make his mark on the tour. The young Australian, with his unusual boards, will also help push wave board designs even further and bring innovative shapes to the world. All eyes will be on Jaeger in 2015.

Starboard: A question that many people will be asking this month is why you decided to sign to Starboard for 2015?
Jaeger: Starboard have always expressed their interest in what my Dad and I have been doing, and even though I haven't been sponsored by Starboard for the last 5 years or so, the brand has always continued to show encouragement. For 2015, Starboard have offered their support, which will help me windsurf and train, as much as possible so I can try and achieve my goal of becoming Wave World Champion.
Starboard: What do you hope to bring to the Starboard wave team?
Jaeger: I hope to bring something to the Starboard team that's worthwhile I guess, I have to be a bit different. It's always been a focus of mine to try and wavesail with the speed, power and fluidity of a surfer and to rely more on the board than the power in my sail. I hope to bring and develop a pure wave sailing/surfing image.

Starboard: Is there anyone's style in particular you admire on the Starboard wave team?
Jaeger: The Starboard team is definitely full of talent. Scott McKercher has always had an influence on me as I've grown up windsurfing. He's always had a pure wave-riding approach where it's all about throwing the biggest turn you can or hitting the lip no matter what its size. He's still one of the best wave riders in the world and wave sailing with him would push me more than probably anybody else.
Tristan Algret
Tristan Algret, the 2 x PWA Youth Slalom Champion is our first addition to the 2015 Starboard Slalom Team. This young French-Caribbean has buckets of talent which will surely see him climb the ranks this year. Equipped with a quiver of iSonics there will be no stopping this playful powerhouse from achieving his goals. And he is already involved in the development of the 2016 iSonics where he proved to be a very-detailed focused tester… We're looking forward to it already!

Starboard: Congratulations on signing to Starboard! Why did you choose to ride on Starboard and what goals have you set yourself for the year?
Tristan: I'm really happy to join the big Starboard family and race with the boards designed by Rémi Vila. I have known Rémi for a few years now because he is from Martinique, which is an island close to my home of Guadeloupe.
Myself and Rémi spent a lot of time together in New Caledonia and after a few test runs on the 2015 iSonics, I was completely surprised by the performance and speed. I instantly saw myself on these boards for next year. Rémi also pushed for me, which is great! I'm the youngest slalom rider in the biggest windsurf team. I'm also really happy to use the same gear as Cyril Moussilmani (PWA Vice Slalom Champion 2014). Now I can spend more time on the water with him and at the same time I can learn a lot of things.
My goal in 2015 is simple; I want to be in the PWA Top 15 or better. I also want to spend more time on the waves and try the wave competitions in two years time.

Starboard: Which boards have you chosen for your competitive quiver?
Tristan: I choose the 2015 iSonic Carbon production 90, 107 and 130 liter. The iSonic 107 Carbon is my favorite board. Fast, controllable and light are the words to define this board.
Starboard: Who on the current Starboard slalom team do you look up to and why?
Tristan: Cyril Moussilmani of course! He's the best slalom rider on the team and a friend too. He interests me and I think it's a good thing if I train alongside him. I will learn a lot, and we can also exchange tuning tips and preferred settings. It will be exciting!
Jordy Vonk
Jordy Vonk, an up-coming young Dutch talent is the second new arrival to the 2015 Starboard Slalom Team. Recently signed to Point 7, Jordy is a common face on the PWA Slalom tour and he's hungry for results. We are confident that with his new toys, he will be a name on tour that riders won't want to see in their heat.

Starboard: Congratulations on signing to Starboard for 2015. Out of all the board brands why did you choose to ride on Starboard?
Jordy: Thank you! Beside the fact that I think the 2015 iSonic is the best slalom board at the moment, I like Starboard as a brand. They support a great team, they deliver amazing results, and they develop so many cool products. When the opportunity came up for me to join Starboard, I was more then happy to take it and I can't wait to race on my new boards.
Starboard: What are the biggest differences you feel on the iSonic, compared to your old boards?
Jordy: I think in 2014, I already had a pretty good speed but with the new iSonics I feel like I have more than just top speed now. Jibing, the board is amazing as is the acceleration. It has everything to fly around the course and that's pretty much why I love to be on the iSonic.

Starboard: How do your boards work with your sails, were you surprised? Which is your favorite iSonic size and construction?
Jordy: I think other riders already showed that Point-7 works great with the iSonic and after I tried it myself I can just confirm this: it's awesome! As it's pretty windy in Tenerife, I'm sailing on the iSonic 107 Carbon the most, and I really like it matched with my 7.9m². The range is big and I feel fast with this equipment. I can't wait to get all my new toys over here to trim and tune everything!
– See more at: http://www.star-board-windsurfing.com/2015/news_events/new-2015-starboard-heroes-dream-team#sthash.1ZOVnI1m.dpuf