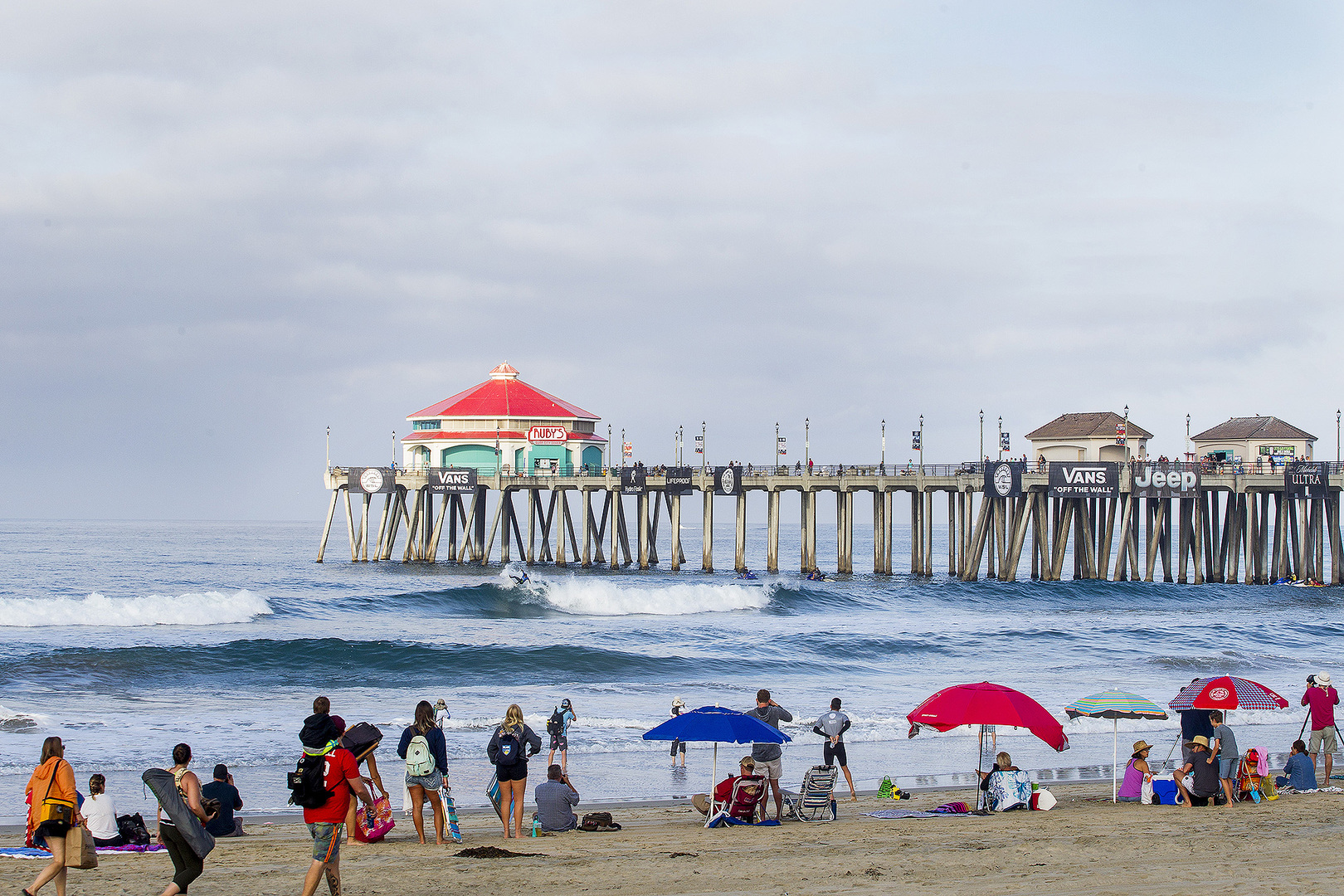 Il lato sud del molo di Huntington Beach (California) ha regalato un weekend di spettacolo! Sage Erickson (USA) e Kanoa Igarashi (USA) salgono sul gradino più alto del podio al Vans US Open of Surfing, vincendo la finalissima nelle rispettive categorie su onde da due a quattro piedi (0.5-1 m). L'evento rappresentava la tappa numero 6 delle 10 previste del campionato mondiale WSL (World Surf League) per le ragazze, mentre tra gli uomini Igarashi si aggiudica i 10.000 punti messi in palio per l'importante tappa maschile Qualifying Series (QS).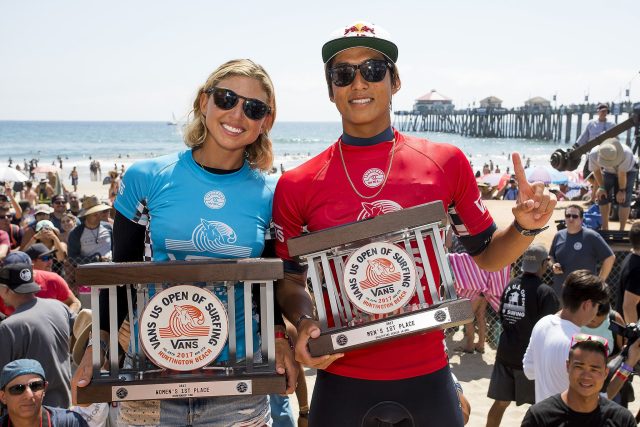 Il giorno precedente invece si sono concluse le finali dei Vans US Open of Surfing Pro Junior, sempre a sud del molo di Huntington e su condizioni leggermente più consistenti attorno al metro (3-4 piedi di swell): in questo caso la meritata vittoria nelle due categorie (maschile e femminile) è di  Cody Young e Brisa Hennessy.
Per Sage Erickson questa rappresenta la sua prima vittoria nel circuito mondiale, un successo ottenuto dopo aver sconfitto la favorita e campione in carica (vincitrice nel 2016) Tatiana Weston-Webb (HAW) in una finale molto combattuta. Per Erickson questo ottimo risultato rappresenta un bel balzo in avanti nella classifica mondiale, passando dal 9° al 6 ° posto nel ranking , a soli 1.450 punti da Johanne Defay (FRA).
La corsa al titolo per le ragazze si fa ora più agguerrita e deciderà molto nella prossima tappa californiana, lo Swatch Women's Pro (settimo stop CT femminile).
Tra gli uomini, nonostante la vittoria di Igarashi (già atleta del dream tour, in cerca di punti per confermare il ranking CT), il risultato più significativo è quello del brasiliano Tomas Hermes, che grazie agli 8.000 punti acquisiti guadagna posizioni nella classifica di qualificazione al dream tour raggiungendo un'ottima quarta posizione, che gli garantisce ottime speranze di ingresso fra i top34 per il 2018.
Maggiori informazioni come sempre potete trovarle su WorldSurfLeague.com, sulla app WSL e sul sito VansUSOpenofSurfing.com.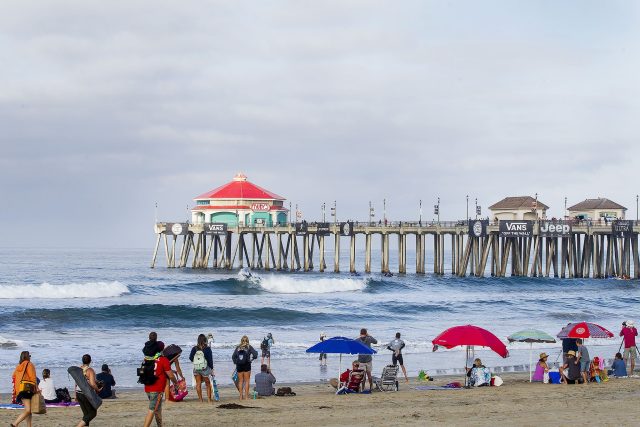 Vans US Open of Surfing Women's CT Final Results:
1 – Sage Erickson (USA) 11.84
2 – Tatiana Weston-Webb (HAW) 9.80
Vans US Open of Surfing Women's CT Semifinal Results:
SF 1: Tatiana Weston-Webb (HAW) 11.10 def. Coco Ho (HAW) 7.34
SF 2: Sage Erickson (USA) 13.33 def. Courtney Conlogue (USA) 11.46
2017 WSL Women's Jeep Leaderboard (After Vans US Open of Surfing):
1 – Tyler Wright (AUS) 41,400 pts
2 – Sally Fitzgibbons (AUS) 39,900 pts
3 – Courtney Conlogue (USA) 38,300 pts
4 – Stephanie Gilmore (AUS) 34,750 pts
5 – Johanne Defay (FRA) 33,400 pts
Vans US Open of Surfing Men's QS10,000 Final Results:
1 – Kanoa Igarashi (USA) 17.23
2 – Tomas Hermes (BRA) 11.10
Vans US Open of Surfing Men's QS10,000 Semifinal Results:
SF 1: Kanoa Igarashi (USA) 12.26 def. Filipe Toledo (BRA) 11.92
SF 2: Tomas Hermes (BRA) 11.84 def. Carlos Munoz (CRI) 10.70
Vans US Open of Surfing Men's QS10,000 Quarterfinal Results:
QF 1: Kanoa Igarashi (USA) 13.30 def. Ricardo Christie (NZL) 11.83.
QF 2: Filipe Toledo (BRA) 13.43 def. Josh Kerr (AUS) 12.10
QF 3: Carlos Munoz (CRI) 10.06 def.  Michael February (ZAF) 5.17
QF 4: Tomas Hermes (BRA) 12.47 def. Patrick Gudauskas (USA) 12.40
2017 WSL Men's Qualifying Series Rankings (After Vans US Open of Surfing):
1 – Jesse Mendes (BRA) 22,700 pts
2 – Michael February (ZAF) 14,750 pts
3 – Kanoa Igarashi (USA) 13,310 pts
4 – Tomas Hermes (BRA) 13,010 pts
5 – Griffin Colapinto (USA) 12,380 pts